d'Arnaud homers again as River Cats clip Isotopes
Duggar also clears fence, Black earns first save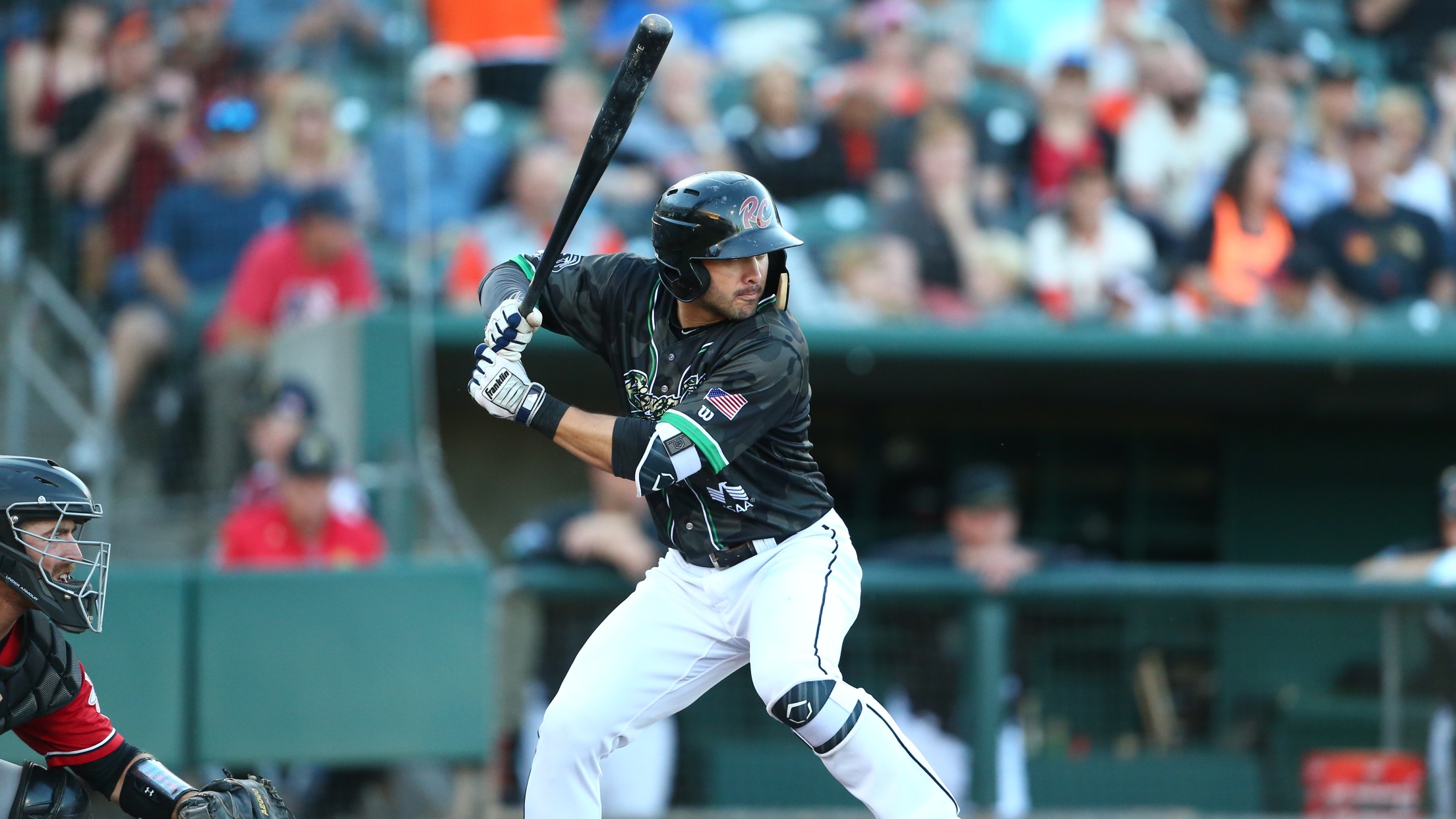 (Ralph Thompson)
ALBUQUERQUE, NM -- Chase d'Arnaud hit one out for the second consecutive night, helping the Sacramento River Cats (35-44) get back on track with a 4-3 win over the Albuquerque Isotopes (39-39).The home run was d'Arnaud's 11th of the season as he reached base for the 15th time in his
ALBUQUERQUE, NM -- Chase d'Arnaud hit one out for the second consecutive night, helping the Sacramento River Cats (35-44) get back on track with a 4-3 win over the Albuquerque Isotopes (39-39).
The home run was d'Arnaud's 11th of the season as he reached base for the 15th time in his last 16 games. He was also hit by a pitch and stole his team-leading 15th base of the year.
Steven Duggar also homered, his fourth of the season, while recently promoted infielder Miguel Gómez provided the eventual game-winning run with a pinch-hit RBI single in the sixth.
Lefty starter Matt Gage was solid in six innings, allowing just two runs on six hits and two walks. Right-handers Derek Law and Ray Black pitched perfect eighth and ninth innings, respectively, combining for three strikeouts with Black recording his first Triple-A save.
Left-hander Daniel Camarena (0-2, 2.59) gets the call for tomorrow's midday finale with Albuquerque while the Isotopes will counter with young righty Antonio Senzatela (2-1, 2.70). First pitch is set for 11:05 a.m. (PT). Catch all of the action live online at rivercats.com, on the MiLB First Pitch app, and on the air on Money 105.FM beginning at 7:00 p.m. (PT).
Additional Notes
• Ray Black has pitched eight straight games without allowing a run, striking out 10 and allowing just three hits and no walks in the process.
• Wednesday night's victory is only the team's fourth out of 18 games when facing a left-handed starter. The River Cats bat 17 points lower and slug 22 points lower against lefties this season. Though tonight against southpaw Sam Howard, the club tallied seven hits, including a double and two home runs.