Gage's quality start not enough to lift River Cats
Bats remain quiet as Sacramento gets shutout 3-0 by El Paso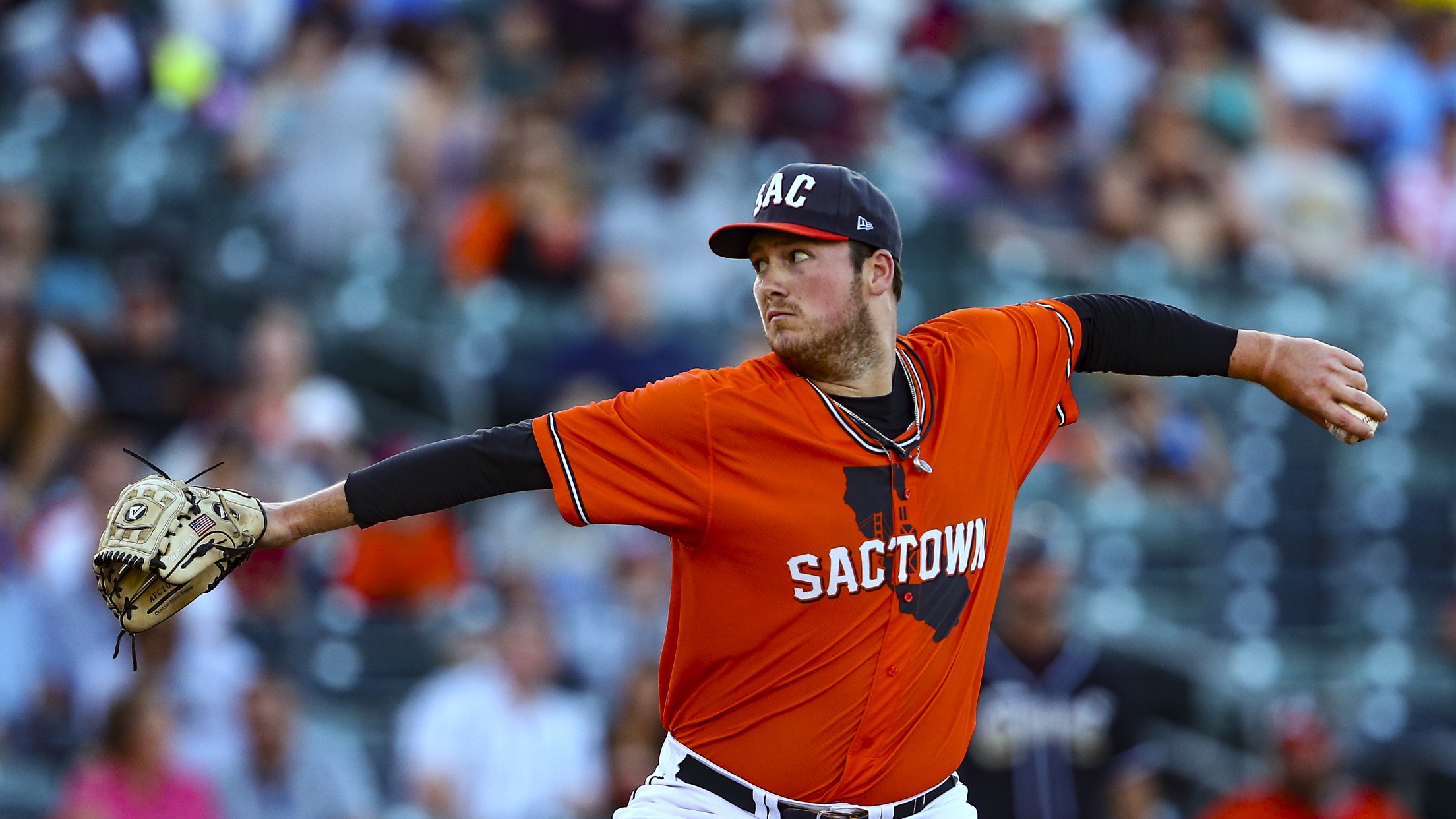 The Sacramento's Matt Gage was the starting pitcher against El Paso on June 22, 2018 (Ralph Thompson)
The Sacramento River Cats (33-41) dropped their sixth straight on Friday night, falling to the El Paso Chihuahuas (37-37) 3-0 despite a solid showing from left-hander Matt Gage. The Sacramento offense managed just three hits, as they were shutout for the first time at home this season.Gage kept the River
The Sacramento River Cats (33-41) dropped their sixth straight on Friday night, falling to the El Paso Chihuahuas (37-37) 3-0 despite a solid showing from left-hander Matt Gage. The Sacramento offense managed just three hits, as they were shutout for the first time at home this season.
Gage kept the River Cats in the game with his best start in more than a month. He allowed just three runs on six hits and two walks in six innings, while striking out four. It was Gage's first quality start since joining Sacramento on May 1.
The Sacramento offense has struggled to find their groove over their last 8 games, going just 1-7 and averaging just three runs per game. Austin Slater led the way tonight, collecting his 22nd multi-hit game of the season with a pair of singles.
Giants' right-hander Johnny Cueto (0-0, No ERA) is expected to begin a rehab assignment tomorrow night in Sacramento as he works his way back from a right elbow injury. El Paso righty Walker Lockett (2-6, 4.66) will take the mound for the Chihuahuas. First pitch is set for 7.05 p.m. (PT). Catch all of the action live online at rivercats.com, on the MiLB First Pitch app, and on the air on Money 105.FM.
Additional Notes

Lefty Matt Gage has shown improvement over his last two outings, allowing just three runs in 10.2 innings (2.64 ERA). In his previous five appearances, he had allowed 25 runs in 22.2 innings (9.93 ERA).

The River Cats scratched out just three hits on Friday night, and seven total hits in their last two games combined. Three hits is the fewest number of hits they have had in a game this season.

Flame-thrower righty Ray Black threw a perfect ninth inning on Friday with two strikeouts. He has not allowed a run in his last six outings, lowering his ERA to 3.78 on the season.
***
The Sacramento River Cats are the Triple-A affiliate of the three-time World Champion San Francisco Giants. The team plays at Raley Field in West Sacramento, consistently voted one of the top ballparks in America. River Cats Season Tickets, Mini-Plans, and Flex Plans can be purchased for the 2018 season by calling the River Cats Ticket Hotline at (916) 371-HITS (4487). For more information about the River Cats, visit
www.rivercats.com
. For information on other events at Raley Field, visit
www.raleyfield.com
.