Ramos knocks in game-winning run as River Cats take 10th-inning victory "at" Aces 
River Cats 2, Aces 1 (10)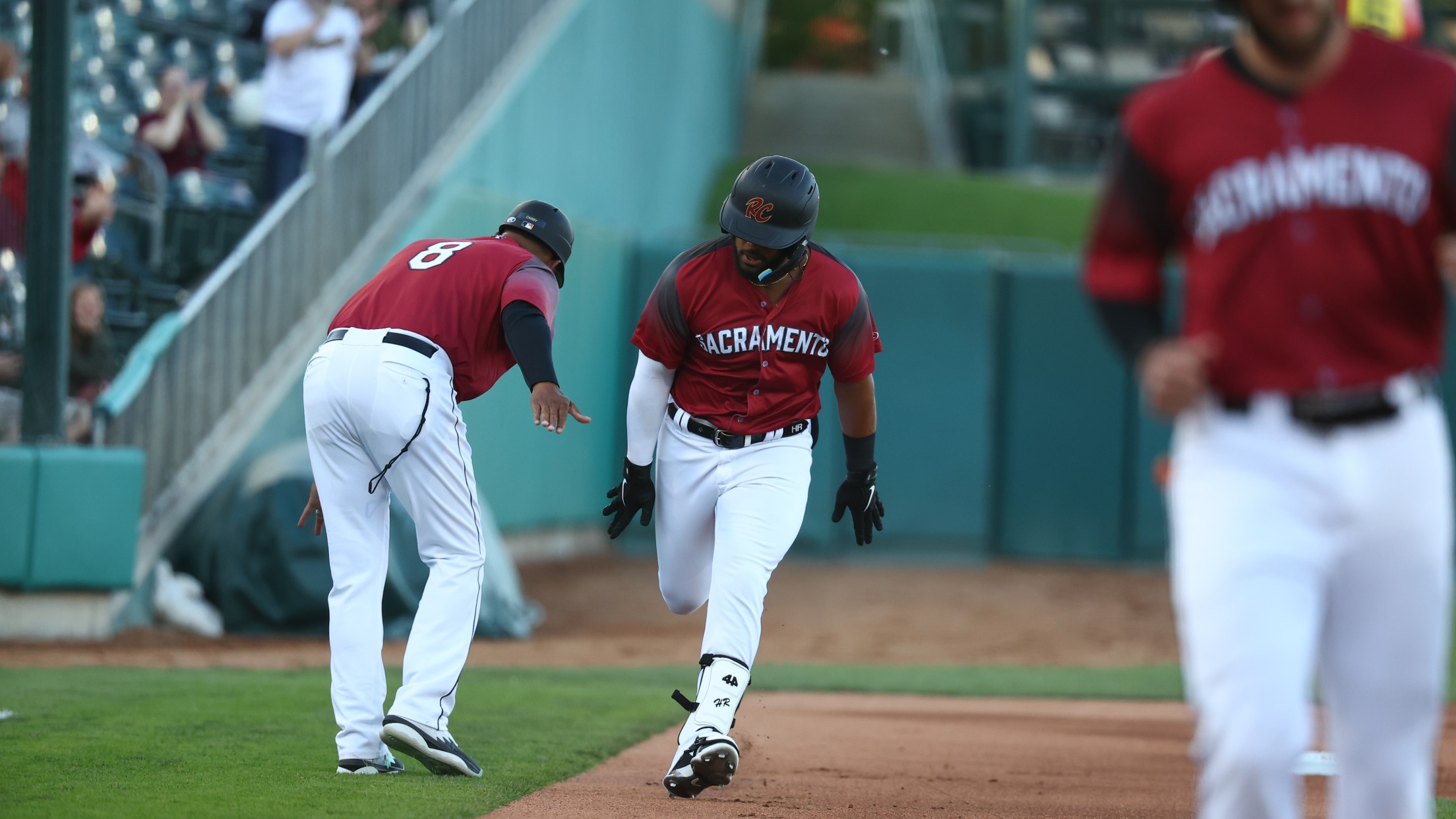 River Cats outfielder Heliot Ramos low-fives third base coach Jolbert Cabrera after a home run (4/5/22). (Ralph Thompson Photo)
West Sacramento, Calif. — After two days and three games canceled, the Sacramento River Cats (61-75) kicked off their series "at" the Reno Aces (75-61) with a 2-1 extra innings victory on Thursday. Tied at one in the top of the 10th, center fielder Heliot Ramos lined a go-ahead single
West Sacramento, Calif. — After two days and three games canceled, the Sacramento River Cats (61-75) kicked off their series "at" the Reno Aces (75-61) with a 2-1 extra innings victory on Thursday.
Tied at one in the top of the 10th, center fielder Heliot Ramos lined a go-ahead single to right field to plate free-base runner Yermín Mercedes from second.
Right-hander Spencer Bivens took over in the bottom of the inning, and after a sacrifice bunt moved the tying run to third, struck out two batters for his first career Triple-A save.
Tuesday's series-opener and Wednesday's rescheduled doubleheader were canceled in Reno due to air quality concerns from the Mosquito fire. As a result, the teams traveled to West Sacramento where the Aces hosted the River Cats at Sutter Health Park.
Sacramento took an early 1-0 lead in the top of the second. Ramos kicked off the inning with his 14th double of the season before advancing to third on a ground out by first baseman Jason Krizan.
Three pitches later, catcher Andrew Knapp broke the scoreless tie with a 2-0 RBI single to center field.
Lefty Jonathan Bermudez was near perfect in his best start since joining Sacramento on Aug. 23. The 26-year-old struck out two while allowing one walk and no hits in 3.2 shutout innings.
Righty Ronnie Williams (1-0, 6.23) will try to make it three in a row. He'll take on righty Deyni Olivero (0-0, 3.86) at 12 p.m. (PT). Listen to Johnny Doskow call the game online at rivercats.com or on the MiLB First Pitch app.
Additional Notes
Right-hander RJ Dabovich, the Giants' No. 20 prospect on MLB Pipeline, spun a scoreless inning of relief. The 23-year-old has a 1.00 ERA, 12 strikeouts, 0.33 WHIP, and .074 opposing batting average in his last 9.0 innings.
Lefty Andrew Vasquez (3-0) struck out two in a perfect 2.0 innings of relief. The 29-year-old has a 1.64 ERA, 16 strikeouts, a 1.00 WHIP, and a .179 opposing batting average in 11.0 innings with the River Cats.