River Cats pounce early but fall to Fresno 4-2
Shaw homers in second straight game, Gage makes Triple-A debut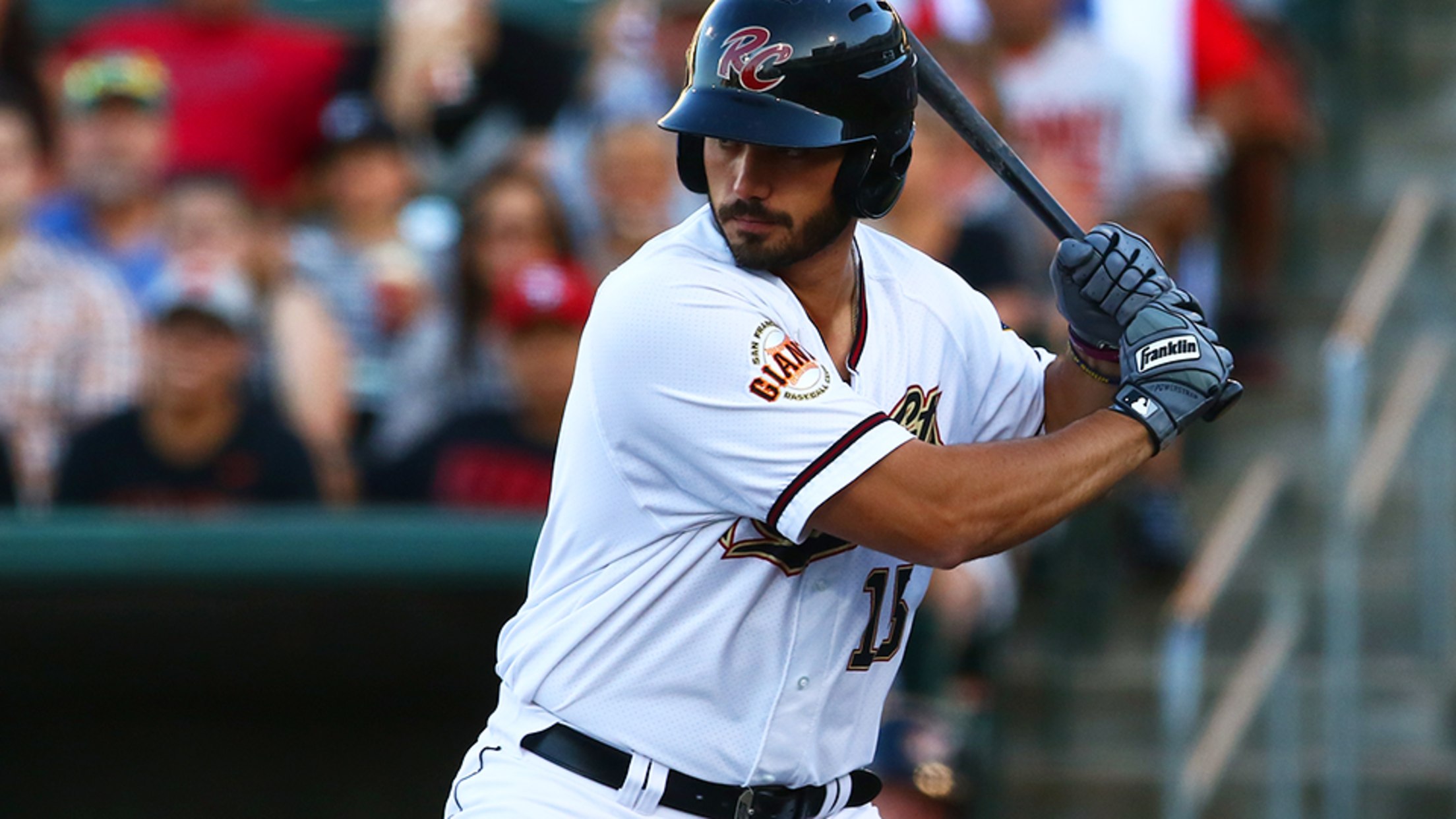 Sacramento River Cats vs Fresno Grizzlies July 2, 2017 (Ralph Thompson)
West Sacramento, CA - The Sacramento River Cats (32-49) jumped out to an early lead in Sunday's matinee against the Fresno Grizzlies (45-38) but were held scoreless from then on in their 4-2 defeat
West Sacramento, CA - The Sacramento River Cats (32-49) jumped out to an early lead in Sunday's matinee against the Fresno Grizzlies (45-38) but were held scoreless from then on in their 4-2 defeat
Chris Shaw was the offensive catalyst once again for the home side this afternoon, launching a two-run home run in the first inning on a 0-2 pitch. The two-run blast was Shaw's eighth with Sacramento and put him at 24 RBI in 33 games with the River Cats. He has five home runs and 10 RBI in his last 10 games. Unfortunately, that was it for the River Cats offense as they managed just three hits the rest of the way.
On the mound today, left-hander Matt Gage made his Triple-A debut after recently being called up from Richmond. Gage showed no signs of nerves through the first three frames, keeping Fresno off the board while allowing three hits. The Grizzlies got to Gage in his last two innings, though, pushing one run across in the fourth and two more in the fifth to take a 3-2 lead. Left-hander Kraig Sitton went three scoreless innings in relief of Gage and was followed by right-hander Derek Law who allowed Fresno's fourth and final run in the ninth.
The River Cats will look to end their six-game losing streak against Fresno tomorrow night as they send left-hander Andrew Suárez (2-1, 3.57) to the hill. For the Grizzlies, it will be right-hander Kyle Smith (1-0, 8.76). First pitch is set for 7:05 p.m. (PT) and the game can be heard live on the air on ESPN 1320 and online at rivercats.com.
Postgame Notes
Gaging his debut: Matt Gage threw 72 pitches (44 strikes) over five innings in his first Triple-A start…recorded his first and only strikeout in the fifth inning…also hit two batters in the fifth frame…did not yield a walk and faced 22 total batters…his fastball sat around 90 MPH.
Shaw on a tear: Left fielder Chris Shaw has now driven in all three runs for the River Cats over the last two games against Fresno…has scored eight of the team's 33 runs over the past six games…Shaw is hitting .455 (10-for-22) as a cleanup hitter for Sacramento with five home runs and nine RBI…now has five home runs over his last five games.
Sacramento stealin': The River Cats tied their season-high with three stolen bases this afternoon…Orlando Calixte collected two of them, stealing second then third base back-to-back in the sixth inning…his 14 stolen bases are fourth-most in the PCL…as a team, Sacramento has swiped 62 bags (tied for fourth-most in the PCL) and have been caught 15 times (tied for the fewest in the league).