River Cats win battle of the bullpens over 1st place Reno
River Cats 10, Aces 6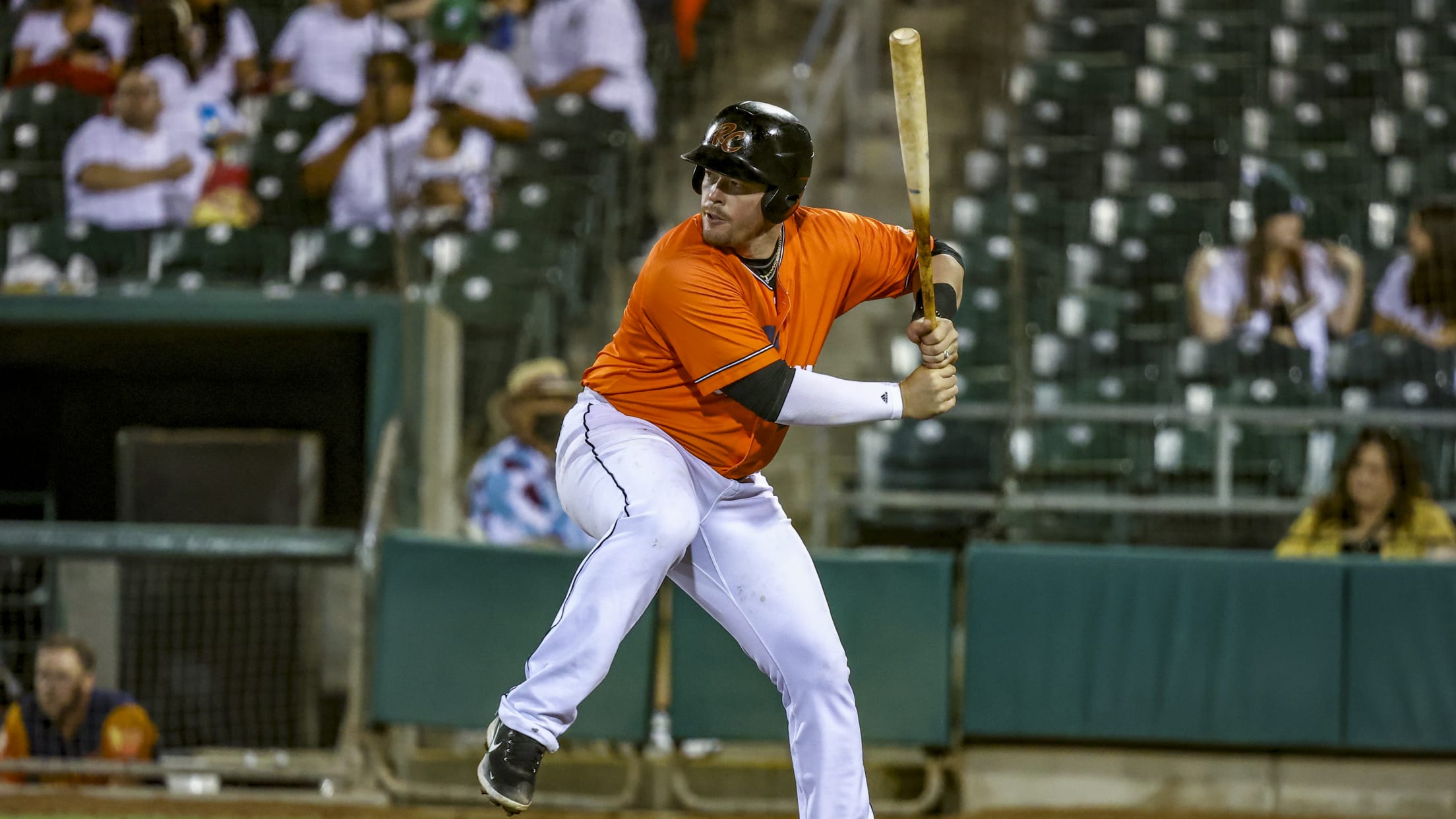 First baseman Justin Bour strides in anticipation of a pitch in the May 28 game vs Las Vegas. (Ralph Thompson Photo)
Reno, Nev. — The Sacramento River Cats (11-16) defeated the Reno Aces (18-9) on Saturday, in a game that featured 14 pitchers. Clutch hits came early, and often for Sacramento. Nine of the River Cats' 10 runs were with two outs. Catcher Joey Bart's third inning, two-out single past diving
Reno, Nev. — The Sacramento River Cats (11-16) defeated the Reno Aces (18-9) on Saturday, in a game that featured 14 pitchers.
Clutch hits came early, and often for Sacramento. Nine of the River Cats' 10 runs were with two outs.
Catcher Joey Bart's third inning, two-out single past diving second baseman Josh VanMeter gave Sacramento its first lead since the second inning of Thursday's loss. Two pitches later, center fielder Braden Bishop made it 3-1 with his own RBI single.
The advantage did not last long as two doubles, two singles, and a walk against Sacramento righty Gregory Santos led to three Reno runs.
The teams traded runs in the fourth before River Cats first baseman Justin Bour blasted a go-ahead home run off left-hander Matt Grace. Three batters later, left-handed pitcher Sam Selman (1-0), in his third career professional at-bat, made it 8-5 with a two-run double.
That lead change would be the final of the game as four Sacramento relievers limited Reno to just one run over the final four innings. Trevor Hildenberger, Sam Wolff, and Trevor Gott combined to strike out five and allow just one hit in an inning each.
Reno threatened in the seventh against Yunior Marte, scoring a run and bringing the tying run to the plate with the bases loaded and one out. Marte, however, was able to buckle down and limit the damage with a 5-3 inning-ending double play.
Right-hander Matt Frisbee draws the start on Sunday for his Triple-A debut. He'll face Reno right-hander Josh Green (3-1 with a 3.67 ERA). First pitch is set for 1:05 p.m. (PT). Listen to all of the action live online at rivercats.com, and on the *MiLB First Pitch app. *
Additional Notes
The River Cats received surprising, yet welcome offensive production from their pitchers. In addition to Selman, right-hander Tyler Cyr started the second-inning rally with a one-out walk and scored on Bart's single.
Right fielder Bryce Johnson upped the lead to 10-5 in the seventh with a two-run home run.
Left fielder Joe McCarthy extended his team-leading hitting streak to 10 games. The lefty went 2-for-4 with two runs, a walk, and a strikeout.