Sacramento River Cats All-Time Lineup (Giants Edition)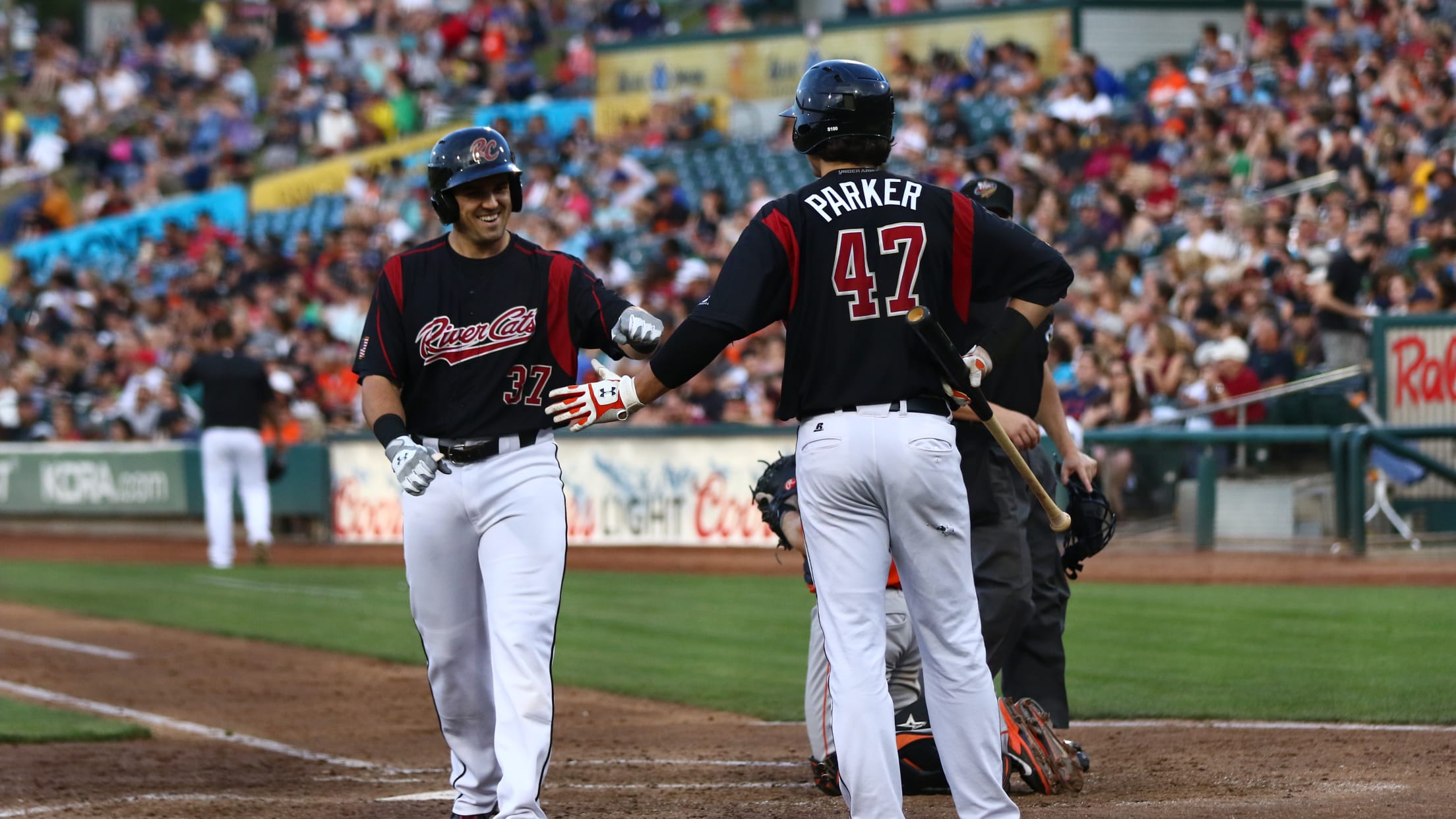 (Ralph Thompson 916-813-3236)
If you had to win one game and the only players you could choose from were former River Cats from the San Francisco Giants era, who would you pick to be in your lineup? These are our selections.First Base: Chris ShawIn just 264 career games in a River Cats uniform,
If you had to win one game and the only players you could choose from were former River Cats from the San Francisco Giants era, who would you pick to be in your lineup? These are our selections.
First Base: Chris Shaw
In just 264 career games in a River Cats uniform, Shaw is just two shy of Chris Carter on Sacramento's all-time home run list. Shaw's major-league breakthrough has yet to come, but the 26-year old's career is far from over.
Runner-up: Travis Ishikawa
Why? Shaw over Ishikawa is close. Shaw's three-year impact as a River Cat, in this case, trumps Ishikawa's 488 major-league contests spent mostly as a back-up first baseman, as well as his playoff lore.
Second Base: Kelby Tomlinson
"Specs" might be one of the most underappreciated players of the Giants' post-World Series era. He managed to chip in one fWAR per season from 2015 to 2016 despite fewer than 200 plate appearances each year. Particularly good was his 2015 performance backing up Joe Panik at second base as he slashed .303/.358/.404. It was more of the same for Tomlinson as a member of the River Cats as he hovered around .300 with a 8.7% walk rate in 687 plate appearances stretched over four seasons.
Runner-up: Ramiro Peña
Why? It was a toss-up between Peña and Kevin Frandsen here, but the Mexican middle infielder gets the nod for superior defense and his successful 2016 campaign with the River Cats and Giants.
Shortstop: Ehire Adrianza
Adrianza's major-league success came after leaving the Giants' organization in the form of the Minnesota Twins' back-up shortstop. His below-average but versatile switch-hitting bat gave way to superb defense, and the Twins have certainly appreciated his contributions over the last three seasons. And like Tomlinson, Adrianza excelled as a contact hitter with solid plate discipline for the River Cats.
Runner-up: Mauricio Dubon
Why? Fast forward one year, and these two are likely switched. Dubon is well on his way to thrilling Giants' fans as the heir apparent to Brandon Crawford. The native Honduran, who came to Sacramento and attended Capital Christian High School, scattered 32 hits and 10 walks in just 25 games at the top of the River Cats' lineup before getting called up.
Third Base: Adam Duvall
For the Giants, he's the one that got away. Duvall crushed the ball in 2015 with the River Cats, racking up 25 home runs and 26 doubles in just 100 games while recording the only cycle in team history before getting shipped to Cincinnati. There, he posted back-to-back 30 double, 30 home run seasons including his first full season as a member of the Reds when he accumulated 2.4 fWAR and earned a spot on the National League All-Star team.
Runner-up: Zach Green
Why? When 62% of your hits in almost 300 plate appearances go for extra bases, you're doing something right. That's what the Carmichael, Calif. native did for the River Cats in 72 games that included 25 home runs. Though if you think this is a questionable call as Green has virtually zero major-league time, we completely understand if you're thinking about this clip right now.
Catcher: Hector Sanchez
What could have become of Sanchez had he not been clocked in the mask by a foul-tip in what felt like a weekly occurrence during his River Cats and Giants tenure. Still, the switch-hitting Venezuelan proved to be a serviceable back-up to Buster Posey during some of the Giants' best years.
Runner-up: Aramis Garcia
Why? Who knows what we'd be thinking of this former second-rounder had his two unfortunate injuries not occurred. Garcia smacked 20 doubles and 16 homers in just 89 games for the River Cats during 2019's championship run, and also impressed the Giants with an .800 OPS in his major-league debut during 19 September games a year earlier.
Left Field: Jarrett Parker
Raw power, the ability to draw walks, and above-average corner outfield play. If only Parker had been able to keep his strikeout rate below 30% and avoid that season-altering collision with the left-field wall. Despite that, Parker's 84 games for the Giants between 2015 and 2016, which included his epic three-homer game at the Coliseum, were good enough for him to accumulate 1.4 fWAR in a short period of time. And as a River Cat, he was one of the most feared left-handers in the Pacific Coast League from 2015 to 2017.
Runner-up: Juan Perez
Why? This was a pretty easy call, but Perez earns the runner-up spot simply for his incredible defense in 2013 where he accrued 1.2 fWAR with the Giants in just 34 games despite being subpar at the plate. Ten defensive runs saved in just 218 innings is absolutely insane. His River Cats production was limited to the 2015 season where he slashed .265/.306/.424 with 17 stolen bases in 83 games.
Center Field: Gorkys Hernandez
Hernandez was the River Cats' catalyst in 2016, leading the club in games, hits, runs, doubles, and stolen bases while playing stellar center field defense. He would go on to provide the Giants with solid fourth-outfielder production spread over 296 games.
Runner-up: Steven Duggar
Why? Duggar is unfortunately another Giants farmhand who has yet to see consistent major-league playing time due to injury. The jury is still out on this 26-year old, who owns an .820 OPS in nearly 500 triple-A plate appearances but is mostly known for his remarkable range in center field.
Right Field: Austin Slater
Slater has been a consistent offensive force for the River Cats for years. He's arguably the best hitter, in terms of triple-A performance, to don a River Cats uniform since the affiliation change. His .922 OPS in just over 1,000 plate appearances is highest among qualifying players since 2015.
Runner-up: Mac Williamson
Why? Mac certainly has more raw power, but Slater has been the more productive player both as a member of the River Cats and the Giants. What could have been if it weren't for that bullpen mound…
Starting Pitcher: Ty Blach
"The Preacher" shot through the Giants' farm system and was the workhorse of the River Cats' staff just three years after being taken in the fifth round out of Creighton. Sacramento's all-time leader in shutouts (4), he led the team in games started and innings-pitched from 2015 to 2016 before breaking camp with the big-league club to begin the 2017 season. Blach pleased the Giants faithful by allowing just two earned runs in 20 career innings while facing the archrival L.A. club at Dodger Stadium.
Runner-up: Chris Heston
Why? We could've gone with Chris Stratton here for the same reasons as Blach, but Heston's bizarre yet spectacular no-walk, 11-strikeout no-hitter in Queens featuring three hit-by-pitches gives him the leg up.
Closer: Tyler Rogers
In a River Cats uni, Rogers has tossed 30 or more innings in four consecutive seasons and 60 or more in three consecutive. All this while posting a 3.27 ERA and baffling hitters with his submarine delivery that practically involves his right hand scraping the dirt off the pitcher's mound. A much-deserved promotion in late 2019 allowed for Rogers to not only make his major-league debut, but pitch so well in just 17 appearances that it essentially secured a spot in the Giants' bullpen for the 2020 season.
Runner-up: Steven Okert
Why? Since the 2014 offseason's affiliation switch, Okert has pitched at least 25 innings for the River Cats every season. Two-hundred appearances later and he's the franchise's all-time leader in that category. Though his time in the show was sporadic, he was often effective despite an ERA over four. Okert's 29-inning stretch from mid-April to mid-June 2019 with Sacramento, where he struck out 42.3% of the batters he faced while walking just four, were overshadowed by even more dominant work by fellow lefty Sam Selman.