Stratton, River Cats stifle Grizzlies 4-2
Calixte paces offense with team-leading 4th home run of the season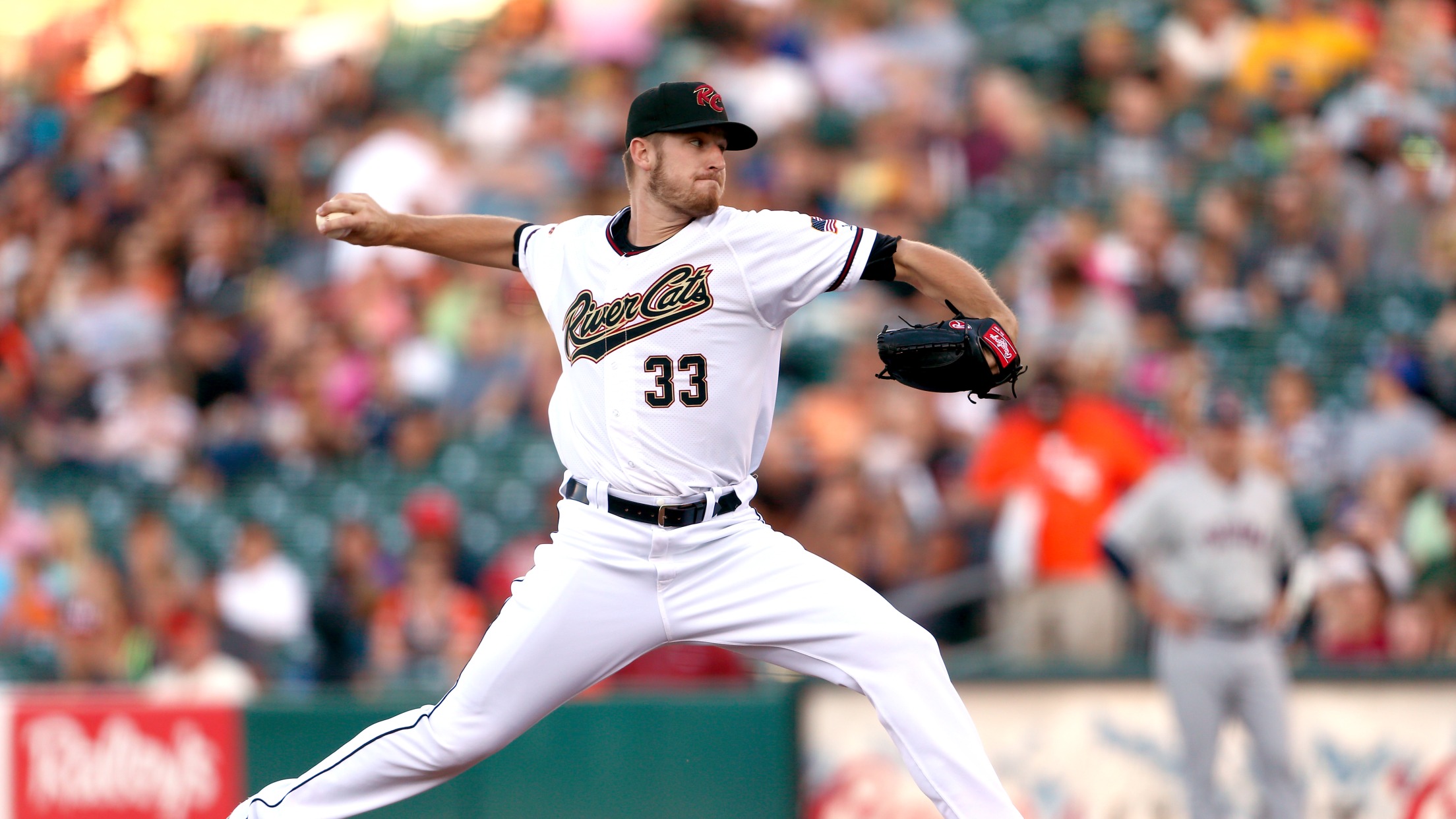 (Ralph Thompson Anysportphoto.com)
The Sacramento River Cats (10-17) rode a strong start by Chris Stratton and a home run by Orlando Calixte to a 4-2 victory against the Fresno Grizzlies (12-16) Thursday evening at Chukchansi Park. 
The Sacramento River Cats (10-17) rode a strong start by Chris Stratton and a home run by Orlando Calixte to a 4-2 victory against the Fresno Grizzlies (12-16) Thursday evening at Chukchansi Park.
Stratton was excellent in his return to the River Cats rotation. The righty went 4.1 innings, allowing four hits and a walk, while striking out six. He took a no decision in this one, however, after throwing just 71 pitches (49 strikes).
Shortstop Calixte got the scoring started in the third inning with a two-run homer to left, which was changed from a double after the umpires met to confirm the ball had cleared the fence. Sacramento added a run in the sixth on back-to-back doubles by Chris Marrero and Justin Ruggiano, then another on a throwing error in the seventh.
Kraig Sitton came on to relieve Stratton, and after giving up a run on two hits in the 5th inning, the tall lefty retired the final eight hitters he faced. Matt Reynolds threw a clean 8th, before Ryan Webb nailed things down in the 9th to earn his 2nd save.
The River Cats go for their second series win behind right-hander Dan Slania (0-3, 9.17). The Grizzlies counter with righty Trent Thornton (0-0, 1.50) as they seek a series split. First pitch is at 7:05 and can be heard live online at rivercats.com and on the air on ESPN 1320.
Postgame Notes
Calixte: Calixte hit his team-leading 4th home run of the 3rd inning, a two-run shot down the left field line to put the River Cats ahead…he now leads the team in home runs (4), RBI (18), stolen bases (6), and is second in runs (11)…In May the speedy jack-of-all-trades is hitting .333 (6-18) with 7 RBI.
Stratton: The River Cats starter was excellent tonight, as he made his first start since the San Francisco Giants optioned him to Sacramento on May 2…Stratton appeared only in relief for the big club, so he threw just 71 pitches as be builds back up to a starters workload…The righty's last start came with the River Cats on April 17 in Las Vegas.
Bullpen: The Sacramento relievers came up big once again, as Sitton, Reynolds, and Webb combined to throw 4.2 innings, allowing two runs on five hits, while striking out four.
Ruggiano: Acting as the designated hitter on Thursday, Ruggiano went 3-for-4 with a double and an RBI…was his first three-hit game and just his third multi-hit game with the River Cats in 2017…Sacramento is now 4-0 when Ruggiano is the DH.
***
The Sacramento River Cats are the Triple-A affiliate of the three-time World Champion San Francisco Giants. The team plays at Raley Field in West Sacramento, consistently voted one of the top ballparks in America. River Cats Season Tickets, Mini-Plans, and Flex Plans can be purchased for the 2017 season by calling the River Cats Ticket Hotline at (916) 371-HITS (4487). For more information about the River Cats, visit www.rivercats.com. For information on other events at Raley Field, visit www.raleyfield.com.