Giants re-sign Joe Panik for 2019
By Salem-Keizer Volcanoes | December 2, 2018 12:19 AM
San Francisco, CA - The San Francisco Giants announced today they have agreed on a one-year contract for the 2019 season to avoid arbitration.
Panik, 28, finished the 2018 season batting .254 with four home runs and 24 RBI in 102 games.
While Panik was with the Volcanoes in 2011, it was clear he was no ordinary player. Panik forever left his mark on the league by taking the most valuable player award during his 2011 campaign.
Playing in 69 games with Salem-Keizer, Panik finished the season with the fifth best batting average in franchise history (.341). He hit six home runs while knocking in the third most runs in franchise history (54).
Even though Panik was a premier RBI man, he had the bat control of a lead off hitter. While only striking out 25 times in 270 at bats, Panik reached base consistently and swiped 13 steals with the Volcanoes.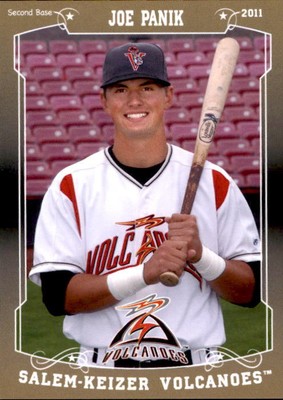 This story was not subject to the approval of the National Association of Professional Baseball Leagues or its clubs.
View More