Salem-Keizer scores season high 12 runs
The Volcanoes erupt for 12 run ball game in 12-3 win over Boise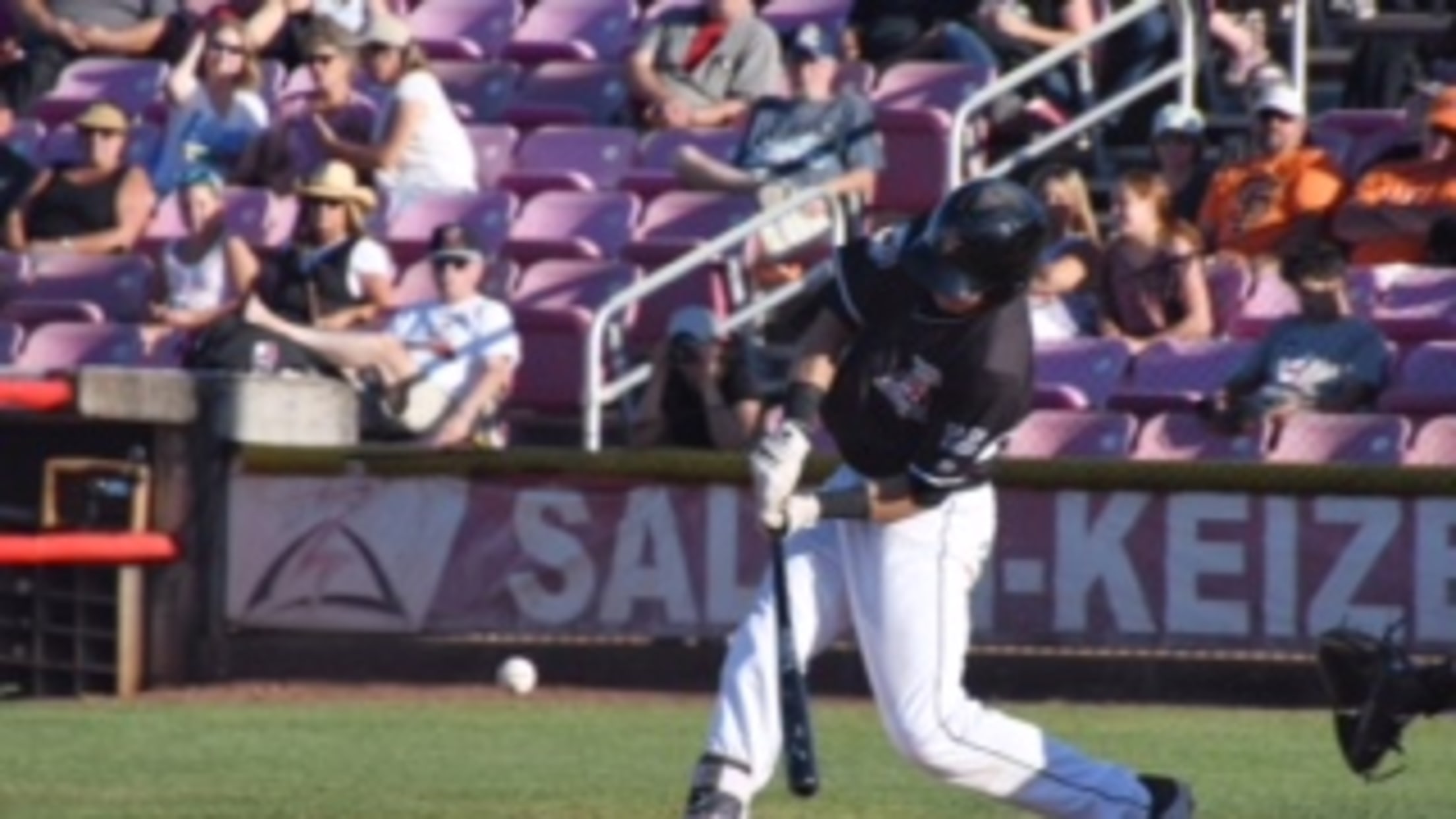 (Ben Ammon)
KEIZER, Ore - On a warm, 83-degree night at Volcanoes Stadium, the Volcanoes welcomed the Boise Hawks to town by hammering 12 runs on 17 hits. The Volcanoes did damage in the first three innings scoring 5 run sin the 1st, a run in the 2nd, and another 5 runs
KEIZER, Ore - On a warm, 83-degree night at Volcanoes Stadium, the Volcanoes welcomed the Boise Hawks to town by hammering 12 runs on 17 hits. The Volcanoes did damage in the first three innings scoring 5 run sin the 1st, a run in the 2nd, and another 5 runs in the 3rd going in front 11 to 0 heading into the 4th inning.
The Volcanoes started hot with back to back infield singles from left fielder Bryce Johnson and right fielder Logan Baldwin. Both corner outfielders hit high choppers to the shortstop Matt McLaughlin that McLaughlin couldn't play cleanly. First baseman Ryan Kirby then made the Hawks pay by smashing an inside pitch to right field that cleared the wall easily. The Volcanoes used a walk from second baseman Orlando Garcia and a double from shortstop Manuel Geraldo to put two runners in scoring position for designated hitter Michael Sexton, who torched a ball to center that scored both middle infielders easily.
In the third inning, the Volcanoes used five singles, a Boise error and two stolen bases to score five runs in the third inning. The five run inning padded their 6-run lead that the team entered the inning with and pushed the lead to 11 to 0.
A run in the second and a run in seventh helped add more nails to the Hawks' coffin in game number one of the series.
Every starter had a hit for the Volcanoes and every player reached base in the ball game. Center fielder Malique Ziegler finished 3-for-6 with two runs scored and two stolen bases, and Balwdin finished 4-for5 with two runs scored. However, the big difference maker tonight was, Kirby who clobbered a deep home run to right field in his first at bat, and finished the game going 2-for-5 with 5 RBI.
Run support is a pitcher's best friend, and that's exactly what starting pitcher Jose Marte received tonight pitched 6 innings, allowing 9 hits, 2 earned runs to go along with 5 strikeouts.
The Volcanoes and Hawks will battle in game number two of the three-game series August 17 at Volcanoes Stadium. First pitch is slated for 6:35 pm PDT. Both teams' starting pitchers are to-be-determined.