Volcanoes offense has slow night and falls to Vancouver 8-5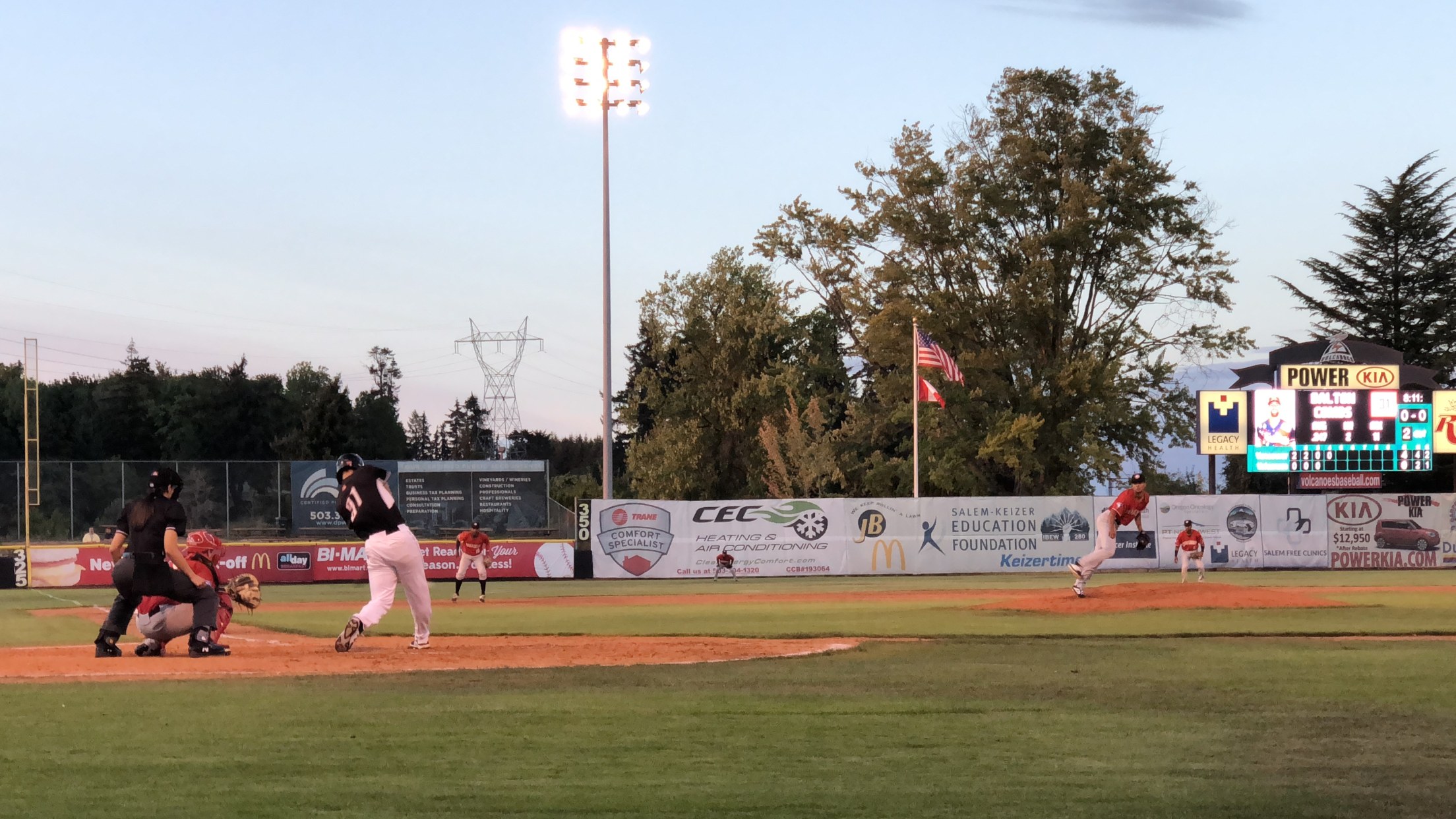 KEIZER, Ore - The Volcanoes were coming off a heartbreak from last night's extra innings loss to the Canadians and looking to rebound. However, the offense did not get much going and were only able to total six hits and five runs. It was an uncharacteristic night for the Volcano
KEIZER, Ore - The Volcanoes were coming off a heartbreak from last night's extra innings loss to the Canadians and looking to rebound. However, the offense did not get much going and were only able to total six hits and five runs. It was an uncharacteristic night for the Volcano offense that leads the Northwest League (NWL) in most major categories. The Volcanoes went the first six inning and only put up two runs. Gregory Santos got the start for the Volcanoes and was injured in the first inning, however, still took the loss for his one earned run.
Santos started the night off strong with two quick outs before disaster struck. Santos was facing Vancouver designated hitter Griffin Conine who hit a ball up the middle with an exit velocity of 105 mph that struck Santos on the left side of his face. He went down to the ground immediately as the ball flew in the air and landed about five feet in front of the Volcanoes dugout. Santos would end up being carted off and taken to a local hospital. Miguel Figueroa came in to relieve Santos and promptly gave up a 2-run HR.
The Volcanoes offense finally got something going in the seventh inning where they were able to put up three runs. Those runs were all the Volcanoes were able to put up the rest of the game. This offense does lead the NWL in AVG, SLG, OPS, H, RBI, 2B, HR, and R. The only big offensive stat the Volcanoes do not lead in is stolen bases.
The pitching for the Volcanoes was relatively solid tonight considering the abrupt call to the bullpen. Figueroa finished his night after a solid 3.1 of work and gave up three runs, two earned, during that time. He was relieved by Trevor Horn, who was making his Volcanoes debut and went 2.0 innings of work and gave up three runs, all earned. JJ Santa Cruz came in after him and threw a very solid 3.0 innings while only surrendering one run.
The Volcanoes will look to get back on track Sunday night starting at 5:05 PM.