Blue Rocks blasts knock-out Salem 7-4
Fitzgerald records 4-4, 3 RBI night in effort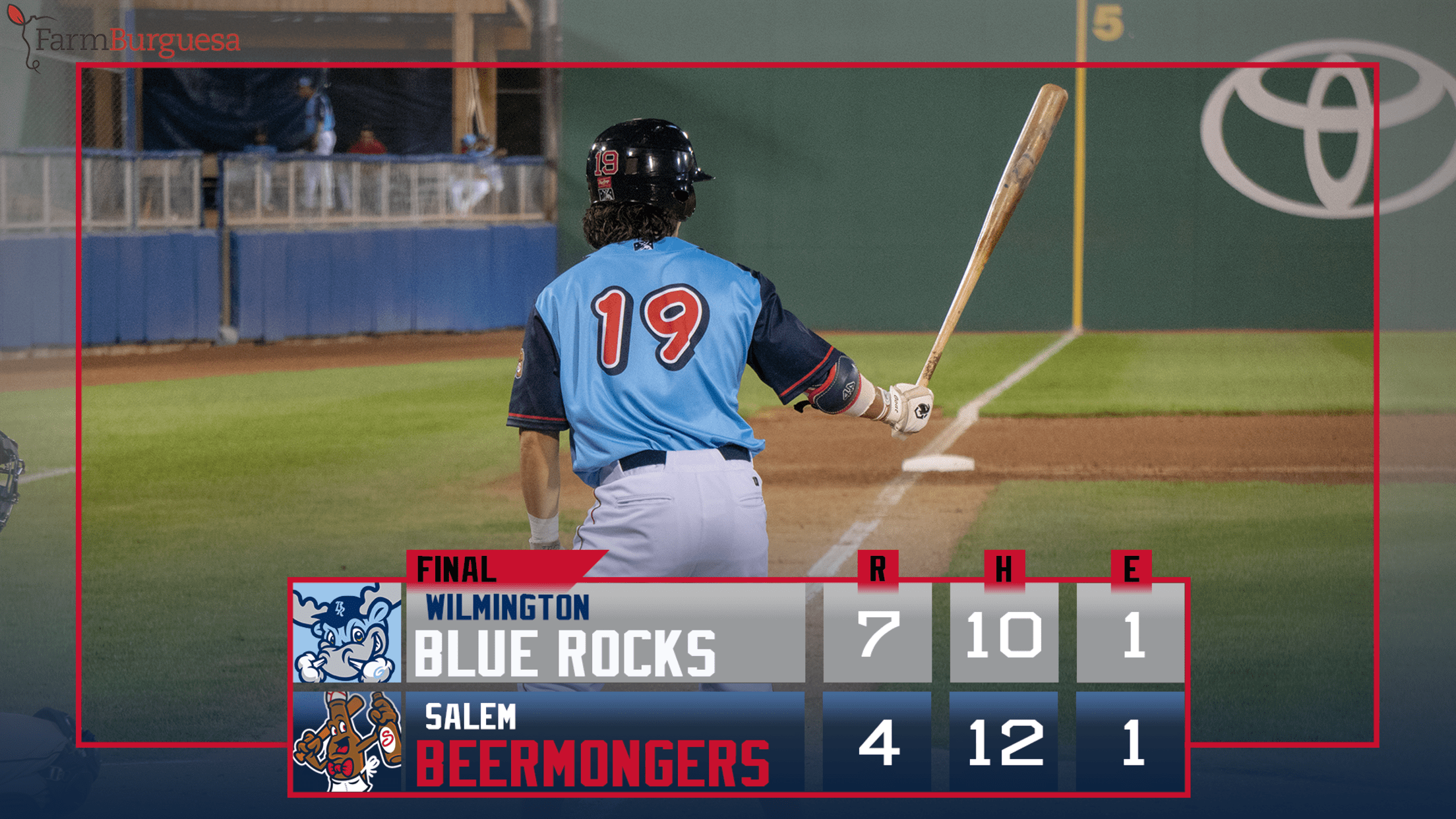 Ryan Fitzgerald recorded a 4-4 night with 3 RBI Thursday at Haley Toyota Field. (Troy Wisneski)
SALEM, Virginia (May 23, 2019) - Ryan Fitzgerald finished a home run shy of the cycle, going 4-for-4 and driving in three of Salem's runs in a comeback that fell short as Wilmington took the series with a 7-4 win Thursday night at Haley Toyota Field.How it Happened* Jarren Duran
SALEM, Virginia (May 23, 2019) - Ryan Fitzgerald finished a home run shy of the cycle, going 4-for-4 and driving in three of Salem's runs in a comeback that fell short as Wilmington took the series with a 7-4 win Thursday night at Haley Toyota Field.

How it Happened
* Jarren Duran led off the first inning with a double, promptly scoring on a triple from Ryan Fitzgerald to give the BeerMongers a 1-0 lead.
* Wilmington cracked onto the board in the third inning with an RBI single by newcomer Colby Schultz to even the contest 1-1.
* The BeerMongers responded in the bottom of the frame; Fitzgerald knocked in Duran again, this time an RBI single, to reclaim a 2-1 lead.
* Dennicher Carrasco led the fourth frame with a solo home run to left field, again drawing even 2-2.
* The Blue Rocks doubled down in the fifth inning on a 2-run double from Nick Pratto to draw their biggest lead, 4-2.
* Schultz contributed his second RBI of the night with a sixth-inning single to tack on a 5-2 difference.
* Fitzgerald scored Duran for the third time in the seventh inning on another single and cut into Wilmington's lead, 5-3.
* Blake Perkins blasted the second home run of the night for the Blue Rocks, a 2-run shot to cut Salem's chances 7-3.
* Pedro Castellanos made one more attempt for the BeerMongers in the bottom of the 9th with a sacrifice groundout to cut the difference 7-4 before Salem ran out of time, dropping the game and the series three games to one.

Standout Sox
* Ryan Fitzgerald: 4-for-4, 3 RBI, 3B, 2B
* Pedro Castellanos: 0-for-4, RBI
* Jarren Duran: 3-for-4, 3 R, 2B, SB

Noteworthy
* Duran, Fitzgerald, Dylan Hardy and Marcus Wilson all doubled tonight to continue Salem's extra-base streak. The club has lashed 106 through 45 games.
* Jarren Duran's lead-off double extended his hit streak to 15 games. He swiped his League-leading 16th bag in the third inning.
* Marcus Wilson extended his hit streak to three games with a single in the second inning, recording a 2-for-4 night for back-to-back multi-hit games.

What's Next
Salem Red Sox vs. the Winston-Salem Dash, Friday, May 25, 2019. First pitch is scheduled for 7:05 PM EST.
LHP Jhonathan Diaz vs. LHP Konnor Pilkington
Listen: SalemSox.com, TuneIn Radio, ESPN Blacksburg WKEX 1430 AM/94.1 FM, ESPN Roanoke WGMN 1240 AM/93.3 FM
Watch: MiLB TV
The Salem Red Sox are the Advanced-A affiliate of the Boston Red Sox and call Haley Toyota Field in Salem, Virginia home. The team was founded in 1968 and purchased by Fenway Sports Management in December of 2007. For more information on the Salem Red Sox, please visit SalemRedSox.com or contact Melanie Newman at [email protected].