Corcino walks-off Sox in Extras
Salem arms superb in 3-2 win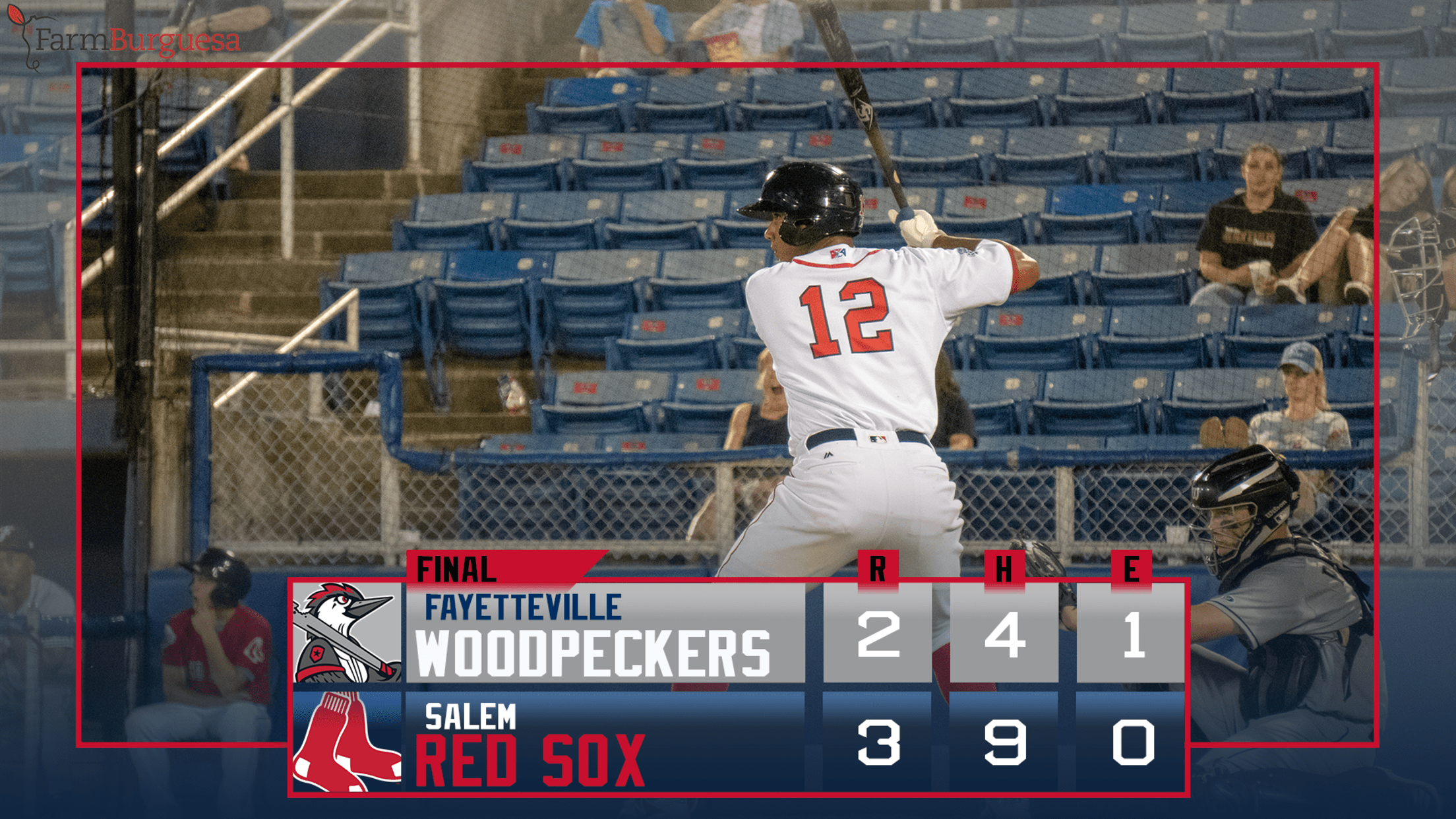 SALEM, Virginia (June 25, 2019) - Daniel Gonzalez stretched through eight innings of work, with scoreless bullpen relief, but it was Edgar Corcino who finally delivered Salem a 3-2 walk-off win over Fayetteville Tuesday night at Haley Toyota Field.How it Happened * J.J. Matijevic blasted a solo home run in
SALEM, Virginia (June 25, 2019) - Daniel Gonzalez stretched through eight innings of work, with scoreless bullpen relief, but it was Edgar Corcino who finally delivered Salem a 3-2 walk-off win over Fayetteville Tuesday night at Haley Toyota Field.

How it Happened
* J.J. Matijevic blasted a solo home run in the first inning to put Fayetteville up 1-0.
* Ryan Fitzgerald knotted the tilt with a lead-off, no-doubt shot out of the park to start the bottom of the fourth inning.
* The Woodpeckers reclaimed the lead on another home run, this by Michael Papierski, in the seventh inning.
* Garrett Benge drilled a triple deep to left field in the eighth frame, scoring Edgar Corcino from first to re-tie the contest.
* Daniel Gonzalez matched his longest career start, tossing eight innings of two-run ball with no walks and seven strikeouts.
* Zach Schellenger closed the ninth frame with three strikeouts to hold Salem even. Rio Gomez entered in extras and escaped a bases-loaded jam.
* Fitzgerald was the placed runner at second base when Edgar Corcino led off with a ball deep to left field to score Fitzgerald. Corcino touched second as the team erupted onto the field for their second walk-off win.
Standout Sox
* Edgar Corcino: 1-for-4, RBI, R,
* Ryan Fitzgerald: 1-for-4, RBI, 2 R, HR
* Garrett Benge: 1-for-3, RBI, 3B
* Marcus Wilson: 2-for-4, 2 2B
* Daniel Gonzalez: 8.0 IP, 4 H, 2 R, 2 ER, 0 BB, 7 K
* Zach Schellenger: 1.0 IP, 0 H, 0 R, 0 ER, 1 BB, 3 K
* Rio Gomez: 1.0 IP, 0 H, 0 R, 0 ER, 2 BB, 0 K - W (1-0)

Noteworthy
* Ryan Fitzgerald's blast in the fourth inning was the first of the year for the shortstop.

What's Next
Salem Red Sox vs Fayetteville Woodpeckers Wednesday, June 26, 2019. First pitch is scheduled for 7:05 PM EST.
LHP Jhonathan Diaz vs. RHP Luis Garcia
Listen: SalemSox.com, TuneIn Radio, ESPN Blacksburg WKEX 1430 AM/94.1 FM, WGMN 1240 AM/93.3 FM
The Salem Red Sox are the Advanced-A affiliate of the Boston Red Sox and call Haley Toyota Field in Salem, Virginia home. The team was founded in 1968 and purchased by Fenway Sports Management in December of 2007. For more information on the Salem Red Sox, please visit SalemRedSox.com or contact Melanie Newman at [email protected].