Hillcats claw back for 8-4 win over Sox
Benge homers in seesaw affair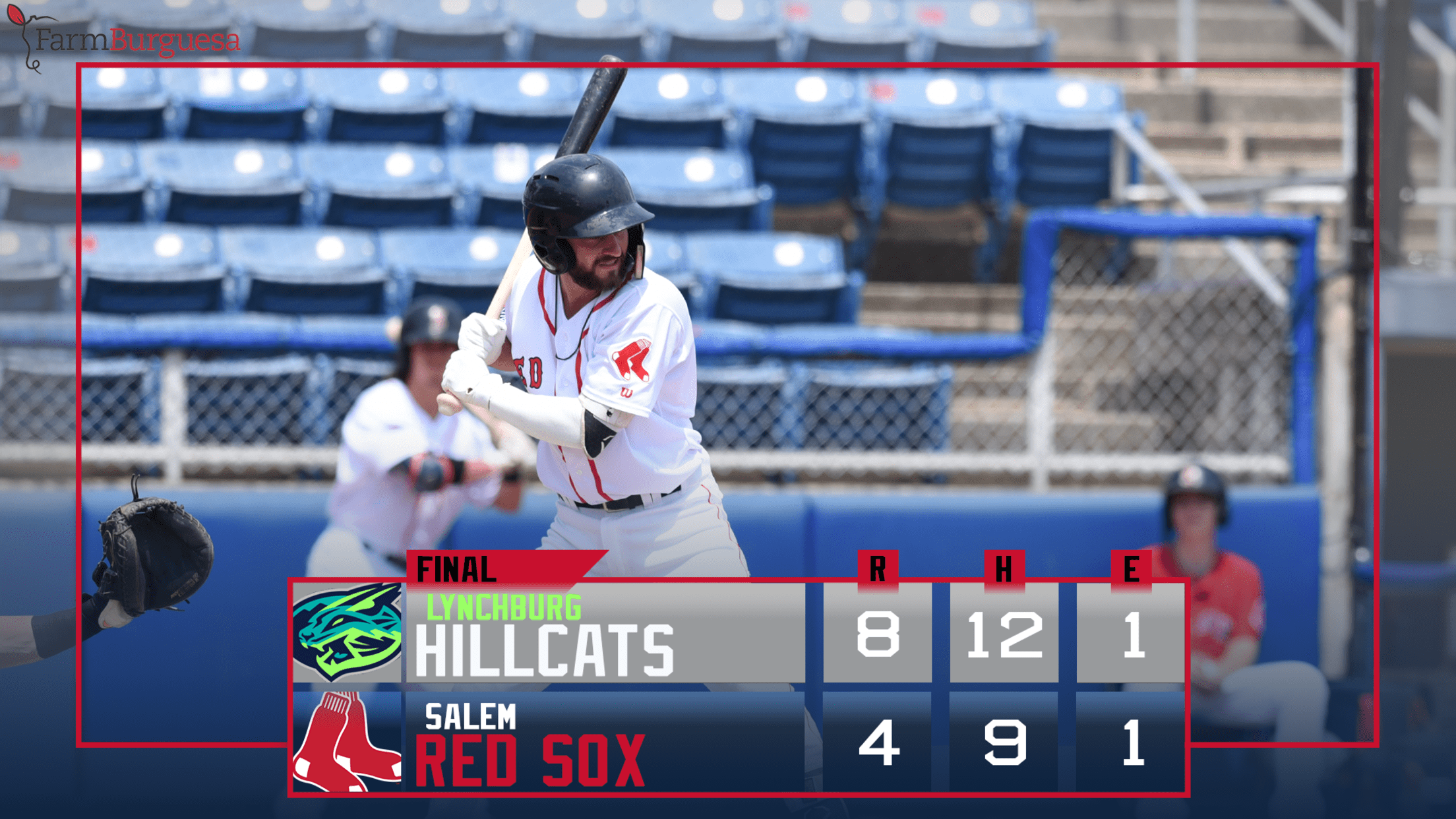 (Gary Streiffer)
SALEM, Virginia (August 6, 2019) - Garrett Benge blasted his fourth home run of the year but the Salem Red Sox faded to an 8-4 defeat against the Lynchburg Hillcats Tuesday night at Haley Toyota Field.How it Happened * Salem snagged a 2-0 lead in the first inning. Victor Acosta
SALEM, Virginia (August 6, 2019) - Garrett Benge blasted his fourth home run of the year but the Salem Red Sox faded to an 8-4 defeat against the Lynchburg Hillcats Tuesday night at Haley Toyota Field.

How it Happened
* Salem snagged a 2-0 lead in the first inning. Victor Acosta reached on an error and scored on a double from Keith Curcio. Edgar Corcino and Tanner Nishioka connected consecutive hits, the latter to score Curcio and push ahead.
* Lynchburg cut the lead in half in the second inning with a sacrifice fly.
* Mitch Reeves led-off the fourth frame with a single and immediately scored when Gavin Collins doubled. Mike Rivera drove a sacrifice fly and Cody Farhat and Luke Wakamatsu pushed back-to-back doubles to trade places and advance the Hillcats 4-2 over Salem.
* Nick Lovullo doubled in the bottom of the inning when Garrett Benge demolished a home run to tie the tilt 4-4.
* Collins sparked the start of the sixth inning with a home run. Rivera contributed an RBI double and Steven Kwan cleared the bases with a two-run single to reclaim an 8-4 difference.
* Joan Martinez covered the final three frames, permitting just one hit and striking out four.
Standout Sox
* Garrett Benge: 2-for-4, 2 RBI, R, HR
* Keith Curcio: 1-for-5, RBI, R, 2B
* Tanner Nishioka: 1-for-3, RBI
* Joan Martinez: 3.0 IP, 1 H, 0 R, 0 ER, 1 BB, 4 K

Noteworthy
* Potomac rained out against Frederick Tuesday evening. Combined with Salem's loss, the two teams move into a tie for the North Division's first place in the second half of the season.
What's Next
Salem Red Sox vs Lynchburg Hillcats Wednesday, August 7, 2019. First pitch is scheduled for 7:05 PM EST.
LHP Enmanuel DeJesus vs. LHP Kirk McCarty
Listen: SalemSox.com, TuneIn Radio, ESPN Blacksburg WKEX 1430 AM/94.1 FM, WGMN 1240 AM/93.3 FM
Watch: MiLB.TV
The Salem Red Sox are the Advanced-A affiliate of the Boston Red Sox and call Haley Toyota Field in Salem, Virginia home. The team was founded in 1968 and purchased by Fenway Sports Management in December of 2007. For more information on the Salem Red Sox, please visit SalemRedSox.com or contact Melanie Newman at [email protected].