Late Mudcats home run sinks Sox 6-4
Fitzgerald homers in effort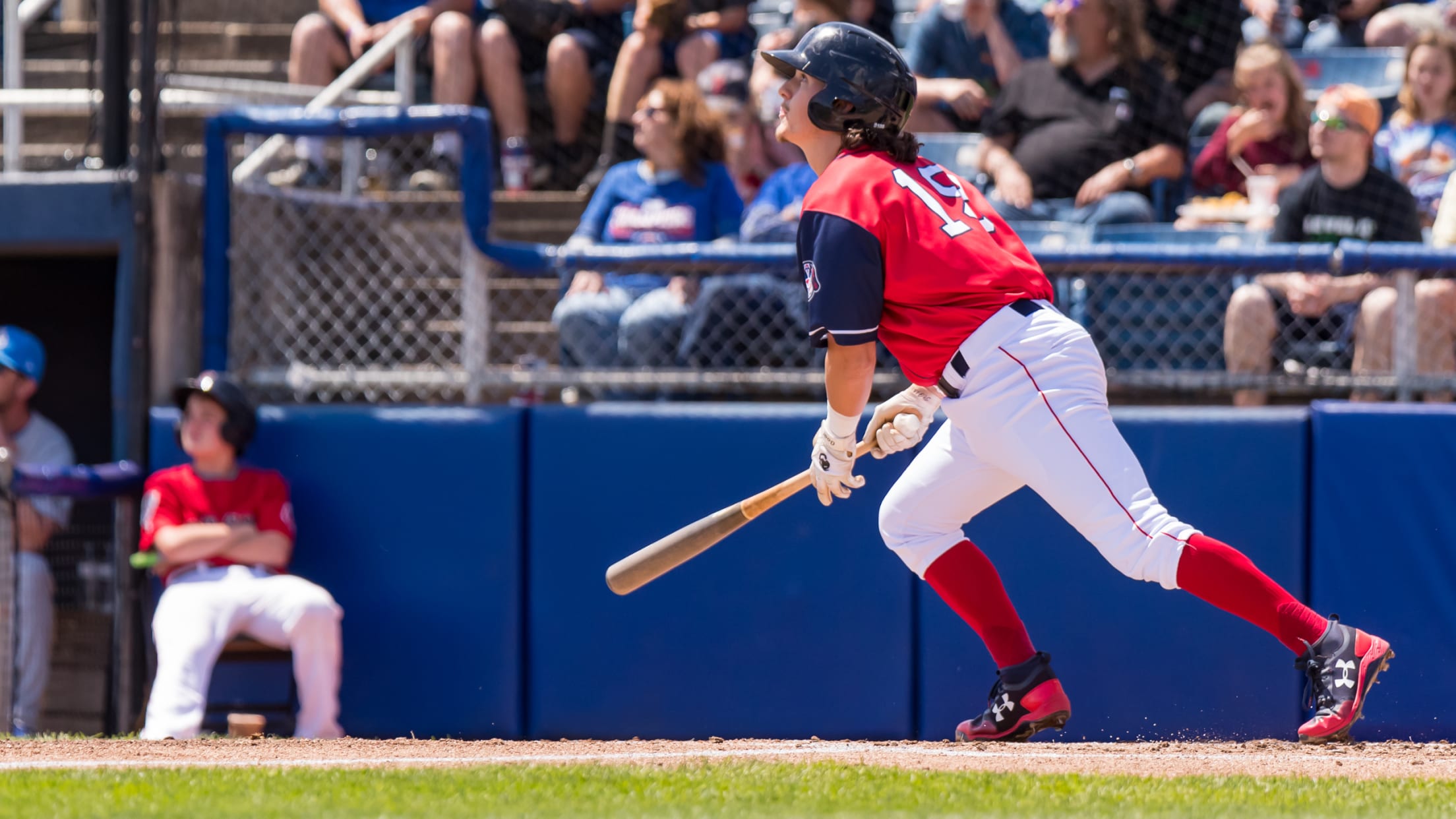 Ryan Fitzgerald homered Friday night in Zebulon. (John Wacher)
ZEBULON, North Carolina (August 9, 2019) - Ryan Fitzgerald homered in a strong start for the Salem Red Sox but the efforts were quelled when the Carolina Mudcats blasted a late home run to take a 6-4 win Friday night at Five Counties Stadium.How it Happened * Salem sparked in
ZEBULON, North Carolina (August 9, 2019) - Ryan Fitzgerald homered in a strong start for the Salem Red Sox but the efforts were quelled when the Carolina Mudcats blasted a late home run to take a 6-4 win Friday night at Five Counties Stadium.

How it Happened
* Salem sparked in the second inning. Devlin Granberg doubled and promptly scored on a triple from Edgar Corcino for the initial lead. Victor Acosta delivered an RBI single and 2-0 difference.
* Mario Feliciano lifted a solo home run in the third inning to cut the lead in half.
* Tanner Nishioka knocked an RBI double to reclaim 3-1 insurance in the fourth inning
* Rob Henry scored on an error in the fifth frame to narrow Salem's lead 3-2.
* The Mudcats wreaked havoc in the seventh inning after Feliciano singled to bring the tilt even, 3-3. Tristan Lutz blasted a three-run home run to take Carolina's first lead of the evening, 6-3.
* Ryan Fitzgerald blasted his second home run of the season to lead-off the eighth inning and cut the deficit 6-4 before running out of time.
Standout Sox
* Ryan Fitzgerald: 1-for-4, RBI, R, HR
* Edgar Corcino: 1-for-4, RBI, R, 3B
* Tanner Nishioka: 1-for-3, RBI, 2B
* Dominic LoBrutto: 1.0 IP, 1 H, 0 R, 0 ER, 0 BB, 3 K

Noteworthy
* Fitzgerald's home run was his second of the season.
What's Next
Salem Red Sox at Carolina Mudcats Saturday, August 10, 2019. First pitch is scheduled for 5:00 PM EST.
RHP Thaddeus Ward vs. RHP Matt Smith
Listen: SalemSox.com, TuneIn Radio, ESPN Blacksburg WKEX 1430 AM/94.1 FM, WGMN 1240 AM/93.3 FM
Watch: MiLB.TV
The Salem Red Sox are the Advanced-A affiliate of the Boston Red Sox and call Haley Toyota Field in Salem, Virginia home. The team was founded in 1968 and purchased by Fenway Sports Management in December of 2007. For more information on the Salem Red Sox, please visit SalemRedSox.com or contact Melanie Newman at [email protected].