Red Sox blast past Micro Brews 9-7
Marcus Wilson smacks three-run bomb to snap skid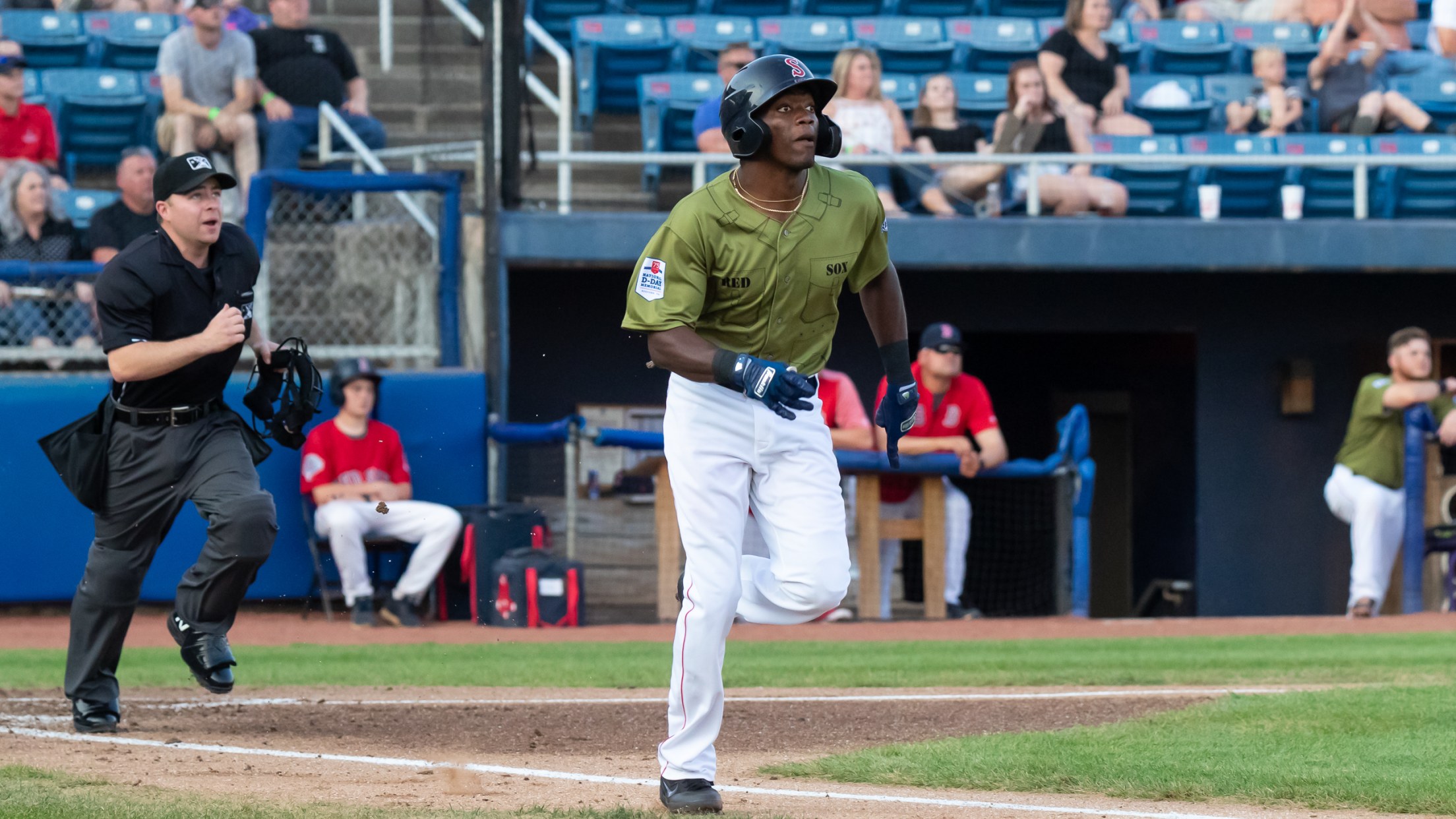 Marcus Wilson homered late Thursday night in Zebulon to lift Salem past Carolina (John Wacher)
ZEBULON, North Carolina (June 6, 2019) - Salem snapped its 10-game losing skid Thursday night at Five County Stadium when Marcus Wilson lifted the Red Sox 9-7 over Carolina with a 3-run home run. How it Happened * Carolina jumped on Salem for an early 4-0 lead. Zach Clark delivered
ZEBULON, North Carolina (June 6, 2019) - Salem snapped its 10-game losing skid Thursday night at Five County Stadium when Marcus Wilson lifted the Red Sox 9-7 over Carolina with a 3-run home run.

How it Happened
* Carolina jumped on Salem for an early 4-0 lead. Zach Clark delivered an RBI single in the second. Tristen Lutz tacked another in the third before Mario Feliciano dropped a two-run home run to extend the lead.
* Salem roared to life in the fourth inning as the club batted around to retire Noah Zavolas. Marcus Wilson drove in the first run with a single, another from Victor Acosta scored two and Jagger Rusconi dropped a two-run double to take a 5-4 lead.
* The Micro Brews re-claimed the tilt in the sixth inning with a pair of RBI from Eddie Silva and Julio Garcia for a 6-5 difference.
* Garrett Benge knotted the contest with an RBI single in the seventh inning but it was Wilson's three-run blast past the left field score board that gave Salem an assuring 9-6 lead.
* Robbie Baker, Andrew Politi and Eduard Bazardo closed the final four frames of work allowing two runs and striking out eight.
* A solo home run by Ryan Aguilar in the ninth inning cut Salem's lead 9-7 before Bazardo ended the contest with a strikeout to secure victory.
Standout Sox
* Marcus Wilson: 2-for-4, 4 RBI, 2 R, HR
* Victor Acosta: 1-for-4, 2 RBI, R
* Jagger Rusconi: 1-for-4, 2 RBI, 2B
* Garrett Benge: 1-for-4, RBI, 2 R
* Pedro Castellanos: 3-for-5, 2 R, 2B
* Robbie Baker: 1.0 IP, 3 H, 1 R, 2 K, W (2-1)
* Andrew Politi: 2.2 IP, 2 H, 1 R, 2 BB, 5 K, H (1)
* Eduard Bazardo: 0.1 IP, 0 H, 0 R, 0 BB, 1 K, S (3)

Noteworthy
* The win closes Salem's longest losing streak of the season at 10 games.

What's Next
Salem Red Sox at Carolina Mudcats Friday, June 7, 2019. First pitch is scheduled for 7:00 PM EST.
TBA vs. RHP Braden Webb
Listen: SalemSox.com, TuneIn Radio, ESPN Blacksburg WKEX 1430 AM/94.1 FM, ESPN Roanoke WGMN 1240 AM/93.3 FM
Watch: MiLB TV
The Salem Red Sox are the Advanced-A affiliate of the Boston Red Sox and call Haley Toyota Field in Salem, Virginia home. The team was founded in 1968 and purchased by Fenway Sports Management in December of 2007. For more information on the Salem Red Sox, please visit SalemRedSox.com or contact Melanie Newman at [email protected].