SAL Preview: The Bucs start in West Virginia
Pittsburgh top prospects have chance to flourish with the Power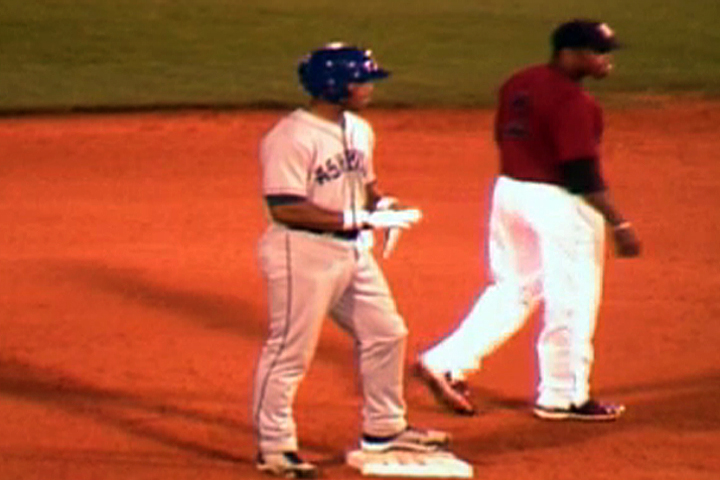 By Kelsie Heneghan / MiLB.com | April 2, 2014 10:00 AM ET
With five of Pittsburgh's top 20 prospects on his roster, West Virginia manager Michael Ryan will have his hands full this season, but in a good way. No. 4 prospect Austin Meadows will be featured in center field, but the ninth overall pick in the 2013 Draft won't join the Power for a few weeks due to a hamstring injury. Meadows ended last season on a tear, hitting .529/.636/.882 for Jamestown in five New York-Penn League games.
Along with Meadows, catcher Reese McGuire (PIT No. 7), starting pitcher Cody Dickson (PIT No. 20), shortstop JaCoby Jones (PIT No. 18) and converted third baseman Wyatt Mathisen (PIT No. 15) will don the black and yellow. Ryan's main focus with the young prospects is to help them handle the inevitable rough patches that come in a full season.
"For many of these guys, this will be the first time that they're going to struggle at times throughout the season, and you just try to help them through those times and make them become better for it," Ryan said.
The manager hopes to help Dickson develop his off-speed pitches and locate his fastball better, all while keeping his innings down. Ryan said he will help McGuire prepare for hitting matchups and develop relationships with the pitchers, but the catcher will call his own games. To make room for McGuire and to add versatility, Mathisen will move from behind the plate to the hot corner. Ryan said the 20-year-old's strong arm and excitement about his new position have helped the transition immensely.
"We are a very good team on paper, but I've seen tons of teams who have been good on paper but not come out too much," Ryan said. "It depends on how well these guys get along together, [and] it depends on how hard they work this season."
On Sundays, we wear seersucker: In an attempt to connect with their Charleston, S.C., fans, the RiverDogs will be wearing seersucker uniforms for home Sunday games. A lightweight fabric, seersucker is a Southern wardrobe staple that should help players stay cool during those hot South Carolina summer days.
Root, Root for the @ChasRiverDogs! Minor League team wearing seersucker uniforms on Sundays. #seersuckersunday pic.twitter.com/QV34GW9igH

- Haspel Clothing (@HaspelClothing) March 26, 2014
Another intriguing idea coming out of Charleston is the sushi hot dog. A twist on the ballpark classic, sushi hot dogs include wasabi mustard, cabbage, seaweed, cilantro and (of course) a frank, all wrapped up in Nori paper.
You can also try the RiverDogs' new carrot dogs, featuring vegetables only. But if meat is your thing, frog legs will be slow roasting in the new smoker, along with the more common brisket and sirloin. Building off its success from last season, Charleston is adding two more self-serve taco herb garden bars for fans who want their Mexican fare fresh.
To move or not to move: As historic Grayson Stadium enters its 89th season, rumors swarm about the Sand Gnats either moving to Columbia, S.C., or getting a stadium renovation. Savannah owner Jason Freier (who also owns the Fort Wayne TinCaps) has been an advocate of the South Carolina town getting a professional team but in an op-ed piece for the Savannah Morning News, wrote that he wants the Sand Gnats to stay in Savannah -- unless Grayson Stadium remains unrenovated.
Freier has expressed interest in buying a third team to move to Columbia. The South Carolina town is the second-largest market in the U.S. lacking a professional sports team behind Tucson, whose Triple-A Padres departed for El Paso this year. Meanwhile in Columbia, the City Council has not yet voted on plans for a new stadium.
The Hagerstown Suns applied this offseason to move to Fredericksburg, Va., but those plans have slowed as investors encountered problems buying the land necessary for a new stadium. According to Fredericksburg.com, the investors were given an extension to figure out a budget and construction plans before officially buying the 38-acre site.
Quick hits
Cole Hamels, who went 6-1 over 13 starts with a 0.83 ERA in 2003, will have his number retired by the Lakewood BlueClaws on June 9. No. 19, who is regarded as the greatest pitcher to come through Lakewood, will be in attendance for the ceremony.
Proud of former Asheville second baseman Russell Wilson for winning the Super Bowl, the Tourists put up a billboard congratulating the Seahawks quarterback. Wilson hit .228 with 15 RBIs in 61 Sally League games back in 2011.
The BlueClaws and Suns will host Cowboy Monkey Rodeo nights on June 12 and July 25, respectively. Yes, you read that correctly: a monkey dressed as a cowboy will ride a dog as the apparently famous primate tours Minor League ballparks.
Embracing their logo, the Lexington Legends are looking to have a "Stache-tastic" season. Since the announcement of the campaign, fans of baseball and facial hair alike have been using #stachetastic on Twitter to show their excitement for the upcoming season.
Last things last: Some significant lasts around the South Atlantic League.
Last season's championship: Savannah over Hagerstown in four games MiLB.com coverage »
Last back-to-back champion: Lakewood 2009-10
Last no-hitter: Jeb Stefan, Ramon Oviedo and Chris Burgess, BlueClaws vs. Rome on July 12, 2013 MiLB.com coverage »
Last 200-strikeout pitcher: John Stephens, Delmarva, 1999
Last cycle: Raul Mondesi, Lexington vs Kannapolis, June 27, 2013 MiLB.com coverage »
Last three-homer game: Joey Gallo, Hickory vs Delmarva, Aug. 30, 2013 MiLB.com coverage »
Last 30-homer hitter: Joey Gallo (38), Hickory, 2013
Kelsie Heneghan is a contributor to MiLB.com. Follow her on Twitter @Kelsie_Heneghan. This story was not subject to the approval of the National Association of Professional Baseball Leagues or its clubs.
View More