Remembering a Hall of Fame Career
Biz Mackey honored in Negro Leagues centennial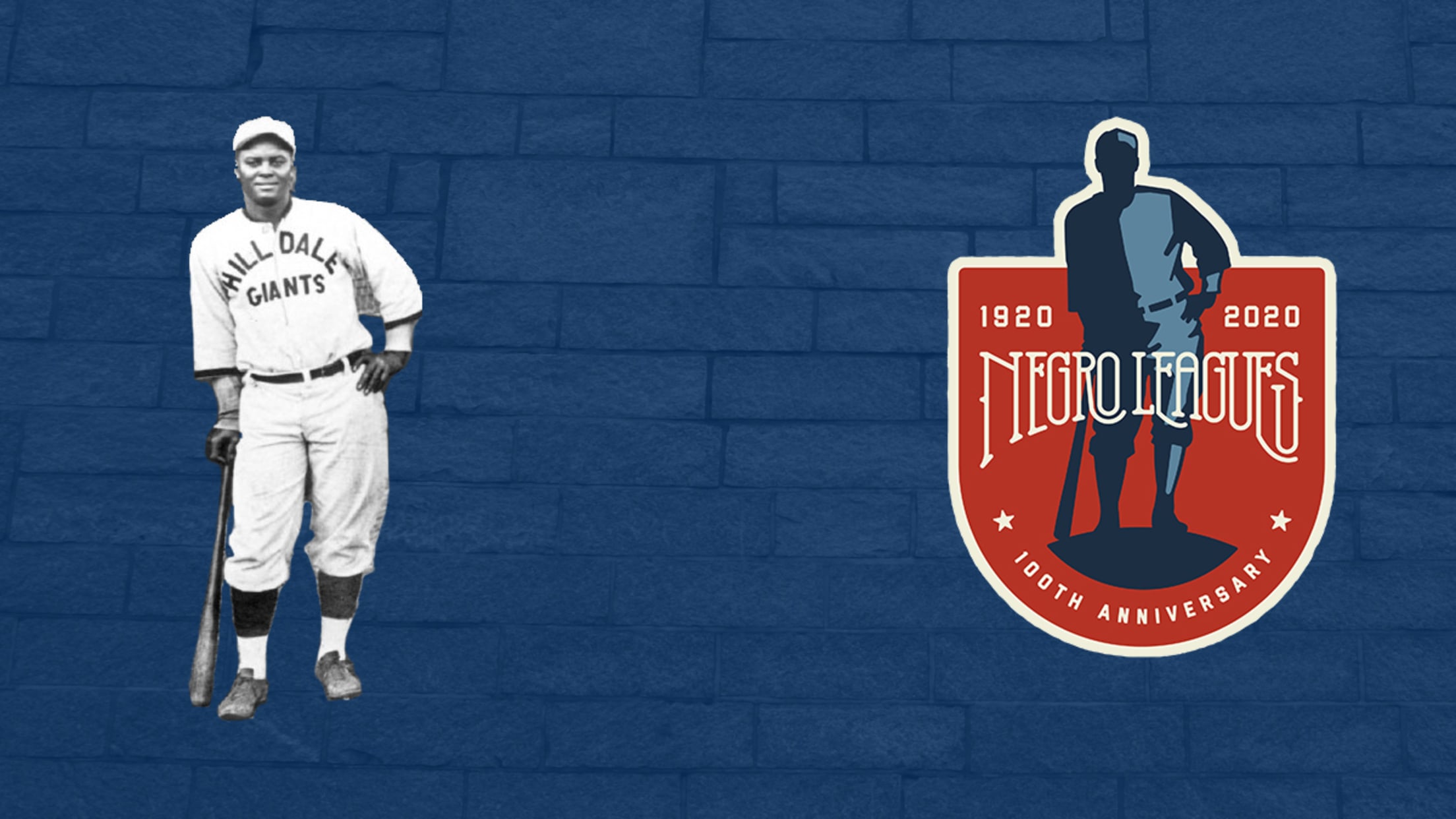 Like a row of Texas bluebonnets on a spring day, the legacy of James Raleigh "Biz" Mackey just keeps on blooming. It all started in 2006 when Mackey was installed posthumously in the National Baseball Hall of Fame. The bloom continued in 2018 with the publication of a book, which
Like a row of Texas bluebonnets on a spring day, the legacy of James Raleigh "Biz" Mackey just keeps on blooming.
It all started in 2006 when Mackey was installed posthumously in the National Baseball Hall of Fame. The bloom continued in 2018 with the publication of a book, which added eye-opening detail to his remarkable career. Now, it has burst open into full view once again with the selection of Mackey's image and likeness as the logo for the 100th anniversary of the Negro Leagues.
Quite an honor, indeed, for a kid who was born in Eagle Pass in 1897 and grew up hoeing rows of cotton on his family's property near Luling.
"I'm just really ecstatic that his career, his legacy, has cascaded into a national limelight-type thing," said Houston-based Rev. Ray Mackey III, the ball player's great nephew. "I believe it's so important for the youth, for the baseball players of tomorrow, to really understand his historical path."
After playing a half-dozen years in semi-pro and minor-league circuits in Texas, including at least two with the San Antonio Black Aces, Biz Mackey joined the Indianapolis ABCs in 1920 in what was considered the first official season of the Negro Leagues.
His career spanned the so-called Roaring 20s, the Great Depression and World War II before it ended in 1947. Known for his defensive prowess and strong arm as a catcher, Mackey also played shortstop and pitched. He hit .327 for his career, according to a statistics page in "Biz Mackey, a Giant Behind the Plate," by author Rich Westcott.
In nine of those years, Mackey also managed, leading the Newark Eagles to a 1946 Colored World Series championship against the Kansas City Monarchs.
Throughout his career, he was widely known for a charm and affability that made him a favorite among teammates looking for good conversation on a long bus trip. It was a charisma that also made him a fan favorite in Japan, where he barnstormed on three trips in the 1920s and '30s.
Historians cringe at the sad fact that Mackey never worked in Major League Baseball after integration. He managed and tutored the likes of Roy Campanella, Monte Irvin, Larry Doby and Don Newcombe, who all followed trailblazing Jackie Robinson into the majors.
But there would be no job offer for Mackey, who managed his last year in black baseball at Newark in 1947, the same year that Robinson broke the color barrier with the Brooklyn Dodgers.
Afterward, the 50-something Mackey moved to Southern California, where he worked as a fork-lift driver and played semi-pro ball. "I was born 30 years too soon," a tearful Mackey told a Los Angeles newspaper in a 1949 interview, according to Westcott. Mackey died in 1965 in Los Angeles at age 68.
Bob Kendrick, president of the Negro Leagues Baseball Museum in Kansas City, Mo., said in a recent interview that Mackey's likeness was chosen for the centennial logo because of his reputation as a dignified leader in the game.
"Biz is a very important player in regard to Negro League history," Kendrick said. "He's arguably the greatest defensive catcher of all time. If … Roy Campanella (were) still alive, he'd tell you that Biz Mackey is the greatest defensive catcher that he had ever seen. And, again, as we were trying to convey what we wanted this centennial to reflect, and how important the Negro Leagues were, I think the entire dignified persona is something that we wanted."
As a child, Mackey and his two older brothers attended a grammar school run by the Antioch Baptist Church in Prairie Lea, near Luling, according to Westcott's research. Eventually, the three of them graduated from high school by passing what was known as a Common Exam.
Attention to academics notwithstanding, the family farm was a priority, and the three spent a lot of time under a hot sun in the fields. But the boys also found time at the end of the day to play baseball, Mackey said.
"One of the things my dad would share was that, 'Yeah, the work was hard,'" Mackey recalled. "He'd say they were young and very strong because they did this labor (as the sons of a sharecropper). They were boys doing men's work."
The background helps explain quite a bit about Mackey's career, particularly his ability to throw to any base – from his knees – from behind the plate.
"My dad would say Biz's arms were almost like bricks because of the work (in the fields), that he'd throw so hard," Mackey said. "(The hoeing and bagging of crops) was just a normal part of every-day life. They did a lot of the same thing every day. Once they would meet the needs of (filling) those burlap (bags) of wheat, cotton or corn, then they could play baseball."
Mackey said the boys initially used makeshift gear – possibly sticks or scrap lumber, as a bat – and who knows what for a ball or a glove.
"I don't know who gave 'em their first bat and ball," he said. "I don't know the answer to that. But, somehow or other, they did get it, and once they did, it made a difference like night and day, considering they had been playing before that with meager equipment. Actually, I think all three of them were playing with the (local) minor league team. But it was Biz who would go on to the (San Antonio) Black Aces."
As Biz Mackey made his way to the professional ranks, playing in Indianapolis, Philadelphia, Baltimore and Newark, fans marveled at his versatility as a player.
At the plate, he was a switch hitter -- not really a home run slugger, so much as a singles and doubles guy. From the left side, he'd hit for more power. From the right, he'd spray the ball around. He wasn't fast, but he could throw, so he often pitched or played shortstop. As a catcher, Mackey was one of the best at throwing out base runners, blocking the plate or pouncing out of his crouch to field bunts.
Ray Mackey said all of that might be because of his youth experience. Playing ball after the work day in the late afternoon, for instance, all the athletes in the Luling area had an incentive to be good defensively, because teams could get in more innings if everyone could make plays. Also, as a hitter, Mackey may have hit from both sides out of necessity.
"When they'd play, they'd switch up to throw the pitchers off," Ray Mackey said. "But a lot of it had to do with (them) playing out in the sun, depending on which way the sun was coming, Biz would stand on opposite sides of the plate to avoid the sun. So, he learned how to do that (at a young age)."
By 1915, Mackey had developed into solid ball player. He joined the semi-pro Luling Eagles and later signed with a team owned by a white restaurant owner in Waco, according to published reports. When the Waco team was sold, Mackey was on the move again. He was on the move to San Antonio, to play for the Black Aces.
Both the San Antonio Aces of the Texas League and the Black Aces of the Texas Negro League played at League Park, a stadium located on the southern edge of downtown.
With Mackey on the team in 1919, the Black Aces emerged as the most entertaining of the two squads by winning and winning consistently. Consequently, they'd draw bigger crowds than the Aces and eventually started to earn significant media coverage, according to accounts in the San Antonio Express-News. Officials who had just cobbled together the new eight-team Negro National League also took notice.
Mackey was signed in 1920 by the Indianapolis ABCs and immediately started to impress. He hit .289, .310 and .382 in his first three seasons in Indy. Signing with the Hilldale (Pa.) Daisies of the Eastern Colored League in 1923, he batted .415, .324 and .349 for a squad that won three straight Eastern Colored League championships.
The 1925 team, known alternately as the Hilldale Giants, is regarded as one of the strongest clubs the history of black baseball. Playing home games in the Philadelphia suburbs, they forged a 52-15 record and claimed the Colored World Series title against the Kansas City Monarchs of the Negro National League. Mackey hit .375 in the championship series.
Looking back, Kendrick said Mackey ranks at the "tip-top" of the greatest players to come out of Texas and into the major black baseball circuits during the first half of the 20th century.
"I tell you, there were some great ones to come out of Texas," Kendrick said. "Oh, my goodness. While Texas didn't have an official Negro League team, the state of Texas had a tremendous impact on the Negro League, because there were so many great players."
Some of the best included catcher Louis Santop, from Tyler. Also, pitchers Rube and Willie Foster, from Calvert. In addition, there was infielder Willie Wells from Austin, not to mention Seguin native Smokey Joe Williams, a fire balling pitcher.
"And that doesn't even (include) the contemporaries, like Ernie Banks (from Dallas)," Kendrick said. "You know, these are all Hall of Famers from Texas. All of them were stars in the Negro League. There were a litany of others … So, Texas played a tremendous role in this story, and Biz is right there at the tip-top of that list."
Mackey earned his nickname of "Biz" likely because of his chatter behind the plate, when he'd give a batter "the business." But the moniker is also appropriate because of his business sense. In other words, he knew how to leverage his skills. When he lost a step athletically in the 1930s, he was smart enough to know that by mentoring the younger players, he could extend his career.
Irvin, a dynamic outfielder for the New York Giants, wrote a telling piece about Mackey's personality in a foreword to Westcott's book.
"Biz was always great to be around," wrote Irvin, who played with and for Mackey in the 1940s in Newark. "He was a good story teller. He was jovial, a fun-loving guy. He liked to laugh and tell jokes. When we were on the road, everyone would try to get a seat next to him on the bus, knowing they'd be in for a fun ride. Everyone wanted to sit next to him at dinner. People always wanted to socialize with him off the field, too."
His personality evidently made a huge impact in the Orient, where he toured at least three times. Ray Mackey said he met a writer from Japan at Cooperstown in 2006 who came to chronicle his great uncle's induction into the hall of fame. In the Westcott book, Biz is described as "one of the key figures" in the advancement of the sport in Japan to its present level.
"The Philadelphia Royal Giants go over there in 1927, and they play a 24-game exhibition series," Kendrick said. "Technically, they went 23-0-1. The Japanese had been playing baseball, but they had not seen professional baseball until 1927. Babe Ruth and his all-stars get the credit for (first) taking professional baseball to the Japanese (in the 1930s). But it's just not true."
One oft-told anecdote emanating from the games in Japan underscores how the Negro League ball players approached the exhibitions. Once, Mackey was hit by a pitch. The Japanese pitcher immediately bowed to him. To the surprise of the fans, Mackey responded by bowing back at the pitcher -- before taking his base.
"The Japanese absolutely adored him," Kendrick said.
With a push from Kendrick, fans in America are getting another reminder about Mackey's personality and his prowess, exactly 100 years since he last suited up in the minors for the San Antonio Black Aces. Like a patch of Texas wildflowers, his story is in full bloom once again.
"For me, this keeps the legacy of the past fresh," said Ray Mackey III, the ball player's great nephew. "It keeps it fresh in the present day. It allows for the efforts of Negro League players not to be forgotten."
As the son of a sharecropper, Biz Mackey grew up bagging cotton in the fields near Luling. But he also learned to play baseball, a craft that carried him to a legendary career as a player and manager in the Negro Leagues.