Independence Weekend Tickets on Sale Now
Three days of fireworks, baseball and barbeque to celebrate Independence Weekend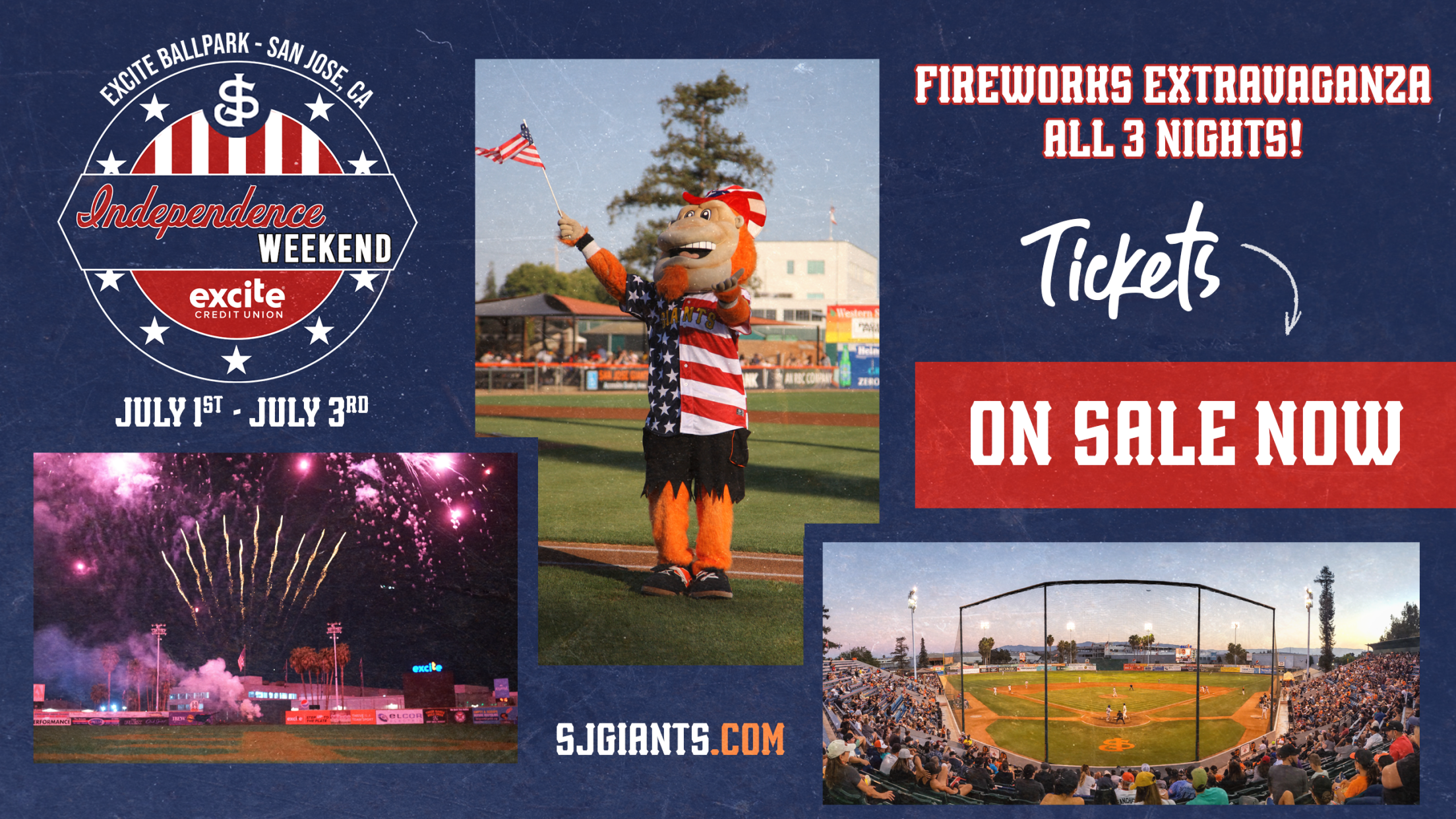 San Jose, CA - Individual tickets for the San Jose Giants Independence Weekend presented by Excite Credit Union are on sale now! The July 1-3 weekend will feature 6:30 pm first pitches and finish with the best fireworks show in the South Bay after all three contests. Tickets are available
San Jose, CA - Individual tickets for the San Jose Giants Independence Weekend presented by Excite Credit Union are on sale now! The July 1-3 weekend will feature 6:30 pm first pitches and finish with the best fireworks show in the South Bay after all three contests. Tickets are available for purchase online at sjgiants.com, over the phone at 408.297.1435 or in person at the Excite Ballpark Box Office.
"The Independence Celebration at Excite Ballpark is one of the San Jose Giants' most anticipated traditions and this year we are going bigger than ever before," sad San Jose Giants Chief Operating Officer, Ben Taylor. "Three weekend games of baseball, barbeque and fireworks will bring this year's Independence Celebration to new heights for our South Bay community."
Independence Weekend offers a variety of individual ticket options ranging from $18 to $32. In addition, group reservations are still available in all San Jose Giants Premium Group Areas including on the third base IBEW/NECA VIP Deck, the first base Elcor Electric Party Patio and the left field BBSI Futures Club. For more information on bringing a large group to an Independence Weekend game, please email [email protected].
The San Jose Giants embark on the second leg of a 12-game road trip tonight in Modesto before returning home next week for a special Memorial Day game and six contests against the Stockton Ports (Oakland A's Affiliate). For more information on single game tickets, ticket packages and group reservations for the season, visit sjgiants.com or call 408.297.1435.