Comeback City: RailRiders storm back to 11-9 win
SWB erases six-run deficit to notch fifth straight win over Rochester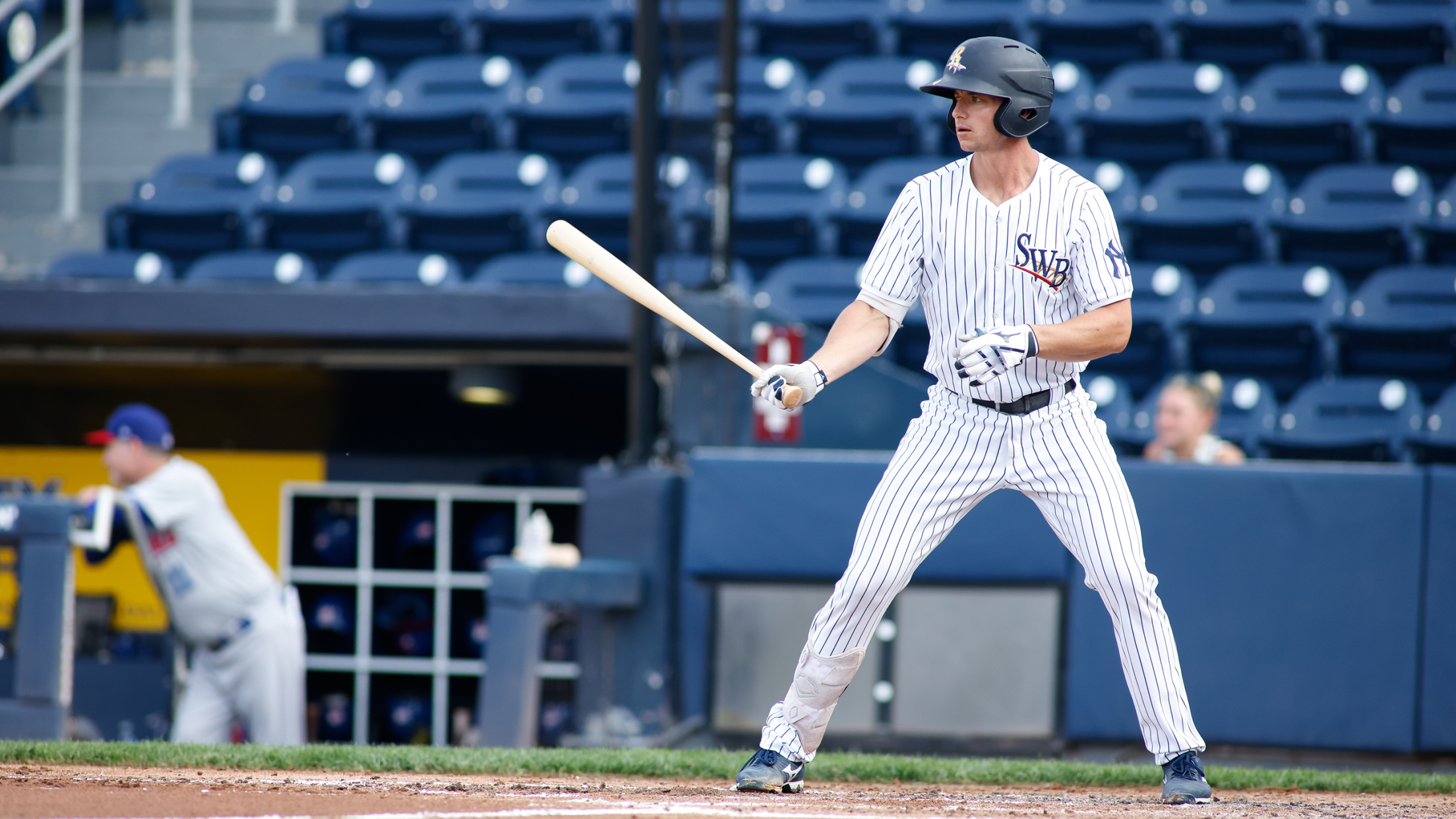 Rob Brantly was 3-for-4 with a home run and three runs batted in in the RailRiders come-from-behind win over the Red Wings. (Todd Hiller)
MOOSIC, Pa. (September 11, 2021) – Coming from behind to take the lead in the bottom of the eighth, the Scranton/Wilkes-Barre RailRiders won a wild contest with the Rochester Red Wings on Saturday night at PNC Field. Rochester jumped out to an early advantage by sending 11 batters to the
*MOOSIC, Pa. (September 11, 2021) *– Coming from behind to take the lead in the bottom of the eighth, the Scranton/Wilkes-Barre RailRiders won a wild contest with the Rochester Red Wings on Saturday night at PNC Field.
Rochester jumped out to an early advantage by sending 11 batters to the plate and scoring five runs in the top of the first inning. All five runs were charged to Shawn Semple, who was making his first start in Triple-A in 2021.
The RailRiders battled back in the bottom of the first, with Estevan Florial leading off with a single and scoring on a two-run home run from Chris Gittens. The blast was the team-leading 12th of the season for Gittens.
In the top of the third, the Red Wings added three runs on doubles from Victor Robles and Jake Noll against Nick Green to extend the lead to 8-2.
Scranton/Wilkes-Barre came storming back against Ben Braymer in the bottom of the fourth, with a two-run double from Armando Alvarez and a three-run homer from Florial shaving the lead all the way down to 8-7.
Rob Brantly tied the game at 8-8 with a solo home run in the fifth against Jhon Romero, but former RailRider Mike Ford led off the sixth with a homer to put Rochester on top 9-8. After surrendering the long ball, Nick Nelson (3-3) settled down and was stellar in 3.0 innings of relief.
In the bottom of the eighth Greg Allen drew a leadoff walk and stole second base before scoring on a Cristian Perez double to tie the game. Florial followed with a bunt single, and three batters later Brantly lined a two-run base-hit to right to give the RailRiders an 11-9 lead.
TAKE THE LEAD!!!

Rob Brantly's single drives in Cristian Perez and Estevan Florial to take the lead for the first time tonight. pic.twitter.com/V9MEofEJps

— SWB RailRiders (@swbrailriders) September 12, 2021
Greg Weissert set the Red Wings down in the ninth to seal his second save of the season and close out the victory.
POSTGAME NOTES: Saturday's contest was the 11th win for the RailRiders in their final at-bat this season… The six-run deficit was the largest overcome by SWB en route to victory this year.
The RailRiders complete their series with the Red Wings on Sunday afternoon at PNC Field. First pitch is scheduled for 1:05 p.m. For tickets and more information, call (570) 969-BALL or slide towww.swbrailriders.com/tickets.