GuideRail Feature: Ready for Prime Time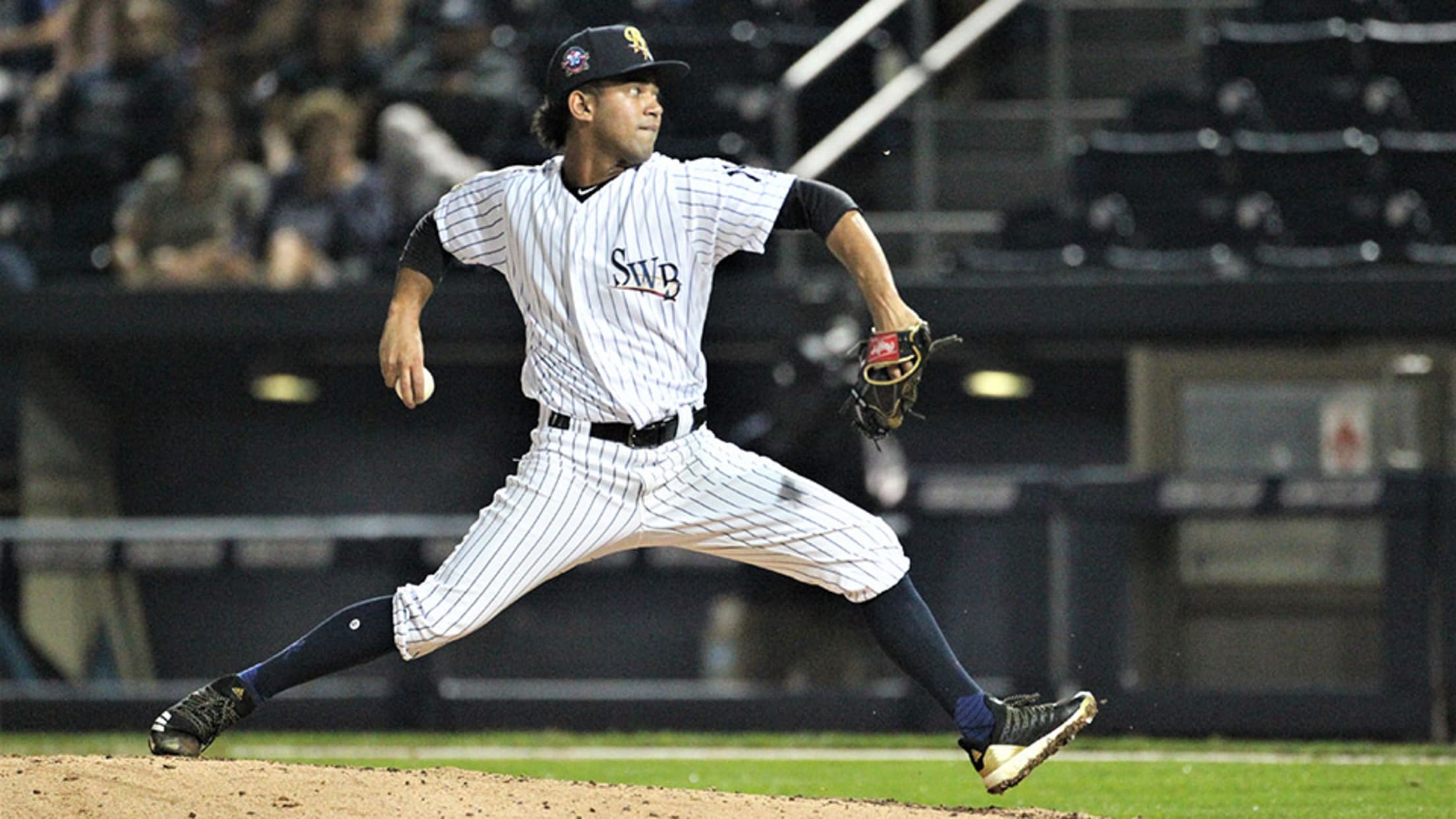 (Tim Dougherty)
Listed at just 5-foot-9 and 163 pounds, if you bumped into RailRiders pitcher Deivi Garcia on the street you would never guess that you were experiencing a brush with one of the hottest prospects in baseball. But when the 20-year-old right-hander dons SWB pinstripes and climbs the pitcher's mound there's
Listed at just 5-foot-9 and 163 pounds, if you bumped into RailRiders pitcher Deivi Garcia on the street you would never guess that you were experiencing a brush with one of the hottest prospects in baseball. But when the 20-year-old right-hander dons SWB pinstripes and climbs the pitcher's mound there's no doubt.
Signed by the Yankees as an international free agent in 2015 at the age of 16, Garcia exploded on the prospect scene in 2017, when he came to the United States to play baseball for the first time. In only 44.2 innings that season with the Rookie-level GCL Yankees West and Pulaski Yankees, the fireballer opened eyes with 67 strikeouts and only 32 hits allowed.
Even as a teenager in the Dominican Republic, Garcia was considered by talent evaluators to be a more polished pitching prospect than most. While his fastball impressed with its mid-90s velocity, Garcia's bread-and-butter is his high spin rate curveball. In fact, one of the biggest demerits against him early in his career was that his curveball had so much movement that it was difficult for him to throw for strikes.
He benefitted from that wildness in the lower minors, where hitters are more apt to chase at good breaking balls out of the strike zone. Through the work Garcia has done with the Yankees player development staff and minor league pitching coaches, he's made the necessary adjustments at a pace that has allowed for his meteoric rise through the organization.
Garcia began the 2018 season as the No. 24 prospect in the Yankees organization by Baseball America, who noted his potential while also displaying some concerns about how his small frame would take to starting pitching. In the early 1990s, the Los Angeles Dodgers had a short, skinny right-handed pitcher from the Dominican Republic who they believed was too small to be a starter. At 5-foot-11 and 170 pounds, Pedro Martinez proved them wrong throughout his Hall of Fame career, which included 3 Cy Young Awards and leading his league in ERA eight times.
"People always compare me to Pedro Martinez because of my size and how I'm able to pitch," said Garcia with a smile. "He was one of the guys who I always grew up admiring and wanted to be like."
While they've never met in person, Martinez can often be found commenting on Garcia's Instagram posts, lifting up a pitcher in whom he sees a younger version of himself. But one of Martinez's best assets as a player, aside from his blazing fastball, wipeout curveball and pinpoint control and command was a deadly changeup which routinely left hitters shaking their heads following a strikeout. It is that changeup that Garcia has worked hard to develop into a legitimate third pitch.
"I've worked hard on staying on my legs a little more to be able to drive [off the rubber] more," said Garcia. "Overall it's about finding consistency with my entire repertoire - all pitches I want to be able to execute more since [in Triple-A] there's a lot less room for error."
His hard work over the past two seasons has paid dividends. After starting the 2018 season in extended spring training, he was called up to make a spot start with the Class A-Advanced Tampa Tarpons in early June. Garcia struck out seven St. Lucie Mets batters and allowed only two hits in 4.2 innings on June 5, a cameo so impressive that the Yankees decided to add Garcia to the Single-A Charleston RiverDogs roster, bypassing a level in the organization.
Garcia struck out 10 batters and didn't walk anyone in 5.0 innings in his RiverDogs debut on June 11, an outing which came just over three weeks after his 19th birthday. He made eight starts for Charleston, striking out 63 and walking only 10 in 40.2 innings before earning a promotion back to Tampa. He made five more appearances on the season, including one with the Double-A Trenton Thunder in which he allowed only four earned runs in 32.1 innings for a 1.11 ERA.
This performance saw Garcia rocket up the Yankees prospect rankings, where he was ranked No. 6 by Baseball America entering the 2019 season. They again expressed concern about his future to stick as a starter, but bragged, "His changeup has developed to the point that it is nearing the quality of his curveball."
Garcia's 2019 season began in Tampa, but he didn't stay a member of the Tarpons for too long. After striking out 33 batters in 17.2 innings, he was promoted to Trenton, where this time he lasted 53.2 innings before he was promoted to Scranton/Wilkes-Barre.
After dominating batters in the lower levels of the minor leagues, Garcia didn't get off to the best start with the RailRiders. He got the win in his debut on July 15 against Columbus, but allowed three runs on six hits in five innings and didn't have the kind of dominating performance that saw him rise to claim his place as the No. 1 prospect in the Yankees organization, according to MLB Pipeline's mid-season rankings update.
Things were rocky for a little while in Triple-A for Garcia. He walked four batters in his second start against Louisville, and by the end of July his ERA was 6.26, which was nearly two full runs higher than he had registered at any other level in his career. The same tricks which worked so well for him in Tampa and Trenton earlier in the year were not as successful against the more advanced, veteran hitters in the International League.
But as the calendar turned to August, the 20-year-old righty found his groove at the new level. In his first three appearances of the month, Garcia posted a 2.70 ERA in 13.1 innings, lowering his RailRiders ERA to 5.01. His best game came on August 17 at Coolray Field against Gwinnett, where he threw five no-hit innings, striking out seven but issuing five walks.
"I've had to learn a lot from just preparing for games, to understanding hitters who are more advanced in what they're trying to do at the plate and just understanding what their deficiencies are at the plate to know how to attack them," said Garcia, who before every start will meet with his starting catcher and RailRiders pitching coach Tommy Phelps to study film and tendencies of the opposing batsmen.
It was after that appearance that Garcia was officially transitioned by the Yankees from a starting pitcher role to a bullpen role for the remainder of the season. As of that move, he had thrown 103.2 innings on the season, far more than the 74.0 innings that had been his previous career-high.
Some research suggests that pitchers are at a far greater risk of future injury when they throw 30-or-more innings than their previous career-high in a season, but that is not a magic number. Having Garcia throw one or two innings out of the bullpen will help him continue to develop in the waning weeks of the season while also preserving undue stress on his arm. The Yankees have done the same thing in past seasons with top pitching prospects Justus Sheffield and Chance Adams.
"It's something I don't mind. It's something obviously that's for the betterment of, potentially, what could happen going forward," Garcia said to Conor Foley of The Scranton Times-Tribune, who broke the news of his move to the bullpen. "I obviously need to be ready for any sort of role I'm called upon. I'm just ready and ready for the challenge."
With September call-ups looming, there is a chance that Garcia could be promoted to the Yankees for a cup of coffee out of the bullpen as New York hits the home stretch in its quest for another AL East Division crown. Having him get used to the different rhythms of coming out of the bullpen will make that transition to the big leagues even easier.
"I've always been in the position [of having a lot of attention] all the way back to being in school and through the Minors," said Garcia, who has tried to block out the noise of being the next hot Yankees prospect. "I've always been one of the youngest guys and so I've been around older guys and I've gotten used to that and understanding that I need to go out there and just focus on doing what I have to do on a daily basis."