'Claws Surge Late to Upend 'Birds
Grim's 15th home run doesn't hold up in 5-4 loss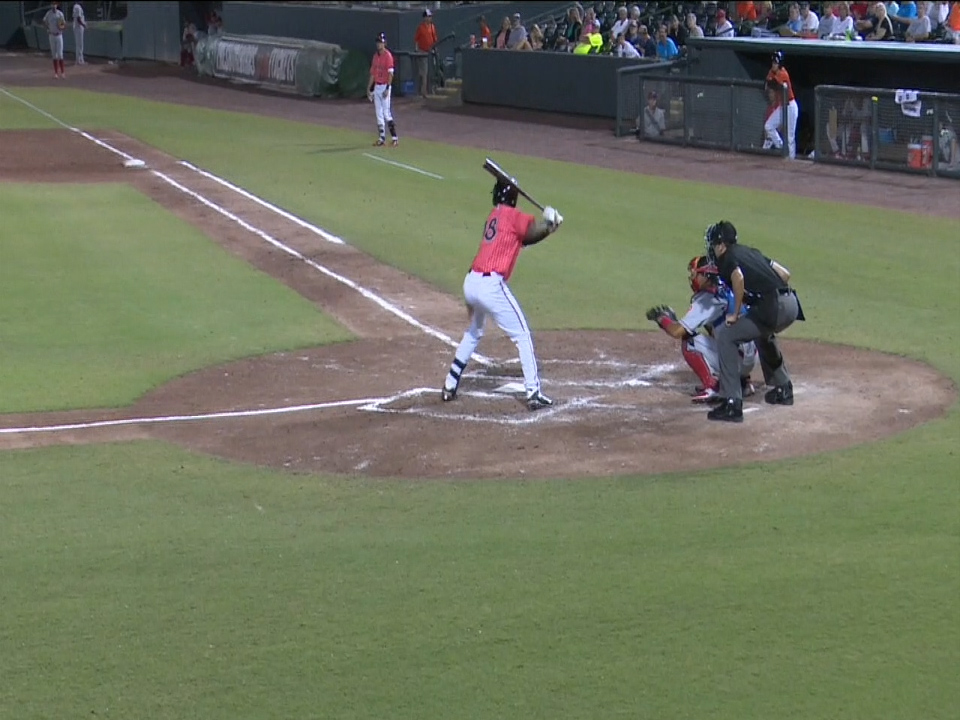 By Will DeBoer / Delmarva Shorebirds | August 11, 2017 11:27 PM ET
SALISBURY, MD - A three-run eighth inning lifted the Lakewood BlueClaws to a 5-4 come-from-behind win over the Delmarva Shorebirds on Friday night at Arthur W. Perdue Stadium.
With the Shorebirds (21-26, 50-65) up 4-2, Lakewood's Darick Hall blasted the first pitch of the inning deep to right for a solo home run, his league-leading 23rd of the year. Austin Listi followed with a walk, forcing reliever Aaron Myers out of the game in favor of Steven Klimek. Colby Fitch greeted Klimek with a single, and Henri Lartigue bunted the tying and go-ahead runs into scoring position.
Raul Rivas hit a sharp grounder deep to the hole at short for an infield single, scoring Listi to tie the game. Rivas took off for second on a pitch to Jesus Alestre, and Alestre bounced a grounder right where second baseman Alejandro Juvier had vacated and into right field. Fitch scored to put the BlueClaws (21-27, 61-57) up 5-4.
Delmarva sparked a rally in the bottom of the eighth as Ryan McKenna led off with a walk and Preston Palmeiro hit a cue ball grounder down the third base line for a single. Collin Woody bunted down the third base line, but Rivas was there to pounce and get the force at third. Jake Ring came up next and hit a grounder to first base for an out. Woody got caught too far off the bag at second and was thrown out to complete an inning-ending double play.
Will Hibbs then came on and retired the Shorebirds 1-2-3 in the ninth to bring it home for Lakewood.
Ismael Cabrera (8-5) earned the win in relief for the BlueClaws, pitching two scoreless innings in the seventh and eighth. Klimek (5-3) blew the save and took the loss for the Shorebirds, letting the inherited tying run score and giving up the eventual winning run. Hibbs earned his 14th save of the season, tying him for the league lead.
Lakewood took an early lead with a first-inning run. Daniel Brito and Arquimedes Gamboa led off the game with back-to-back singles, then after a flyout, Hall reached on an error at first to load the bases. Listi then lifted a sac fly to center to plate Brito and make it 1-0.
Lartigue belted a solo shot to right in the fourth to double the 'Claws' lead at 2-0.
The Shorebirds made their move in the bottom of the sixth. Cole Billingsley led off with a bunt single and McKenna laid down a sac bunt to move him up to second. Palmeiro lined a base hit past second, sending Billingsley up to third. After a popout, Ring hit a shallow liner into left center field. Mickey Moniak dove for the ball but trapped it under his body, allowing both Billingsley and Palmeiro to score on a game-tying double for Ring. Gerrion Grim came up next and cracked a two-run homer to left, his 15th of the season, to give the home side a 4-2 lead.
Video: Grim blasts go-ahead two-run homer
Ring, who celebrated his 23rd birthday, finished 1-for-4 with two RBIs and his SAL-best 32nd double of the year. Palmeiro went 2-for-4 with a run scored.
Rivas finished 2-for-3 with the game-tying RBI, while Alestre notched the game-winning hit-and-run single and later stole a base. Hall's 23rd dinger ups his league-leading RBI total to 81.
Neither starter impacted the decision. Delmarva's Lucas Humpal notched his second straight quality start, allowing two runs (one earned) on five hits in six innings. Lakewood's Gustavo Armas lasted six as well, giving up four runs on six hits.
The Shorebirds will try to rebound on Saturday night. They have yet to announce a starter to face the BlueClaws' Felix Paulino (2-9, 5.55). First pitch is 7:05 p.m. with gates opening at 6:00. Saturday is Mountaire Farms Family Night, and the company will also sponsor a postgame fireworks show. Pregame coverage on Fox Sports AM 960 and the MiLB First Pitch App begins at 6:50 p.m. with Will DeBoer on the call.
This story was not subject to the approval of the National Association of Professional Baseball Leagues or its clubs.
View More