Rally Suffers Outage as 'Birds Fall to Power
Billingsley scores twice in 4-3 loss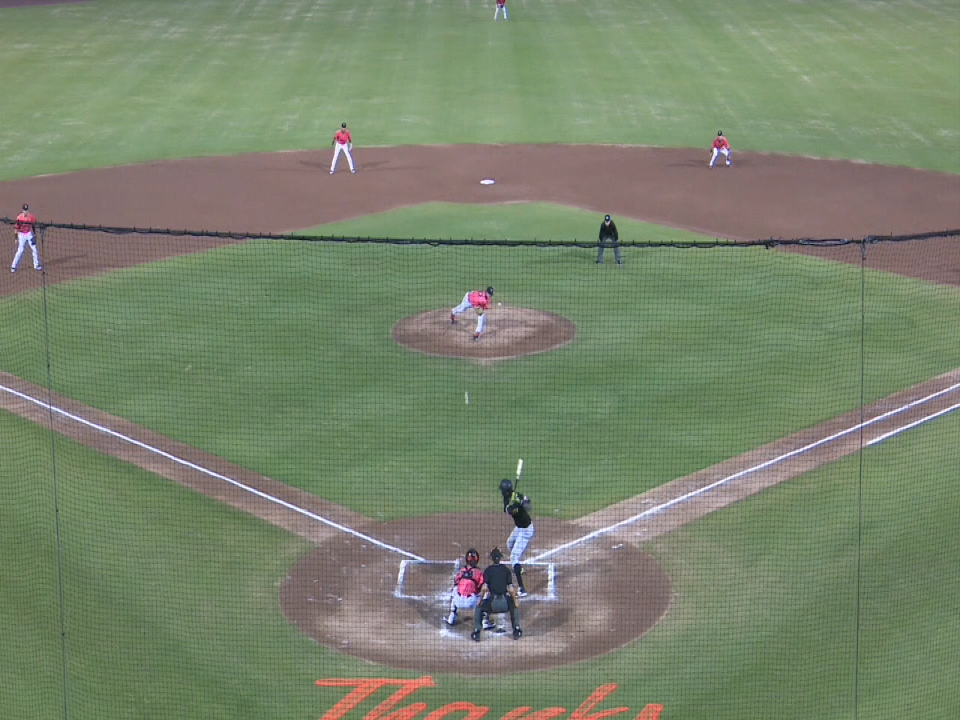 By Will DeBoer / Delmarva Shorebirds | September 1, 2017 10:01 PM ET
SALISBURY, MD - The Delmarva Shorebirds made it interesting late but came up short in a 4-3 loss to the West Virginia Power on Friday night at Arthur W. Perdue Stadium.
Oddy Nunez (5-8) picked up a big win for the Northern Division-chasing Power (37-30, 67-66), allowing one run on three hits in seven innings while walking one and striking out one. Matthias Dietz (3-10) took a hard-luck loss for the Shorebirds (29-37, 58-76), giving up four runs on eight hits in six-plus innings in his final start of the season. Julio Eusebio earned his fifth save despite giving up just his second and third earned runs in 26 innings this year.
The teams traded a run each in the early portion of the game. In the top of the second, Victor Fernandez doubled to left with one out and scored soon after on a Raul Hernandez RBI single.
Cole Billingsley walked to lead off the bottom of the fourth and moved up to second on a Ryan McKenna sac bunt. Two batters later, Gerrion Grim fisted a grounder through the hole on the right side, and Billingsley slid in ahead of the tag to tie it at 1-1.
The Power went up for good in the top of the seventh. Andrew Walker led off with a walk and promptly stole second. Ryan Nagle followed with a clean single to right, plating Walker with the go-ahead run. Adrian Valario followed with an infield single down the first base line, and Nagle scampered up to third on the ensuing error at first. Tyler Erwin came in from the bullpen and got Clark Eagan to ground out. Albert Baur then laced a double all the way to the wall in right, scoring both runners to make it 4-1.
Delmarva made the visitors sweat in the bottom of the ninth. Billingsley worked his second walk of the game with one out, and McKenna banged a double off the wall in left to put men on second and third. With Collin Woody at the plate, Eusebio threw wild to the plate, allowing Billingsley to score. Woody then dropped a single into no-man's land in shallow left center, scoring McKenna to get the 'Birds within 4-3.
Eusebio would buckle down from there, though, striking out Grim and getting Chris Shaw to ground to third to end it.
Billingsley went 1-for-2 with two walks and two runs scored for the Shorebirds, while McKenna finished 2-for-3 with a double, run, and sac bunt.
Baur continued his late surge for the Power, going 3-for-4 with a double and two RBIs. Valerio went 2-for-5 with a run.
The Shorebirds and Power square off again on Saturday night with Delmarva's Max MacNabb (0-0, 3.00) facing West Virginia's Luis Escobar (9-7, 3.98), who leads the SAL with 160 strikeouts. First pitch is 7:05 p.m. with gates opening at 4:00 for batting practice. Saturday night is the final postgame fireworks show of the season, presented by Wawa. Pregame coverage on Fox Sports AM 960 and the MiLB First Pitch App begins at 6:50 with Will DeBoer on the call.
This story was not subject to the approval of the National Association of Professional Baseball Leagues or its clubs.
View More