Wells Rights Ship, 'Birds Snap Skid
Ace's 16th quality start gets Delmarva back on track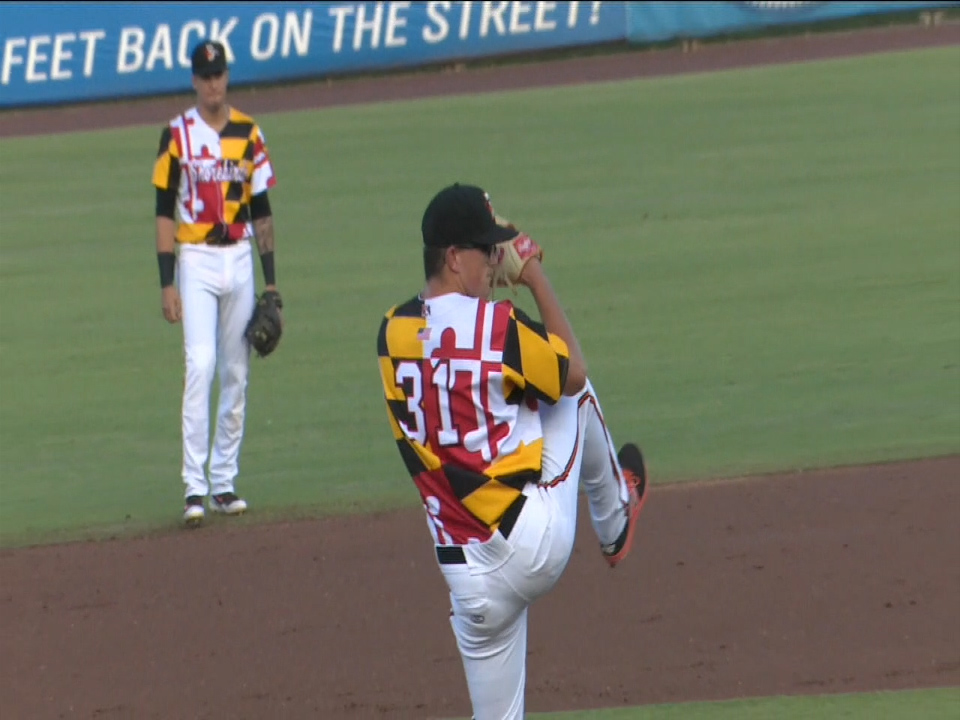 By Will DeBoer / Delmarva Shorebirds | August 10, 2017 10:26 PM ET
SALISBURY, MD - Reigning South Atlantic League Player of the Month Alex Wells played stopper for the Delmarva Shorebirds, who snapped a 12-game losing streak with a 2-1 win over the Lakewood BlueClaws on Thursday night at Arthur W. Perdue Stadium.
Wells (10-5) rebounded from a loss with six innings of one-run, three-hit ball. He struck out six and extended his walkless streak to 53 innings. The quality start was Wells' 16th of the season, far and away most on the Shorebirds (21-25, 50-64), and he becomes the third SAL starter to reach 10 wins this season.
Luis Carrasco (0-1) took the loss for the BlueClaws (20-27, 60-57) in his first Class-A start, lasting 5.1 innings and allowing two runs on six hits while walking two and striking out four. Jake Bray locked down his league-leading 13th save of the season with a perfect ninth.
Delmarva first scratched the scoreboard in the bottom of the second. Jake Ring drew a one-out walk, and Gerrion Grim followed with a single. Alejandro Juvier flew out to right, bringing up Ramos. With both runners going on a full count, Ramos shot a liner into left, scoring Ring to make it 1-0.
Video: Ramos pulls off jump throw at short
Lakewood wasted no time getting that run back. Luke Williams rolled a one-out double into the left field corner and stole third base. With the infield playing in, Jesus Alastre hit a weak grounder to third, and Collin Woody threw out Williams at the plate. Daniel Brito bashed the next pitch into the right center gap, bringing home Alastre to tie it 1-1.
In the bottom of the sixth, Woody hit a sharp grounder deep in the hole on the left side. Shortstop Arquimedes Gamboa's only chance was to rush the throw to first, which sailed four rows into the seats. Woody went to second on the single and an error and Carrasco came out of the game. Ring then hit a grounder to third and Woody took third base on the throw across the diamond. Grim and Juvier drew back-to-back walks, and Tyler Hallead threw wild with Ramos at the plate, allowing Woody to slide in with the go-ahead run to make it 2-1.
Wells faced the minimum after giving up the double to Brito. The only other hit came in the sixth when Gamoba was thrown out trying to stretch a single into a double. While working yet another start without a walk, Wells didn't issue a three-ball count and only went to two balls twice.
Matt Trowbridge pitched a perfect seventh and eighth for the hold, and Bray sat the BlueClaws down 1-2-3 in the ninth. Delmarva notched its 23rd game this season without issuing a walk, the most in the minors or majors.
Video: Ring times leap perfectly for catch
Woody went 2-for-4 with the game-winning run, while Cole Billingsley had two hits and a stolen base.
Lakewood managed just three baserunners all night and left one man on base. The Shorebirds at various points got seven, nine, and nine outs in a row against the BlueClaws.
The win was Delmarva's first since July 29 against Greensboro, which also ended with a Bray save.
The Shorebirds look to keep the good times rolling against the BlueClaws on Friday night. Lucas Humpal (6-10, 4.22) gets the ball for Delmarva against Lakewood's Gustavo Armas (1-1, 5.02). First pitch is 7:05 p.m. with gates opening at 6:00. The first 1,000 fans through the Perdue Stadium gates on Friday will receive a mini Sherman Shorebird bobblehead. There will also be a postgame fireworks show presented by Market Street Inn and Mojo's. Friday is also an Orange Friday and a Froggy 99.9 Big Beer Friday with 32oz Miller Lite and Coors Light available for $6. Pregame coverage on Fox Sports AM 960 and the MiLB First Pitch App begins at 6:50 p.m. with Will DeBoer on the call.
This story was not subject to the approval of the National Association of Professional Baseball Leagues or its clubs.
View More