SAL notes: Muller making strides with Rome
Braves southpaw working on consistency in unfamiliar conditions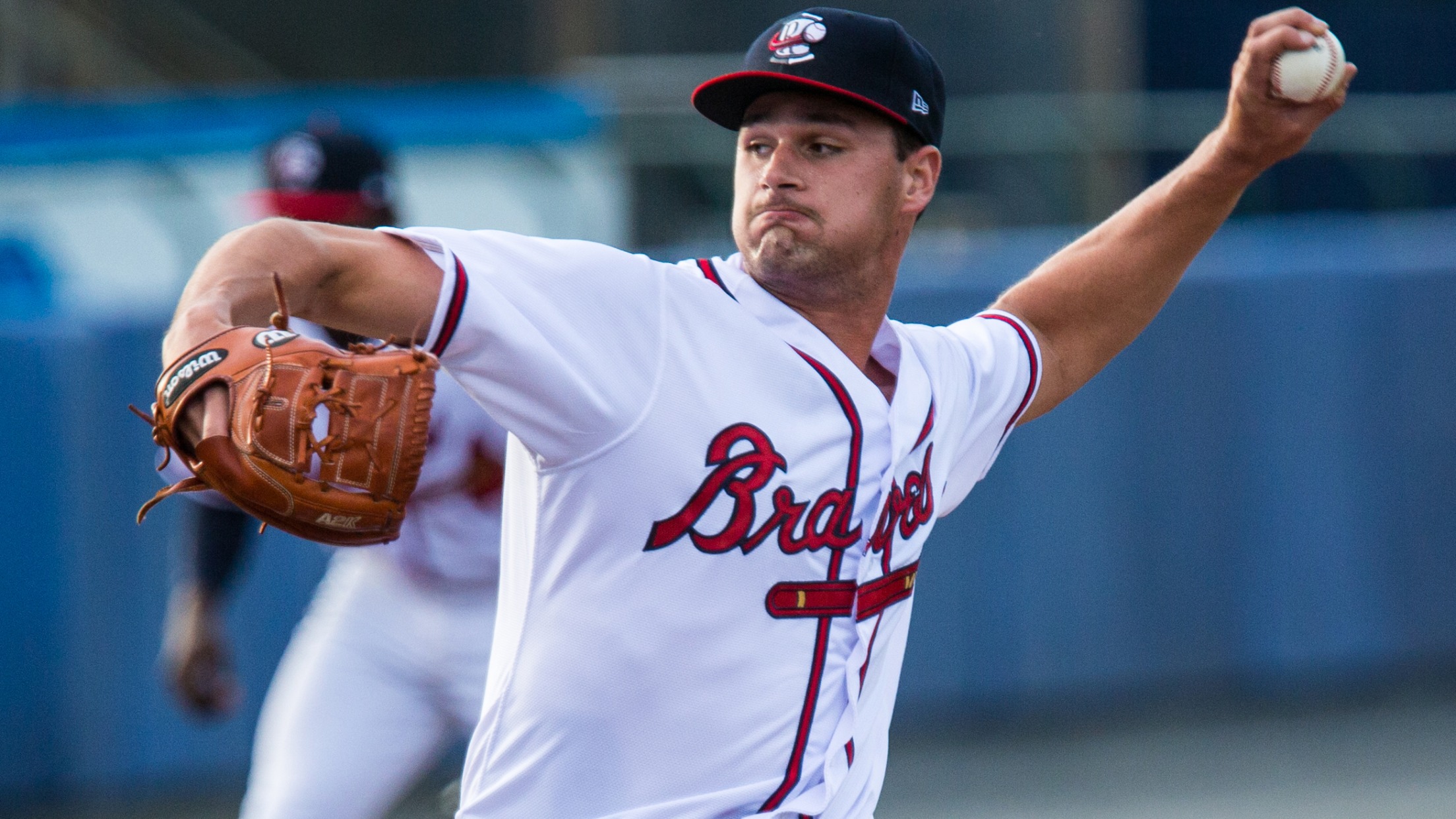 Kyle Muller is 1-0 with a 2.04 ERA and 14 strikeouts over 17 2/3 innings in the Sally League. (Mills Fitzner Photography)
Kyle Muller's mid-90s fastball was about the only thing generating heat on a snowy night at Asheville's McCormick Field on April 16. The temperature hovered around the freezing mark and the wind chill was in the upper teens, yet the Rome left-hander earned his first win of the season after
Kyle Muller's mid-90s fastball was about the only thing generating heat on a snowy night at Asheville's McCormick Field on April 16. The temperature hovered around the freezing mark and the wind chill was in the upper teens, yet the Rome left-hander earned his first win of the season after limiting the Tourists to two hits and one run on a wind-blown homer with four strikeouts over five innings.
"I'd have to say that's the coldest weather I've ever pitched in," said the 20-year-old native of Dallas. "I've never pitched in snow before. But the weather's weird this time of year. It can snow and then two days later it can be 82 degrees."
In fact, he took the mound five days later in 74-degree weather under clear skies and limited Augusta to four hits and two unearned runs over 6 1/3 innings to lower his ERA to 2.04. While the weather has been unpredictable, that type of consistency from Muller is exactly what the Atlanta Braves hoped for upon drafting him out of Jesuit College Prep in the second round with the 44th overall pick of 2016.
Getting to this point, however, has taken a little longer than expected. The Braves tend to be aggressive in sending top Draft picks out of high school to Rome in the player's first full season of professional baseball. That was the case last year with pitchers Ian Anderson and Joey Wentz, who were also selected by Atlanta in 2016. Muller played with both hurlers the previous summer in the Tournament of Stars in Cary, North Carolina, and envisioned the trio moving up together through the Minor Leagues.
That scenario failed to unfold last spring. While Anderson and Wentz proceeded to have success in the South Atlantic League, Muller remained in Florida for extended spring training before returning for a second stint at Danville in the Appalachian League. The Braves noted Muller's fastball velocity had dropped to the 88-91 mph range and felt he needed to work on the consistency of his delivery to create a solid developmental foundation.
"It was for my own good," said Muller, who went 1-1 with a 4.15 ERA at Danville but allowed two earned runs or fewer in eight of his 11 starts.
"I wouldn't say it was really them being cautious; it was more about me not performing the way they expected and the way I expected. Last year got off to a slow start in Spring Training, so instead of going to Rome I went to extended and then to Danville. At first it was a little upsetting because it seemed like the other guys were going that way, where you think you should be. But after it happened, it was definitely a blessing in disguise. I was able to find myself as a pitcher while facing adversity."
At 6-foot-6 and 225 pounds, Muller has learned to use his height to his advantage by pitching on a downhill plane. He also repeats his delivery well after returning to what worked during his high school career. His changeup and breaking ball also have made significant strides.
"I feel much better than I did at this point last year," the southpaw said. "I've made some good adjustments over the offseason by getting back to more of an athletic type of delivery rather than being so mechanical and thinking about every little moving part. I think focusing too much on my mechanics took away from the way I normally pitch. I've gotten back to the point where I'm confident in the pitch I'm going to throw and hope for the best."

In brief
Soto in the swing:
Hagerstown right fielder
Juan Soto
may be 19, but the left-handed hitter has looked like a man among boys during the first month of SAL action. Soto entered games on April 26 leading the league in batting average (.373), slugging percentage (.814), RBIs (24) and extra-base hits (13). He was also second with a .486 on-base percentage and 48 total bases and was tied for third with 14 walks and fourth with five home runs.
Jarrett's jacks:
Delmarva left fielder
Zach Jarrett
homered in his first at-bat of the season on an 0-2 pitch and has continued to rake. The 28th-round pick in 2017 out of Charlotte is tied for fourth in the Minors with a league-best seven home runs while posting a slash line of .338/.413/.723. He had a two-homer game in the second contest of a doubleheader at Hagerstown on April 17 and went deep in back-to-back games on April 25-26.
Bahr blowing 'em away:
Augusta right-hander
Jason Bahr
has been dominant on the bump for the GreenJackets. The Giants' fifth-round pick in 2017 out of the University of Central Florida had back-to-back nine-strikeout outings on April 10 and April 16. In his first four starts, he had 24 strikeouts versus seven walks in 18 2/3 innings, posting a 0.96 ERA.
Bill Ballew is a contributor to MiLB.com.