Austin, Fowler, Holder shine for Yankees
Bombers upgrade farm system through trades, boast variety of talent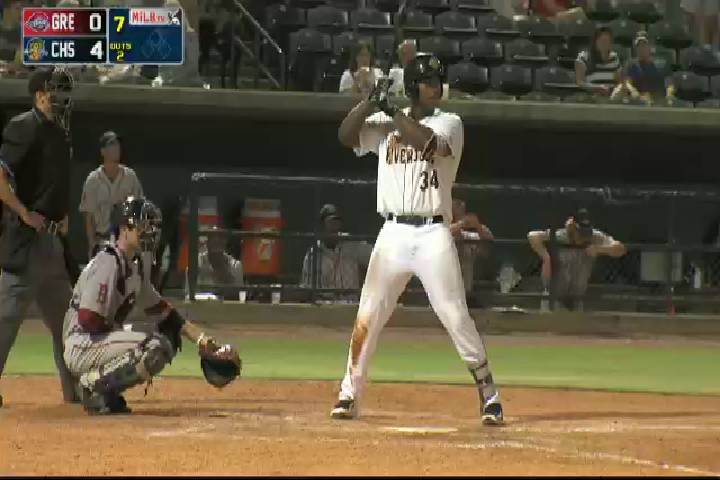 By Danny Wild / MiLB.com | November 28, 2016 10:30 AM
This offseason, MiLB.com is honoring the players -- regardless of age or prospect status -- who had the best seasons in their organization. We're taking a look at each team to determine the outstanding seasons in Minor League Baseball.
The Yankees dramatically restocked their farm system this past season, shipping veteran Major Leaguers around the trade deadline in return for some big name prospects. Clint Frazier, Gleyber Torres, Justus Sheffield, Dillon Tate and Billy McKinney arrived over the summer, and just this month New York flipped Brian McCann for a pair of young right-handers, including former Astros No. 10 prospect Albert Abreu.
But this wasn't your typical salary dump or white flag -- the Yankees swapped out aging stars like Alex Rodriguez and Carlos Beltran for Gary Sanchez and Tyler Austin and still made a run for the Wild Card. Sanchez, long considered a developing catching prospect, actually hit better in the Bronx than he did in the Minors in 2016.
New York's Minor League affiliates dominated in 2016 with Triple-A Scranton/Wilkes-Barre claiming the Governors' Cup in the International League before taking down El Paso in the Triple-A National Championship. Double-A Trenton fell in the Eastern League finals to Akron, while Class A Advanced Tampa lost to Bradenton in the Florida State League Championship. Class A Charleston and Class A Short Season Staten Island also both reached the playoffs.
"You're developing players and trying to continue to help them to reach their potential, but one of the bright sides is these guys are working together, and we've got great coaching staffs and great chemistry with the players," said Eric Schmitt, the Yankees' director of Minor League operations. "They did a great job of not just performing but winning baseball games. It was exciting at the end when you've got clubs in the playoffs. It makes for a fun year."
Yankees Organization All-Stars
Catcher -- Kyle Higashioka, Scranton/Wilkes-Barre (39 games), Trenton (63 games): Believe it or not, the Yankees had a catcher in 2016 who showed more power than Gary Sanchez, at least in the Minors. Higashioka, 26, batted .276 with 21 homers, 81 RBIs and a .337 on-base percentage in 102 games across two levels. The Eastern League All-Star led the system in home runs and finished third in RBIs.
"Higgy is a good catcher who has been know for his receiving, and his offense really went to a new level this year," said Schmitt. "He started off strong in Double-A and we got him up to Triple-A for a while -- I think he actually was International League Player of the Week when we had to send him back Double-A. He really performed at both Double-A and Triple-A, so we're really excited with the year he had."
First baseman -- Tyler Austin, Scranton/Wilkes-Barre (57 games), Trenton (50 games): The 25-year-old infielder had a memorable Major League debut on Aug. 13 when he homered in his first at-bat at Yankee Stadium. He reached the Majors after hitting .294 with 17 homers and 78 RBIs in 107 games across two levels and turned into an important part of the Yankees' infield down the stretch, appearing in 31 games for New York while hitting .286 in September.
"He's a guy we drafted in 2010 out of high school, another hard-working good guy. I know he didn't perform in 2015 the way he wanted to, but he really took that year and came back and had a great 2016 and it was what got him up to the roster in New York. The home run in the first at-bat with Aaron Judge was a pretty special day."
Austin figures to battle Greg Bird for the first base job in 2017, assuming the Yankees don't bring in another bat this winter.
"I think that's one of those things that'll come down to seeing how everything comes to light next year," said Schmitt. "He did a great job and he definitely has a chance to be at first base in New York."
Second baseman -- Thairo Estrada, Tampa (83 games), Charleston (35 games): Estrada followed up an All-Star 2015 season by hitting .290 with eight homers, 49 RBIs and 18 stolen bases in 118 games across two levels in his first full season. The 20-year-old struck out just 67 times in 455 at-bats and owned a .346 OBP, earning a promotion in late May.
"He's a guy who can play the middle of the field for us," said Schmitt, highlighting Estrada's versatility. "He saw time at second, short and third base this year. We're happy where he is. He's just a hard-working guy, and it was good to see what he was able to do. When he got sent up, he did well."
Third baseman -- Miguel Andujar, Trenton (72 games), Tampa (58 games): The FSL All-Star ranked second among Yankees Minor Leaguers with 83 RBIs and fourth with 140 hits. He wrapped up the season hitting .273 with a dozen homers and a .332 OBP before getting an invite to the Arizona Fall League, where he was named a Rising Star.
"Great year," said Schmitt. "He doesn't turn 22 until next year, and he started off in the Florida State League and did really well. He got up to Trenton and did well there and then to go to the AFL to continue out there -- he hit like .284 out there -- he's really a young, bright star with a lot of talent, so we're excited to see the year he had."
Shortstop -- Jorge Mateo, Tampa (113 games): Mateo began the season as the Yankees' top prospect but was unseated from that title over the summer when Torres and Frazier joined the organization. Mateo, a 21-year-old who stole 82 bases in 2015, turned in more modest totals this season, hitting .254 with eight homers, 47 RBIs and 33 thefts.
"He's started off on fire and it was one of those things where he cooled off a little but still had a great year," said Schmitt. "With Torres coming in, we worked [Mateo] out at second base, and that gives him some flexibility. It's fun when you've got athletes who can come in and [play] short or second -- it makes for good competition for the guys. He's really a fun player to watch with his speed and athleticism."
So where does Mateo fit in the infield alongside Torres? Schmitt said the Yankees are still committed to developing both as shortstops but will leave room for a change.
"I think that will still need to be decided going into next year, but we envision both as shortstops," he said. "Giving both the ability to play second gives them flexibility going forward -- if a spot where to open up, to have either available at the next levels as we continue, it gives us that positional flexibility."
Outfielders
Aaron Judge, Scranton/Wilkes-Barre (93 games), New York (27 games): The slugging 24-year-old reached the Majors in his third season after hitting .270 with 19 homers, 65 RBIs and a .366 OBP at Triple-A. Like Austin, he too homered in his first Major League at-bat and went on to hit .179 with four long balls and 10 RBIs in 27 big league contests. Judge figures to fight for an outfield job next spring, especially if New York doesn't sign a veteran free agent.
"He will definitely be battling for a job in the outfield in New York," said Schmitt. "Each level, he has made little adjustments over time and come back to succeed and show the bat we know he has and the power he has. He's an outstanding outfielder with really high make-up, a great leader, a great guy. We expect him to do very well."
Dustin Fowler, Trenton (132 games): The Yankees' No. 12 prospect led the Bombers' system with 88 RBIs in 2016, a year after he ranked second in the organization with 70 RBIs. A 21-year-old left-handed center fielder, Fowler showed both power and speed this summer, hitting .281 with a dozen homers and 25 stolen bases. Notably, he led all Yankees Minor Leaguers with 15 triples and 248 total bases as an EL All-Star.
"He's one of those guys who quietly goes about his business -- he's an extremely hard worker, extremely determined," Schmitt said. "He's another young guy in the Double-A level that really had a good season. He hits doubles, triples, homers, plays a good outfield and he's a really good runner. He's fun to watch."
Mark Payton, Scranton/Wilkes-Barre (2 games), Trenton (97 games), Tampa (24 games): The FSL All-Star finished the season hitting .282 with 10 homers, 62 RBIs and a .418 OBP across three levels. He ranked third among Yankees outfielders with 120 hits and was one of five outfielders with at least 10 homers.
"Mark is an all-around good baseball player," said Schmitt. "A good person, a good worker. He can get the big hit for you, put the bunt down -- he's a lead-by-example type of guy."
Designated hitter -- Chris Gittens, Charleston (107 games): A 22-year-old first baseman who got 102 at-bats as a DH in 2016, Gittens hit .251 and tied Higashioka for the system lead with 21 homers. He added 70 RBIs, good for fifth among all Yankees Minor Leaguers, and ranked 18th with 97 hits while earning South Atlantic League postseason All-Star honors.
"Chris can really impact a baseball and he's really worked hard since we got him 2014," said Schmitt. "He actually made strides at first base -- he's a good first baseman and an above-average power guy. When he gets a hold of one, it can go a long way."
Right-handed starter -- Chance Adams, Trenton (13 games), Tampa (12 games): The 2015 fifth-round pick went 13-1 with a 2.33 ERA and 144 strikeouts in 127 1/3 innings. He finished the year as the Yankees' No. 14 prospect and was named an FSL All-Star. Adams walked just 39 batters and held opponents to a .169 average.
"Chance had a great year," said Schmitt, a right-hander in the Yankees' system from 2000-05. "He's a power arm with power stuff. He answered the bell in moving to a starting roll for us and had an exceptional year. We're excited about what is to come with Chance."
Adams worked as a reliever in 2015, appearing in just 15 games. He brings a full arsenal of pitches to the mound now as a starter, though.
"He's got a fastball in the mid-90s, and he's also got a curve, slider and change, and he uses all the pitches," said Schmitt. "He throws them in different counts, and he's aggressive. We kept him as a reliever last year and when he moved to the starting role, he was at full speed and did a great job."
Left-handed starter -- Dietrich Enns, Trenton (12 games), Scranton/Wilkes-Barre (14 games): Enns, a 25-year-old 2012 Draft pick, went 14-4 with a 1.73 ERA and 124 strikeouts in 135 innings. The Yankees' No. 25 prospect was also an EL All-Star and ranked fifth among Yankees pitchers in strikeouts.
"This was his first full season -- he had surgery in 2014, missing half of 2014 and a little over half of 2015. To come back the way he had this year -- he's another guy who has real good stuff, good control and to do it in Double-A and Triple-A was great to see," said Schmitt. "He's a guy who we challenged and he answer the bell."
Honorable mention: Jordan Montgomery and Enns had almost identical numbers in 2016, with Enns having an edge in ERA. Montgomery, 23, went 14-5 with a 2.13 ERA and 134 strikeouts in 139 1/3 innings over 25 starts across two levels. Also an EL All-Star, he led all New York Minor Leaguers in strikeouts.
Relief pitcher -- Jonathan Holder, Trenton (28 games), Scranton/Wilkes-Barre (12 games), Tampa (2 games), New York (8 games): Holder won the MiLBY Award this offseason as best reliever in the Minors. The 23-year-old right-hander was 16-for-17 in save opportunities and finished the season 5-1 with a 1.65 ERA and 101 strikeouts in 65 1/3 innings. He walked just seven batters all year, allowed three homers and holding batters to a .160 average in 42 games across three levels. The Yankees rewarded him with eight appearances in the Majors to finish the year.
"To do what he did in Double-A -- he walked seven guys and had 69 strikeouts and then we moved him up to Triple-A and didn't walk anyone in 20 innings -- was just phenomenal," said Schmitt. "He went right at guys, attacked the zone and continued to get stronger. We were extrernely excited with his year. With the numbers he put up, he deserves to be the reliever of the year -- it makes sense."
Danny Wild is an editor for MiLB.com. Follow his MLBlog column, Minoring in Twitter. This story was not subject to the approval of the National Association of Professional Baseball Leagues or its clubs.
View More