Barnes, Nicolino on marquee of Marlins stars
Romero, German and Anderson also among top prospects lauded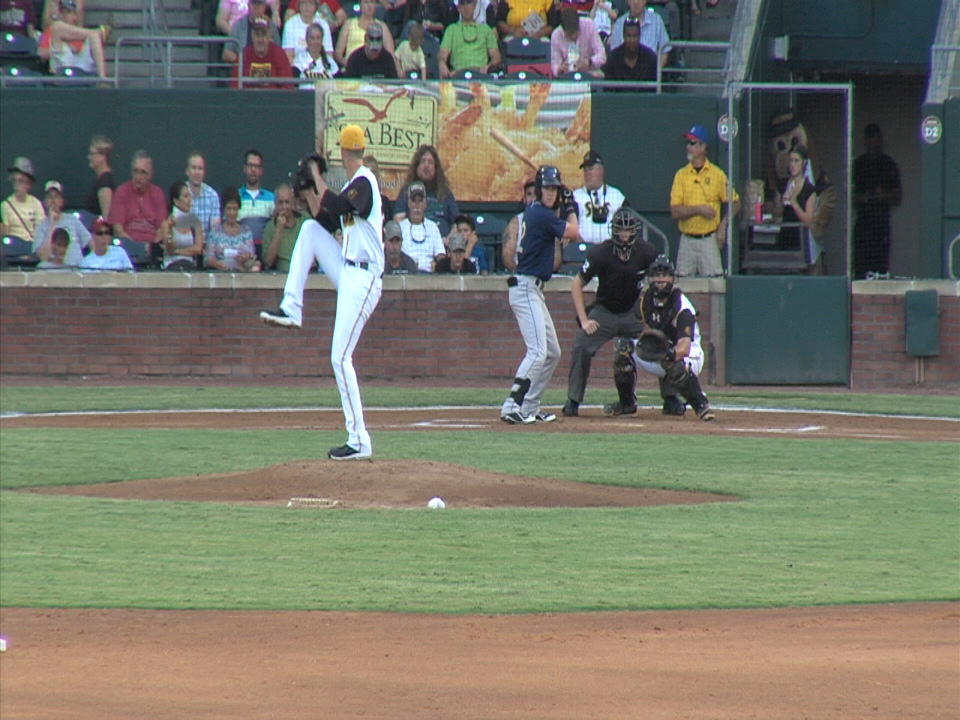 By Mark Emery / MiLB.com | December 3, 2014 12:00 AM
This offseason, MiLB.com is honoring the players -- regardless of age or prospect status -- who had the best seasons in their organization. Today, continuing with the Miami Marlins, we're taking a look at each team to determine the outstanding seasons in Minor League Baseball.
The record-breaking contract to which Miami recently signed slugger Giancarlo Stanton suggests that the South Florida ballclub is awfully serious about returning to the postseason for the first time since 2003, when it captured a second World Series championship.
With $325 million set to go to one player over the next 13 years, the need to acquire and develop homegrown talent is as important as ever for a Marlins franchise that finished 2014 in fourth place in the National East division with a 77-85 record. Fortunately for the Fish, there are more than a few reinforcements to be found down on the farm, where two affiliates made the postseason and many prospects made big leaps. Though Class A Greensboro (87-53) was eliminated in the first round of the South Atlantic League playoffs, Double-A Jacksonville (81-59) rode all the way to a Southern League title.
"It was a productive year for us developmentally," said Brian Chattin, Miami's director of player development. "We had players contribute to our Major League club, which is ultimately our goal every single year. But we also had success at the Minor League level -- both with clubs making it to the playoffs and in Jacksonville's case securing a league title -- but also individual growth from a lot of our players, and that's really a credit to our development staff."
Marlins Organization All-Stars
Catcher -- Austin Barnes, Jupiter (44 games), Jacksonville (78 games): In a system brimming with talent behind the dish, Miami's No. 15 prospect stood out by hitting .304 with a .398 on-base percentage, a .472 slugging percentage, 13 home runs, 57 RBIs and 11 steals in 14 attempts across two levels. He also threw out 29 of 77 runners (37.6 percent) over 73 games caught.
After playing on a club led by former Major League catcher Brian Schneider in the Class A Advanced Florida State League, the three-time Organization All-Star advanced to the Southern League when J.T. Realmuto was called up to The Show. Barnes continued to catch after Realmuto returned to Double-A, while slotting in at various points around the infield as well.
"We wanted to keep Austin there. Austin wanted to stay there," Chattin said of Barnes' catching. "We talked about the idea of having him play both second base and third base as well as catch, to make sure we had the bat in the lineup. And he was all for that idea. He did that and it suited him real well. He was an integral part of that Southern League championship team and showed that he could certainly be a versatile option for us at the Major League level, because he can catch and play second and third."
Honorable mentions: J.T. Realmuto, the club's No. 7 prospect and Minor League Player of the Year, hit .299/.369/.461 with eight homers and 62 RBIs over 97 games at Jacksonville, earning the right to appear in 11 games at Miami; Chad Wallach posted a .322/.431/.457 slash line with seven roundtrippers and 57 RBIs across 78 games at Greensboro and 19 at Jupiter.
First baseman -- Justin Bour, New Orleans (103 games), Miami (39 games): That this Rule 5 selection led the Triple-A Pacific Coast League with 11 intentional walks is explained by an impressive overall set of offensive statistics, which included a .306/.372/.517 slash line, 18 home runs -- third-highest in the system -- and 72 RBIs. He made his Major League debut on June 5 and went on to bat .284/.361/.365 with one homer and 11 RBIs while in a Marlins uniform.
"He settled into the first-base role at Triple-A and really, actually, exceeded our expectations, as far as his performance and, not just his power production, but his consistency at the plate," Chattin said. "He has consistent, quality at-bats, day in and day out, and that was reflected in his offensive numbers at that level. And he earned his promotion to the big leagues."
Second baseman -- Avery Romero, Greensboro (92 games), Jupiter (26 games): Miami's No. 5 prospect ended 2014 with a .320 batting average between two levels, having recorded that same clip at both of them. That figure ranked third among the organization's Minor Leaguers and fifth in the South Atlantic League. Romero also compiled a .790 OPS, belted five home runs, drove in 56 runs and stole 10 bases in 15 tries during his third professional season.
"He's an aggressive hitter. He goes up there with a plan, but he's looking to hit," Chattin said. "He's got that mentality, and he put together a fine offensive year. He carried his success from low-A up to high-A in the amount of time that we gave him up there and really showed a feel to hit, which I think will continue as he progresses through our system."
Third baseman -- Brian Anderson, Batavia (20 games), Greensboro (39 games): A third-round pick out of Arkansas, the Marlins' No. 19 prospect performed well for the short-season Muckdogs before breaking out with the Grasshoppers, ultimately ending his first pro season batting .300 with an .859 OPS, 11 homers and 49 RBIs. Though drafted as a second baseman, the versatile Anderson received reps at short and third, eventually seeing most of his playing time come at the latter spot.
"He really settled into that position," Chattin said. "As we continue up the ladder with him, we're not going to just lock him into third base. We'll continue to explore and play him at second as well, but he profiles well at the third-base position, in an area where we look for him to continue to grow and develop.
"Any time you have a player that demonstrates athleticism and versatility and a comfort level with playing multiple positions and not letting the defensive variance affect his offensive performance, it's encouraging for his long-term potential."
Shortstop -- Justin Bohn, Greensboro (63 games), Jupiter (48 games): After struggling in his introduction to pro ball, Bohn looked significantly more comfortable in his second year. Over 111 combined games, he turned in a .295 batting average, a .376 on-base percentage, a .416 slugging percentage, six home runs. 59 RBIs and 11 stolen bases in 16 attempts.
"He's a very steady player," Chattin said. "He does everything right, he's not flashy, he's a very steady presence at a tough position there defensively. He handled the bat well, showed that he can hit for average as well as get on base, has enough speed to where he can collect some stolen bases throughout the course of a season.
"And he just showed that he's a very professional player, offensively and defensively, and the kind of guy that will continue to show that consistent performance every step of the way."
Outfielders
Mark Canha, New Orleans (127 games): One of the system's top hitters, Canha ranked second among Marlins farmhands with 20 long balls, fourth with 82 RBIs and seventh with a .303 batting average. The 2011 Organization All-Star also managed to finish with a .384 on-base percentage and a .505 slugging percentage while appearing at various spots on the field.
"Professional hitter," Chattin said. "He put together a consistent year this year for the first time during the last few years. Historically, he had been kind of a first-half or second-half kind of hitter. This year, he put together a full year, and the production was there. He played first, left and a little bit of third base in an effort to enhance his versatility, and he did a nice job of moving around and not letting the different defensive responsibilities affect his offensive production."
Carlos Lopez, Greensboro (130 games): Two years after Barnes set a Grasshoppers record with 152 hits in a season, Lopez established a new one by churning out 164 base knocks on the way to a final average of .323, best in the Marlins' farm system. Twenty-seven of those hits were doubles, five were triples and seven were homers. Lopez also had 74 RBIs to rank fifth in the system.
"He comes up to the plate, left-handed or right-handed, he has a plan, a feel, really controls the bat head in the zone well and doesn't try to do too much," Chattin said. "I think that's what makes him an effective hitter is he's got some power in there but he doesn't try to hit for power. He's content with being a gap-to-gap, spray-the-ball-around hitter, and that's reflected in his offensive performance."
Kyle Jensen, New Orleans (133 games): Before the Marlins dealt Jensen to the Dodgers for a player to be named later Nov. 17, the now four-time Organization All-Star smacked 27 home runs and knocked in 92 runs, figures that put him first and second among Marlins Minor Leaguers, respectively. Jensen's RBI total was also second-highest in the Pacific Coast League, a circuit in which he batted .260/.331/.481 during the 2014 regular season.
"Right-handed power is hard to find, and he's a proven run producer at the Triple-A level," Chattin said. "The thing that he improved upon this year was he got on base better, he hit for a better average, and that helped with his overall offensive numbers. But he's a power hitter by trade and has power, really, to all fields. He demonstrated that this year with the numbers he put up."
Utility player -- Viosergy Rosa, Jupiter (116 games), Jacksonville (20 games): Rosa distinguished himself by batting .379 with four homers and 14 RBIs during the Southern League playoffs, which ended with him being named the Championship Series MVP. But before that, in his transition from hitter-friendly Greensboro to pitcher-friendly Jupiter, the first baseman earned Miami's Minor League Player of the Month honor for April, after batting .320 with three homers and 20 RBIs.
"He did not struggle with that at all," Chattin said. "He had a fantastic month of April, and that really kick-started his season into what turned out to be a productive offensive year for him. He is a middle-of-the-order bat that you love to have in your organization that continues to get better. The last three years, he's continued to make offensive strides and really put himself on the map in our organization as a legitimate first-base prospect."
In 136 combined regular-season games, Rosa hit .292/.365/.442 with 15 home runs and 95 runs driven in, the latter figure putting him at the very top of the RBI leaderboard for Marlins prospects.
Right-handed starting pitcher -- Domingo German, Greensboro (25 games): The Marlins' No. 10 prospect assembled a sparkling 2.48 ERA, which led the club's system and ranked second in the South Atlantic League. The Futures Game participant finished third in the circuit with a 1.14 WHIP, and his stats also included a 9-3 record and 113 strikeouts against 25 walks in 123 1/3 frames.
"He showed a feel for three pitches in the strike zone," Chattin said. "His fastball is above average, his curveball plays average to above on any given night, and he's got a good feel for his changeup. The next step of his progression is to really learn how to use his arsenal properly and effectively, and that's what we will challenge him to accomplish this upcoming year and beyond."
Honorable mention: Jose Urena went 13-8 with a 3.33 ERA and 121 strikeouts against 29 walks over 162 frames spread across 26 games (25 starts) in the Southern League.
Left-handed starting pitcher -- Justin Nicolino, Jacksonville (28 games): It was quite a year for the organization's No. 4 prospect, who was named the Southern League's Most Outstanding Pitcher and Miami's Minor League Pitcher of the Year. He led his circuit with a 2.85 ERA, 14 wins and a 1.07 WHIP, tied for first with two shutouts and ranked second with 170 1/3 innings pitched.
The southpaw ended the 2014 regular season with 81 strikeouts against 20 walks and a .249 opponents' average. He won both of his playoff starts, in which he surrendered just three runs over 13 2/3 frames, fanning six and walking three.
"We knew he had that potential," Chattin said. "It was good to see him put it together and perform at the level that he did and log the number of innings that he logged. He was a key part of that Double-A club that won the championship. He was their workhorse, their No. 1 starter, and he stepped up every fifth day. The record that he had, the numbers that he put together -- they were not a mirage. He was that effective at that level this year."
Relief pitcher -- Reid Redman, Jupiter (35 games), Jacksonville (nine games): When the Royals acquired Redman and Brian Flynn for Aaron Crow on Nov. 28, they got a reliever who used to be a second baseman. The righty excelled during his first year on the mound in 2013, and this past season saw more of the same. Redman compiled a 5-1 record, a 2.04 ERA and seven saves in nine tries, finishing 2014 with 68 strikeouts against 12 walks over 61 2/3 innings pitched.
"He's still learning the art of pitching, and to put together the year that he did across two levels was impressive to say the least," Chattin said. "The best part about him is he's a strike-thrower. He had a feel to command the fastball right out of the gate, and that's not always the case with converted guys. I think that's been a big part of his early success."
Honorable mention: Matt Ramsey had a 1.47 ERA, 14 saves in 15 chances and 80 strikeouts to 30 walks in 61 1/3 innings between 44 Southern League games -- 24 with Tampa Bay's Montgomery squad and 20 at Jacksonville. He converted all three of his save opportunities in the postseason. The Marlins acquired him July 7 for about $1 million dollars worth of international bonus slot money.
Mark Emery is a contributor to MiLB.com. Follow him on Twitter @Mark_Emery. This story was not subject to the approval of the National Association of Professional Baseball Leagues or its clubs.
View More