Smith pedals to rare RiverDogs cycle
Yankees outfield prospect posts Charleston's first feat since '97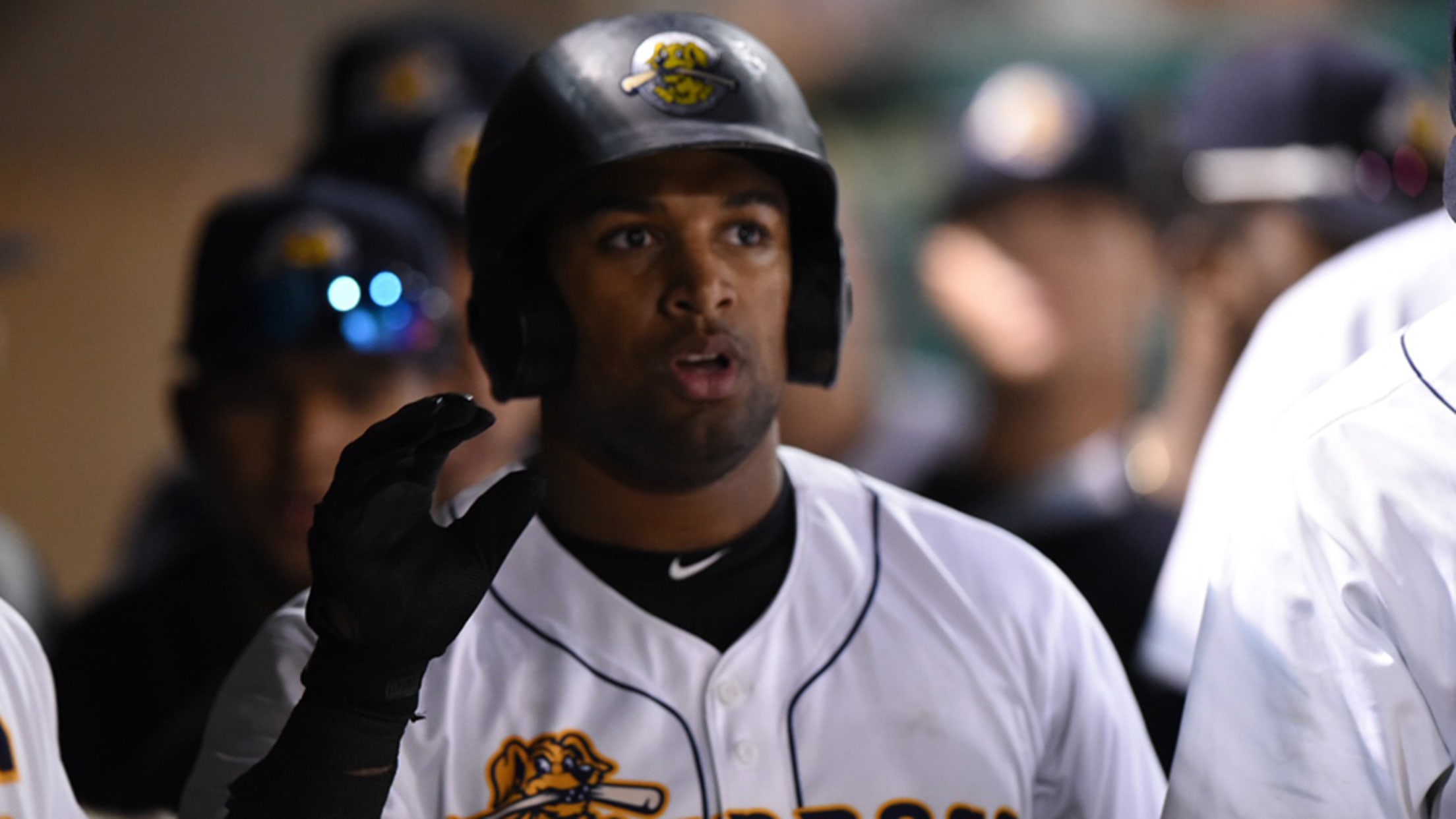 Canaan Smith posted his second career four-hit game and his first since Aug. 11, 2017. (Michael Wiser/Charleston RiverDogs)
No, Canaan Smith does not remember the last time a Charleston player hit for the cycle. Because it happened 663 days before he was born.On Sunday, the 20-year-old Yankees prospect etched his name in the record book, capping a 4-for-5 day with a solo homer in the eighth inning to
No, Canaan Smith does not remember the last time a Charleston player hit for the cycle. Because it happened 663 days before he was born.
On Sunday, the 20-year-old Yankees prospect etched his name in the record book, capping a 4-for-5 day with a solo homer in the eighth inning to complete the Class A RiverDogs' first such feat since 1997 in a 13-5 drubbing of Hickory at L.P. Frans Stadium.
Gameday box score
Smith jump-started his day with a two-out double to center field in the first inning against Tim Brennan, but was stranded on second. In the third, he singled to center off the right-hander and eventually scored on a two-run double by Frederick Cuevas. In the fourth, Smith stroked a one-out triple to center before coming home on a groundout by Josh Breaux.
"I have been feeling really good at the plate," the lefty-swinging outfielder said. "I'm very confident in my approach and eye at the plate. I capitalized on pitches [Brennan] left up in the zone today."
Hickory reliever Abdiel Mendoza stymied Smith in the fifth, inducing a liner to second baseman Tyler Depreta-Johnson. But in the eighth, the right-hander made a mistake. And on an 0-2 pitch, the Dallas native homered over the center-field wall to complete the cycle, the first since Matt Quatraro on July 6, 1997, at The Joe, also against the Crawdads.
Smith admitted he knew the cycle was on the line in his final at-bat.
"It was definitely in the back of my mind," he said, "but I kept the same mind-set and approach, like I do every at-bat -- see it and hit it."
Noted by MLB.com for above-average bat speed and power potential, Smith has gone 23-for-56 (.411) since April 26 with six multiple-hit games to raise his average to .327, fifth-highest in the South Atlantic League. He also stands fifth in OPS (.944).
"I've found a routine and an approach that works, thanks to my hitting coach, Greg Colbrunn," Smith said. "I have been sticking with it and it's been working."
Colbrunn also authored a cycle during his 13-year Major League career, torching the Padres during a 5-for-6 effort on Sept. 19, 2002, for the D-backs.
"We talked about his cycle the other day," Smith said. "The only thing different between mine and his is that he had two home runs. ... Having him and learning, getting information from him every day, not only helps me at the plate, but my teammates as well."
Two other RiverDogs also neared the milestone Sunday. Kyle Gray fell a triple shy of the cycle while driving in four and scoring twice, and Brandon Lockridge finished 3-for-6 with a home run, a double, three runs and two RBIs.
"We joked about it, for sure -- wondering if any of us would get [the cycle]," Smith said. "When we were in the box, the cycle wasn't in our minds, just putting a good swing on it and whatever happens, happens."
Cuevas went yard, doubled, plated three and crossed the plate twice.
New York's No. 13 prospectLuis Gil gave up five runs on five hits and five walks while striking out eight over 4 2/3 innings. Wellington Diaz (2-0) scattered five hits and a walk, fanning four, across 4 1/3 innings for the win.
Brennan (2-2) took the loss after being tagged for 12 runs on 13 hits and two walks in 4 1/3 innings.
Duane Cross is a contributor to MiLB.com. Follow him on Twitter @DuaneCrossMiLB.