Giolito, Turner knocking on capital's door
Top prospects aiming to keep Nationals battling in NL East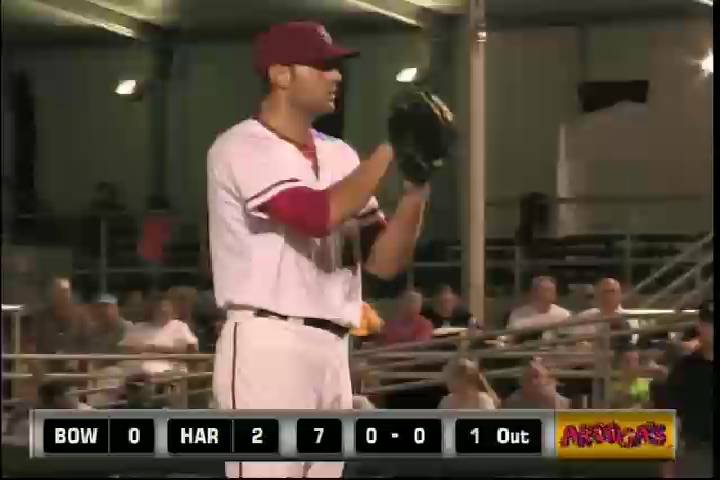 By Tyler Maun / MiLB.com | December 23, 2015 10:00 AM
This offseason, MiLB.com will be honoring the players -- regardless of age or prospect status -- who had the best seasons in their organizations. We're taking a look at each team to determine the outstanding seasons in Minor League baseball.
The 2015 season came to the nation's capital with an expanded payroll, a loaded rotation and a host of experts picking the Nationals as World Series favorites.
It wasn't to be.
Washington went 83-79 and missed out on the postseason, despite a mammoth campaign from unanimous National League MVP Bryce Harper who led the circuit in on-base (.460) and slugging percentage (.649) and shared the league lead with 42 homers. Around Harper, however, the Nationals just didn't have enough to match those preseason expectations.
Two months removed from the Fall Classic, the Nats are hoping 2016 will yield better results. Washington waited half the season to acquire prospect Trea Turner from San Diego, completing a 2014 offseason trade, and the shortstop didn't disappoint -- reaching the big leagues in his first full professional season.
Washington's pitching staff, which finished sixth in the NL with a 3.62 ERA, lost longtime homegrown ace Jordan Zimmermann to Detroit this offseason, but the Nationals may have another in the capital before long with Lucas Giolito just steps away from the big leagues. Although none of Washington's affiliates made the playoffs, a host of top prospects made significant strides in 2015.
Nationals Organization All-Stars
Catcher -- Spencer Kieboom, Potomac (71 games): For the second straight year, Kieboom earns the nod behind the plate, thanks to stellar defensive work. The Clemson product threw out 31 of 77 basestealers, a 40.3 percent success rate, and committed five errors in 579 total chances.
"Spencer is a very good receiver, a cerebral catcher," Nationals director of player development Mark Scialabba said. "He thinks about the game a little differently than most people, but the tools are there, especially defensively."
After Tommy John surgery robbed the backstop of all but four games in 2013, Kieboom made headlines with a breakout season at the plate for Class A Hagerstown. While his bat cooled a bit this year, it still showed signs of being an effective component of his game with a .248/.344/.346 line for Potomac.
"He certainly has the capability to be a frontline catcher," Scialabba said. "The bat is coming, and he made some adjustments and had a nice [Arizona] Fall League performance this year to finish up strong and healthy. We're very pleased with his development so far."
First baseman -- Jose Marmolejos-Diaz, Hagerstown (124 games): With a last name tough to fit on a jersey, Marmolejos-Diaz ensured no pitcher in the South Atlantic League would forget him in 2015. The 22-year-old torched Sally League arms in the second half. Prior to the All-Star break, he batted a respectable .278/.309/.454 with five homers and 32 RBIs; afterwards, he lifted those numbers to .335/.402/.510 with six jacks and 55 RBIs.
The native of the Dominican Republic was at his best in the final full month with a blistering .343/.407/.509 line, two homers and 24 RBIs, a high for any month in 2015. Marmolejos-Diaz also committed only nine errors and posted a .989 fielding percentage in 84 games at first base.
Second baseman -- Wilmer Difo, Potomac (19 games), Harrisburg (87 games), Washington (15 games): Like Kieboom, Difo is an Organization All-Star for the second straight year. Unlike Kieboom, Difo has reached the summit, making 15 big league appearances with the Nationals following an unexpected callup in May with 14 games above Class A Advanced in his career under his belt.
In 106 Minor League games this season, Difo slashed .286/.325/.412 and continued to flash the lethal speed on the basepaths that has become his calling card. He was successful on 30 of 32 steals.
"He's a very dynamic baseball player," Scialabba said. "His legs are one of the tools that sets him apart; he impacts the game on both sides with his legs. The way he runs the bases, the way he can play defense, he moves well. His range is plus to both sides as a second baseman. I think he's at least average at the shortstop position as well."
In sporadic playing time with Washington, Difo went 2-for-11, but Scialabba sees the big league exposure as a spark heading into 2016.
"Unfortunately, he didn't play as much as he probably hoped, but that's something he'll get back to. He got a taste of it, and that continues to motivate him to get back up there as an everyday player," Scialabba said.
Shortstop -- Trea Turner, San Antonio (58 games), Harrisburg (10 games), Syracuse (48 games), Washington (27 games): Turner's story was one of baseball's strangest in 2015. Obtained from the Padres as part of a three-team blockbuster in December 2014, Turner could not be officially dealt to Washington until a year after he signed his original contract with San Diego. That time frame finally landed Turner with the Nationals in mid-June and, once there, he didn't wilt in the face of expectations.
"It was a tremendous testament to who he is as a person, his character and obviously as a natural baseball player," Scialabba said. "To be able to perform at a high level so quickly within a short period of time of his professional development, he's taken off. His instincts, the way he goes about his business, the talent that he has on both sides of the ball, especially at the plate, understanding the strike zone, his instincts as a hitter, he'll barrel up the baseball. Those are special qualities that make Trea unique."
Turner batted .322/.385/.471 in 58 lame-duck games for San Antonio to earn Texas League midseason All-Star recognition. Once with Washington, he got even better. The North Carolina State product batted .359/.366/.513 in 10 games for Harrisburg before playing his way out of Double-A. An impressive showing in Triple-A included a .314/.353/.431 line in 48 games and landed him in Washington for his big league debut on Aug. 21.
"I thought it was really good that he got a chance to go to the big leagues," Syracuse manager Billy Gardner said. "He didn't play as much as some people wanted him to -- and you can understand that because they were still in the heat of the race at the time -- but he was there to add some speed off the bench and give some versatility in the middle of the infield. I thought it was good for him to get up there and get a taste of what it was like."
Scialabba and the Nationals are ready for an encore.
"We have high expectations for Trea," Scialabba said. "We understand that this was probably one of the most difficult years of his life, but he rose to the occasion and performed extremely admirably for the entire season."
Third baseman -- Anderson Franco, GCL Nationals (46 games), Auburn (11 games): A big-bodied presence at the hot corner, Franco was 17 for most of the year but looked anything but overmatched. Between the Gulf Coast and New York-Penn leagues, he slashed .269/.346/.389 and showcased the tools that have the Nationals high on his future.
"I think it's important to note that he's a very good defensive third baseman. That's where we see him, that's where he projects," Scialabba said. "He's got very soft hands and a plus arm, and his feet move very well for a large, physical person. He's someone who continues to work hard in all phases.
"He's raw in a lot of phases, but he's someone who projects as an everyday third baseman down the road with a lot of power. We like what we've seen. He's taken strides. He's maturing."
Outfielders
Victor Robles, GCL Nationals (23 games), Auburn (38 games): Robles made his stateside debut this year and was undeterred, continuing to shine as the competition improved. After batting .370 in 23 GCL games to start the summer, the 18-year-old followed with a .343 mark in 38 games for Auburn. Robles swiped 12 bases at each stop and didn't commit a single error for Auburn.
"The athleticism stands out," Scialabba said. "The passion and the way he plays the game stand out as well. Just overall, his natural instincts as a baseball player [stand out]. There are great athletes that are very raw, that don't have those sorts of baseball instincts at a young age, but he has a little bit of everything. That's what makes him exciting and unique."
Telmito Agustin, GCL Nationals (38 games), Auburn (seven games): Without the fanfare of fellow teenagers like Franco and Robles, Agustin stood out in his second professional season. The 18-year-old from the Virgin Islands raked at a .331/.371/.446 clip and stole nine bases in 38 GCL games before moving up to Auburn. Agustin saw time primarily in left field but also got four starts in center and one in right for the GCL Nationals. He combined for three outfield assists.
Isaac Ballou, Potomac (70 games), Harrisburg (49 games), Syracuse (five games): A Marshall product, Ballou may be under the radar as a 2013 15th-round pick, but seasons like this one will ensure that isn't the case for long. Across three levels, he played in 124 games and batted .271/.344/.397 with eight homers, 51 RBIs and 21 steals.
"I just had a really small sample of him," Gardner said. "I just liked the way he went about his business. He prepared well, worked well. He competed. His swing was really short, he moved the ball around the field. Not a lot of power, but it was a short swing, compact. He managed the strike zone really well, and I could see him being able to take his walks, getting on base and scoring runs. That's the guy I see him as."
Utility player -- Osvaldo Abreu, Hagerstown (123 games): Abreu may not have the same hype as Difo, but the results are there. While seeing action at shortstop and second base for the Suns, the 21-year-old put together one of his most consistent offensive campaigns in his full-season debut, slashing .274/.357/.412. He ranked second in the South Atlantic League with 74 runs scored and fifth with 35 doubles. Despite a learning curve on the basepaths, he swiped 30 bases in 41 tries.
Right-handed starter -- Lucas Giolito, Potomac (13 games/11 starts), Harrisburg (eight games/eight starts): MLB.com's top pitching prospect, Giolito mastered two more levels in 2015 with his first tastes of Class A Advanced and Double-A. In 21 games, the 21-year-old went 7-7 with a 3.15 ERA, 131 strikeouts and a 1.28 WHIP over 117 innings.
"I think this year was the year where he kind of started off slowly, built a foundation, and he continued to progress in all phases," Scialabba said. "He's improving his fastball command. It's getting to the point now where he has a lot of confidence in using the fastball to different parts of the strike zone. It's still a work in progress, but the way he can leverage the baseball and the way it comes out of his hand is extremely exceptional."
Giolito turned 21 on July 14 and made his Double-A debut exactly two weeks later. The 6-foot-6 fireballer wrapped up his stint at Potomac by allowing two earned runs or fewer in seven straight outings.
"In order to be a frontline starting pitcher, he understands what he has to do," Scialabba said. "He continues to work on the little things like holding runners and fielding his position. He's taking a lot of pride in that. He knows he has to improve to be a complete pitcher. That's what he wants to be. He wants to be a leader."
Left-handed starter -- Richard Bleier, Harrisburg (16 games/15 starts), Syracuse (12 games/11 starts): Bleier has pitched in 230 games for three organizations without reaching the big leagues, but 2015 was arguably his best season ever. The 28-year-old went 14-5 with a 2.57 ERA and produced quality innings at both Harrisburg and Syracuse all season long.
"His bread and butter is he can sink the fastball," Gardner said. "He's going to put the ball on the ground. He's going to fill the zone up with his fastball. I think when you talk about the durability part of it, being able to pitch deep into games deep in the season, he didn't have a lot of stressful innings. That's [due] to throwing strikes and getting easy outs."
Bleier went at least seven innings in five of his final six starts for Syracuse, tossing a six-hit shutout on Aug. 7 at Pawtucket.
Reliever -- Paul Demny, Harrisburg (34 games), Syracuse (10 games): Like Bleier, Demny is no stranger to the upper Minors and put together a complete package in 2015. After posting a 1.57 ERA into late June, the Blinn College product reached Triple-A for the first time since 2013. There, he fanned 13 over 11 1/3 innings without recording a decision. Demny finished the year back at Double-A, allowing four earned runs in 12 appearances through August and September.
Tyler Maun is a contributor to MiLB.com. Follow him on Twitter @TylerMaun. This story was not subject to the approval of the National Association of Professional Baseball Leagues or its clubs.
View More