GreenJackets survive in wild walk-off win
Apparent go-ahead homer ruled RBI triple after Leyva misses plate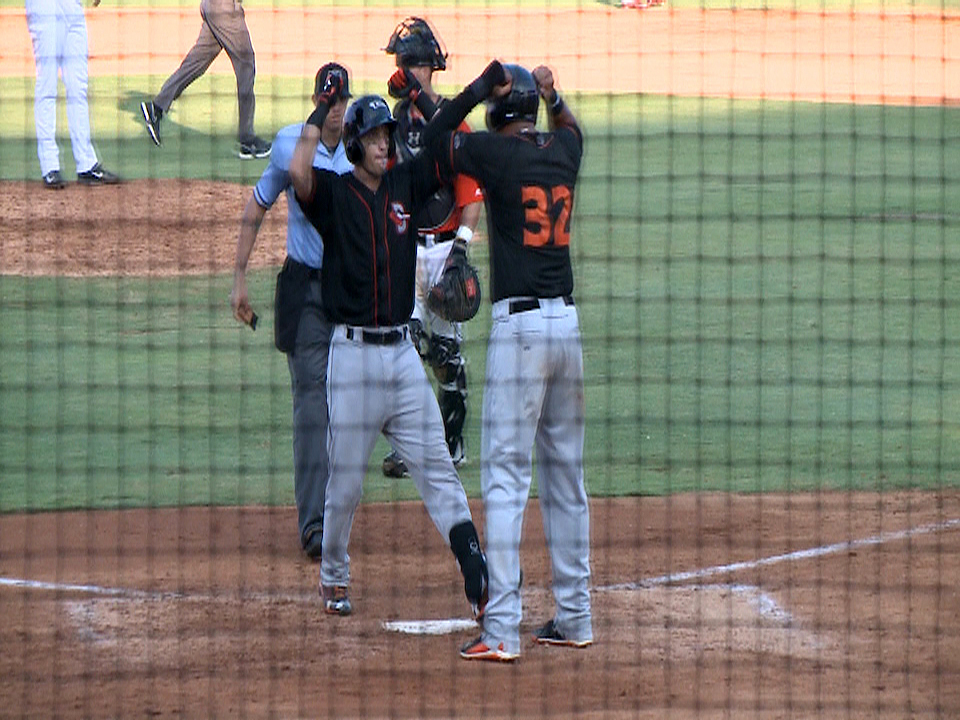 By Tyler Maun / MiLB.com | July 26, 2015 11:42 PM
When their fans probably wanted to look away, Class A Augusta manager Nestor Rojas and catcher Jared Deacon kept their focus on home plate. As a result, the GreenJackets were able to come away with a win.
Delmarva's Elier Leyva appeared to hit a go-ahead two-run homer in the top of the ninth inning but missed home plate. After a successful appeal, Augusta survived into the 10th, when Dylan Davis delivered a walk-off single and a 5-4 win over the Shorebirds.
"I've been around baseball a long time and I've never seen anything like that," GreenJackets manager Nestor Rojas said.
After Jomar Reyes knocked a two-out single in the ninth, Leyva deposited an offering from reliever Carlos Diaz over the left field wall at Lake Olmstead Stadium. As he approached home, Leyva got set for a high-five and, in setting up for the celebration, he skipped over the plate.
"I saw the next hitter [Oswill Lartiguez] staying kind of close to home plate, waiting for him to give him five," Rojas said. "I noticed that the kid told him, 'Hey, come back and touch home plate.' The kid was right there. I was kind of far away from home plate and, to be honest with you, I didn't see it."
Leyva either didn't hear his teammate or didn't think he'd missed the dish. The GreenJackets were set to prove otherwise.
"The kid never came back and touched the plate. He kept walking to the dugout," Rojas said. "When he put the ball in play, I called timeout and told the pitcher to throw the ball back to home plate, and we got him. The umpire [Justin Robinson] saw it, too. It was crazy, but it was good for us."
On appeal, Leyva was ruled out at the plate and credited with only a game-tying -- and inning-ending -- triple.
"Their manager [Ryan Minor] came out and talked to the umpire, but I don't think he was really mad about it because he knew it," Rojas said. "He thought the umpire was right."
The swing of emotions was pronounced in the Augusta dugout.
"We looked like we had to battle again," Rojas said. "It puts you down in the last inning against one of our best pitchers and everything goes down in your dugout. When that happened, my guys jumped around like we have a shot because the game's tied. We're still alive. We want to win the game."
Energized, the GreenJackets came through in the 10th. Will Callaway hit a leadoff single and moved up on a wild pitch by reliever Max Schuh (0-1). Two batters later, Davis bounced a single to center to score the game-winning run.
"They're warriors," Rojas said. "We're going to battle, we never quit. Even when we're getting beat up, we'll still come back in the last inning, score two or three just to give it a good finish. Right now, we're playing ball really, really well with all the things going in our favor. We're trying to take advantage."
After the bizarre end to the ninth, Diaz (2-2) retired the side in order in the 10th for the win, Augusta's seventh straight.
Tyler Maun is a contributor to MiLB.com. Follow him on Twitter @TylerMaun. This story was not subject to the approval of the National Association of Professional Baseball Leagues or its clubs.
View More