Hansen, Fisher reignite White Sox system
Latest batch of Draft picks sizzles as veterans get the call to Chicago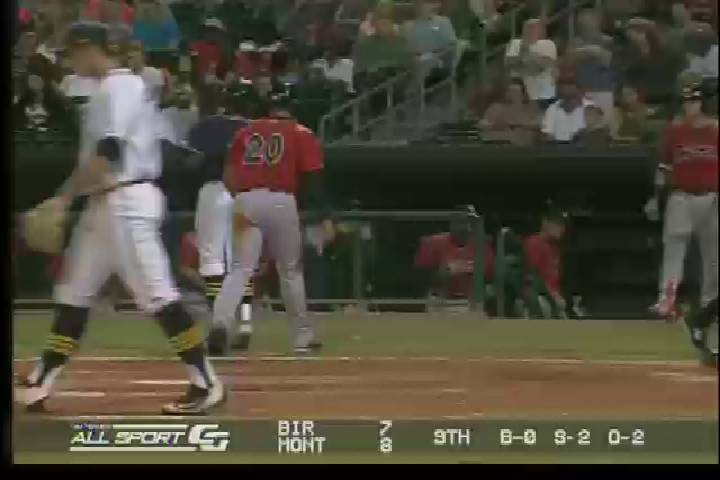 By Kelsie Heneghan / MiLB.com | October 12, 2016 10:00 AM
This offseason, MiLB.com will be honoring the players -- regardless of age or prospect status -- who had the best seasons in their organizations. We're taking a look at each team to determine the outstanding seasons in Minor League baseball.
While prospects such as Jason Coats and Nicky Delmonico have made moves to the South Side, the White Sox system still has bright spots at every level, especially with the latest batch of Chicago hopefuls.
The 2016 Draft class has already begun to show off in the White Sox system. Prospects Aaron Schnurbusch and Jameson Fisher topped the organization with their ability to hit for average while hurlers Alec Hansen and Matt Foster showed how to start and close out a game in style.
White Sox director of player development Nick Capra took time to talk about those four prospects as well as others who shined this season in the system.
White Sox Organization All-Stars
Catcher -- Seby Zavala, Kannapolis (93 games): In his first season out of a complex league, Zavala came into his own as the Class A Intimidators' backstop. The 23-year-old bumped up his caught-stealing percentage to 35 percent. Capra sees a lot of leadership qualities in Zavala and expects him to be a "workhorse" down the road.
"He stood out from the start, a very polished kid behind the plate, a take-charge guy, a catch-and-throw guy," Capra said. "He's done a real nice job handling pitchers, has a little offense to go along with it and we saw that carry over this year when he was with Kannapolis."
First baseman -- Nicky Delmonico, Birmingham (38 games), Charlotte (72 games): Delmonico broke out this season and led the organization with 17 homers. After making his his Triple-A debut with the Knights early in the year, the 24-year-old went on to reach career bests of 61 RBIs and a .279 average across the two levels.
"I think he learned a little bit about himself, his approach at the plate, having a game plan, being able to execute his plan," Capra said. "I think it was big for him to learn how to compete and stay within himself as a hitter."
Delmonico spent most of his time at first, but also displayed his adaptability at third and in the outfield.
Second baseman -- Jake Peter, Birmingham (68 games), Charlotte (62 games): In just his second full season, Peter rocketed to Triple-A. The 23-year-old improved off last year's numbers by doubling his home run count to six and raising his average to a composite .283. Peter also showed off his versatility all over the diamond as well as in the outfield.
"He's a high-energy player, he plays multiple positions, which really adds value as a baseball player," Capra said. "He's gonna be a super utility-type of guy. A left-handed hitter who's started to come in his own a little bit and he had a really nice year for us."
Third baseman -- Gerson Montilla, Winston-Salem (129 games): The White Sox signed Montilla as a free agent in January, and in return, the 26-year-old tallied an organization-leading 74 RBIs. Even in a new system, Montilla precisely matched his 2015 average with a .266 mark for the Class A Advanced Dash.
Capra values Montilla's knowledge of the game and noted the White Sox have already re-signed him for another year.
Shortstop -- Eddy Alvarez, Birmingham (104 games), Charlotte (12 games): While Alvarez may be well-known for his ability on the ice, the Olympic medalist shined on the field in 2016. Alvarez notched career bests with six long balls and 65 RBIs.
"He brings a lot of energy to the ballclub. Mainly plays shortstop and can play second base. He's a guy who has an idea of his strike zone. He has a lot of quality at-bats, he doesn't give a lot of at-bats away," Capra said. "Obviously he's learning baseball on the fly and he's doing a nice job, he's progressing as well as we could anticipate and he's going to put himself on the map."
In August, Alvarez made his Triple-A debut, logging at least one hit in nine of his 12 games with the Knights.
Honorable mention: After being selected in the 12th round of the June Draft, Mitch Roman posted a .332 average in 67 games for Rookie-level Great Falls.
Outfielders
Aaron Schnurbusch, Great Falls (66 games): Schnurbusch proved sometimes Draft status means nothing once you get on the field. After being selected in the 28th round, he topped the system with a .357 average while besting the Pioneer League with his .471 on-base percentage.
"He's a very athletic, strong baseball player that knows how to play the game. He plays the game the right way," Capra said. "He plays hard all the time and we were lucky to get him where we did."
Jason Coats, Charlotte (78 games), Chicago (28 games): In his fourth season, Coats made his way to the Majors. But what perhaps was more impressive was his maintenance of a .330 average amid four callups throughout the season. Capra credits the TCU product's mind-set for handling that back-and-forth seamlessly.
"He's produced at every level. What you see is what you get out of him. He's a good defender, he's hit everywhere that he's been in the Minor Leagues," Capra said of the system's Player of the Year. "Bouncing back and forth, he did a nice job of not letting the playing time in the big leagues affect the playing time in the Minor Leagues."
Jameson Fisher, Great Falls (50 games): After being selected in the fourth round, Fisher cruised to a cool .342 average with the Rookie-level Voyagers. The 22-year-old flashed the leather as well, making just two errors in the campaign.
"Being an early-round pick, obviously, we had great expectations. I think he showed us why he was an early-round pick," Capra said. "He is a very athletic outfielder, showed some potential as well so we're excited to have him."
Honorable mention: Adam Engel led the organization with 45 stolen bases as he worked his way up three levels to make his Triple-A debut.
Utility player -- Mason Robbins, Winston-Salem (123 games): Robbins continued his steady climb up the system as he led all full-season White Sox Minor Leaguers with a .314 average. The left-handed hitter also tallied a career-high 62 RBIs while making just four errors all season in the outfield.
"He had a very nice year all around, he played solid defense, he had several assists from the outfield and then [had a] very consistent year at the plate," Capra said. "We were pleased with the way he went about his business. He had a great year. He's a player that showed he has the potential and that potential came out this past year."
Right-handed starter -- Alec Hansen, AZL White Sox (three games), Great Falls (seven games), Kannapolis (two games): Pretty soon after being selected in the second round of the Draft, Hansen was making waves around the Minors. The 21-year-old allowed two hits while holding opponents scoreless through his first 11 professional innings across four starts.
"We were fortunate to get him where we did in the second round. We made a couple mechanical changes with him and his confidence grew as the summer went on," Capra said. "He's got a power arm, he's got power stuff and I think the main thing we saw was his confidence really blossomed through the course of the summer."
Hansen finished the season with a 1.32 ERA and 81 strikeouts in 54 2/3 innings. In seven starts, he never gave up more than one hit.
Honorable mention: In his first full season, Jordan Stephens led the organization with 155 strikeouts in 27 starts for Winston-Salem en route to being named the system's Pitcher of the Year.
Left-handed starter -- Tanner Banks, Kannapolis (11 games), Winston-Salem (16 games): Banks pitched across two levels with ease, with just a couple rough outings in July. The 24-year-old led the system with 12 wins and spun three complete games -- including one shutout.
"He was really consistent. He threw the ball around the strike zone. He commanded his fastball well, breaking ball was good, the changeup was good," Capra said. "He was probably our most consistent guy throughout the course of the summer."
Relief pitcher -- Matt Foster, AZL White Sox (14 games), Great Falls (eight games): In his rookie campaign, Foster topped the organization with 11 saves in 11 opportunities. The 20th-round pick out of the University of Alabama posted a 0.98 ERA in 18 1/3 innings for the Rookie-level AZL White Sox before getting the call to the Pioneer League.
There he got even better. Foster held foes to one hit over 11 1/3 scoreless innings for the Voyagers. All in all, the right-hander's composite 0.61 ERA and 41 strikeouts made for a strong first showing in pro ball.
"He has really good stuff. He's a bulldog when he gets out on the mound," Capra said. "He competes very well, ball comes out of his hand, got some velocity, very good competitor."
Kelsie Heneghan is a contributor to MiLB.com. Follow her on Twitter @Kelsie_Heneghan. This story was not subject to the approval of the National Association of Professional Baseball Leagues or its clubs.
View More