Healthy Soto delivers big for Hagerstown
Nationals No. 2 prospect drives in four, falls double shy of cycle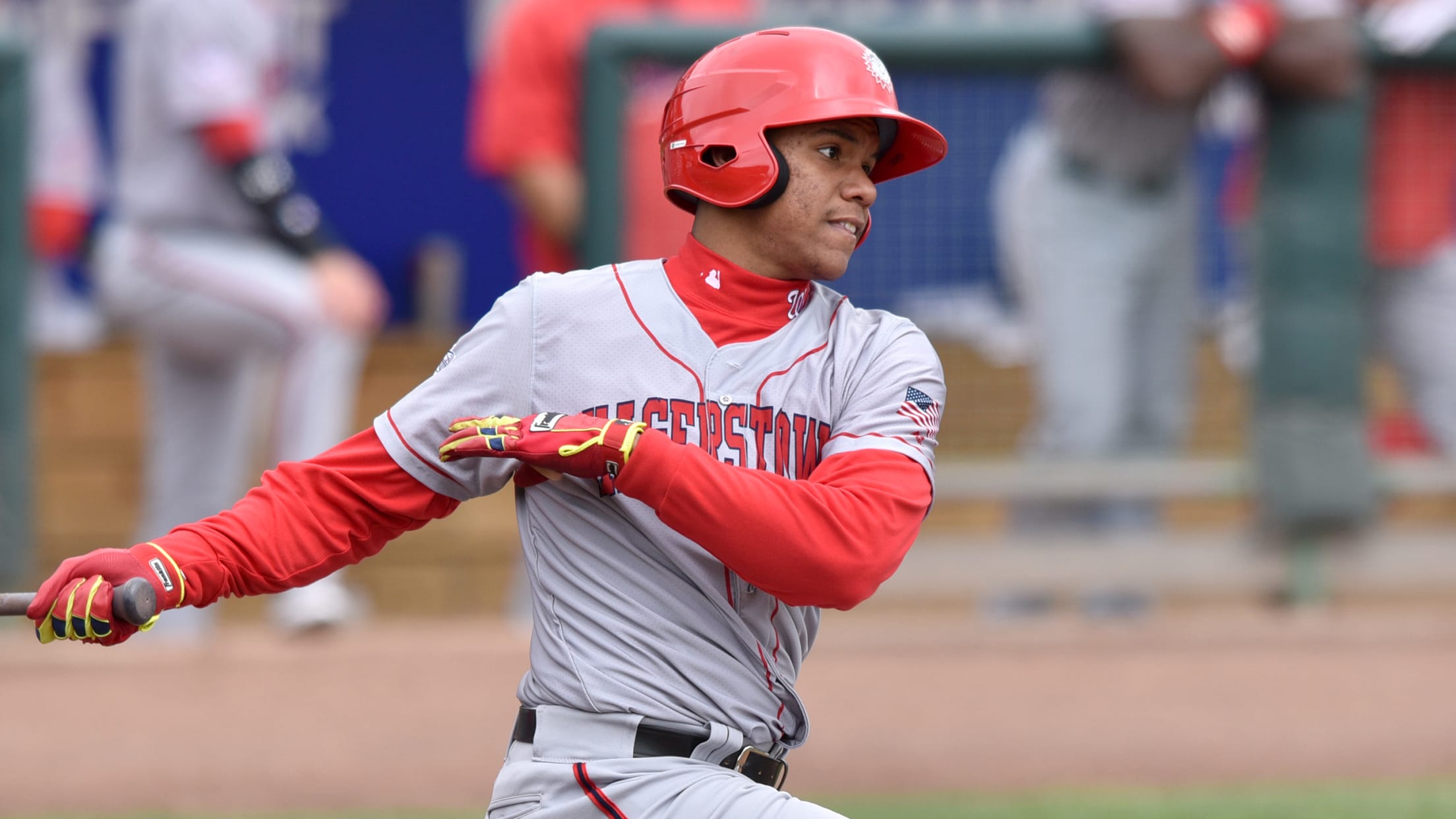 Juan Soto hit .360/.427/.523 with three homers and 14 RBIs in 23 South Atlantic League games in 2017. (Ken Inness/MiLB.com)
A year after he was beset by injuries, Juan Soto is looking to allay any concerns with a strong start. That's quickly paying off for the second-ranked Nationals prospect.On Sunday, Soto went 4-for-5 with a career-high four RBIs as Class A Hagerstown topped Rome, 6-2, at State Mutual Stadium. Soto also
A year after he was beset by injuries, Juan Soto is looking to allay any concerns with a strong start. That's quickly paying off for the second-ranked Nationals prospect.
On Sunday, Soto went 4-for-5 with a career-high four RBIs as Class A Hagerstown topped Rome, 6-2, at State Mutual Stadium. Soto also belted his second homer in four games, falling a double shy of the cycle.
"To be honest with you, not to use any excuses, but it's been a lot warmer than it was the last couple of days, so he felt a little bit more comfortable at the plate," Suns manager Patrick Anderson said. "He was in a great position, seeing the ball well. The barrel was going through the zone, he was very aggressive."
Gameday box score
Dealing with a fractured ankle, broken hamate bone and an injured hamstring, Soto was limited to 23 games in the South Atlantic League. In his first full season, the 19-year-old hit .351/.415/.505 with three homers and 18 RBIs in 32 games, including a rehab stint in the the Rookie-level Gulf Coast League. In the young season, Soto is batting .375 with three extra-base hits.
Despite the series of injuries, Soto has remained steadfast in his preparation and approach during games, according to Anderson.
"This young man is pretty consistent," the Hagerstown skipper said. "He goes about his business. You can tell his mind-set is to get to the big leagues and stay there for a long time. Not saying that anyone else isn't, but his determination, you can see it every day in everything that he does. I'm just impressed that he looks a lot stronger this year. He's growing into that body and looking like a man. He's 19 years old and looks like a grown man."
With two outs in the first, MLB.com's No. 29 overall prospect whacked Huascar Ynoa's 0-2 pitch over the right-field fence. Anderson, who has worked with Soto for two seasons in the Sally League, said the 6-foot-1, 185-pound outfielder never strays from his strategy even when down in the count.
"He has a great two-strike approach as a whole," Anderson said. "Ever since we've seen him, he's done a good job with that. What he's done, rather than the last couple of days, is that he's not trying to do too much."
An inning later with the bases loaded, Soto worked into a 2-0 count and pulled a triple into right to put the Suns up 5-0. The left-handed hitter grounded out to first in the fourth, but singled in the sixth and eighth to cap off his third career game with at least four hits.
"In his second-to-last at-bat, he hit a line drive to left field -- the opposite field," Anderson said. "That just shows us that he's starting to hit good pitches where they're pitched and he's starting to feel a little more comfortable at the plate.
"It's great to see such an outstanding player play and develop. Which like I said, it's starting to warm up a little bit and he's starting to see the ball really, really well. It's great for him."
To further the native of the Dominican Republic's development, Anderson penciled Soto's name in at center field Sunday. He hadn't played that role since 2016 with Class A Short Season Auburn, and he only spent five innings there at that time, but the Hagerstown manager liked his command of the spot.
"He did a really good job of controlling the outfield a little bit more," Anderson said. "He loves challenges, he comes to work every day and has some fun doing it and he's really good at it. ... You never know where he's going to play in the big leagues, so you want to increase [his] opportunity to be able to play. He can move around a little bit, has a good enough arm for all three outfield positions. It makes him more of a complete player to be able to play all three."
Seventh-ranked Nationals prospect Yasel Antuna went 2-for-5 with a double, while No. 30 Anderson Franco walked three times.
Alex Troop (1-0) tossed four scoreless innings of relief, yielding two hits and a walk with fanning three.
No. 19 Braves prospect Drew Waters homered, doubled and plated two runs for Rome.
Andrew Battifarano is a contributor to MiLB.com. Follow him on Twitter, @AndrewAtBatt.