Pratto busts out, named All-Star MVP
Royals No. 2 prospect ends slump with homer, four RBIs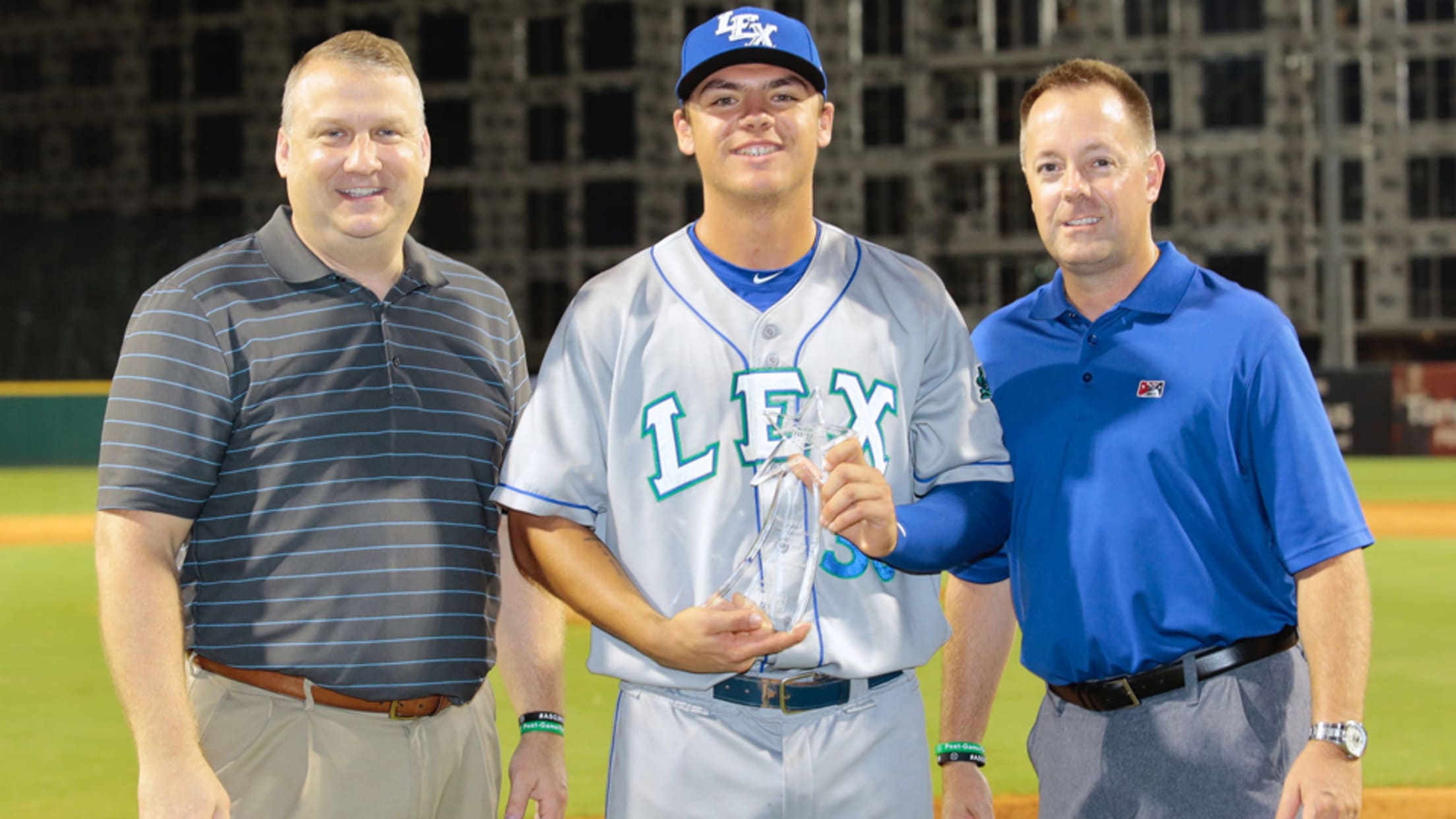 Before the South Atlantic League All-Star Game, Nick Pratto had not homered since May 24. (Chris Robertson/MiLB.com)
GREENSBORO, North Carolina -- One of the best things that happened to Nick Pratto at the South Atlantic League All-Star Game on Tuesday night might have been losing his bat.A couple of pitches after his bat flew into the crowd and he had to use a backup, he slugged a
GREENSBORO, North Carolina -- One of the best things that happened to Nick Pratto at the South Atlantic League All-Star Game on Tuesday night might have been losing his bat.
A couple of pitches after his bat flew into the crowd and he had to use a backup, he slugged a two-run homer.
Gameday box score
The Royals' second-ranked prospect has been searching for something to get him going, and that might be it.
"I needed that, for sure," Pratto said after driving in four runs to boost the Southern Division in a 9-5 victory over the Northern Division at First National Bank Field.
Pratto's fifth-inning plate appearance produced a low and a high against Hagerstown left-hander Nick Raquet. His swing and miss on the first strike sent his bat into the seating area behind the first-base dugout. A fan made a nifty maneuver to snatch it and wasn't interested in giving it back.
"The maker of the bat was here," Pratto said. "It had a little dent in it, so [not getting it back] wasn't a big deal . … I've never done that before. I swung a little too hard on that one."
A quick adjustment and it was the ball that was flying over the fence.
"I shortened my swing down and the guy threw me a curveball and I went with it," he said.
Pratto, a 2017 first-round pick out of Huntington Beach, California, went 2-for-5 and earned BUSH'S® All-Star MVP honors before a crowd that included his parents.
"I flew them out here and it's probably a good thing they were here, especially since they knew I've been struggling," said Pratto, who batted .238 in the first half and entered the All-Star break in an 0-for-11 funk that contributed to a .158 average in June.
"My last couple of weeks have been brutal," he admitted. "Just not good at-bats instead of bearing down and focusing."
He had other encouraging cuts Tuesday night, delivering a two-out, two-run single in the third to stretch the Southern Division lead to 4-1.
In the seventh, Pratto drilled a liner that knocked the glove off Hickory pitcher Tyler Phillips. But Phillips recovered in time to retire Pratto. In the ninth, he was retired on another line drive to right field.
Before the game, he told Rome Braves center fielder Drew Waters he'd been scuffling.
"He's full [of it]," Waters said. "He made one small adjustment and he's MVP. No surprise there."
Asheville Tourists second baseman Bret Boswell went 3-for-3 with a homer and three RBIs, giving Pratto a challenge for the MVP.
"Tried to do what I could with the three at-bats," Boswell said.
The Rockies prospect homered with one out in the top of the first and singled in two runs in the third. He came into the All-Star break on a .386 tear and leads the league with 48 runs scored.
"You're on a roll like that, you don't want to take a break," Boswell said. "It was just a lot of fun being here and being able to hang out with these guys."
It was quite a night for that right side of the infield representing the Tourists. First baseman Chad Spanberger won Home Run Derby.
"I told him earlier if I was in the Home Run Derby that I would beat him," Boswell said, making sure Spanberger heard the comment.
Spanberger wins Home Run Derby
Tate Blackman's homer in the bottom of the third inning got the North within 5-3.
Augusta GreenJackets shortstop Manuel Geraldo led off the seventh with a homer for the Southern Division and Jeremy Vasquez of the Columbia Fireflies did the same in the ninth. Those were the team's only runs not produced by Pratto or Boswell.
Delmarva's Trevor Craport launched a two-run shot in the seventh for the North.
Waters was on both sides of a couple of defensive gems. He made a catch in right-center field as he brushed against the wall to deny Blackman in the first inning. But in the eighth, Waters was robbed of a hit when Lakewood BlueClaws shortstop Nick Maton went deep in the hole and made a strong throw to first.
Maton, the brother of Padres pitcher Phil Maton, received the Defensive Player of the Game award. Not bad for four innings of work that also included a solid play on a slow grounder.
"Made the most of it," Maton said.
A crowd of 7,474 turned out for Greensboro's first All-Star Game since 2008.
Bob Sutton is a contributor to MiLB.com