Moncada, Devers stand out in Sox system
Young stars break out at plate in lower levels, show plenty of promise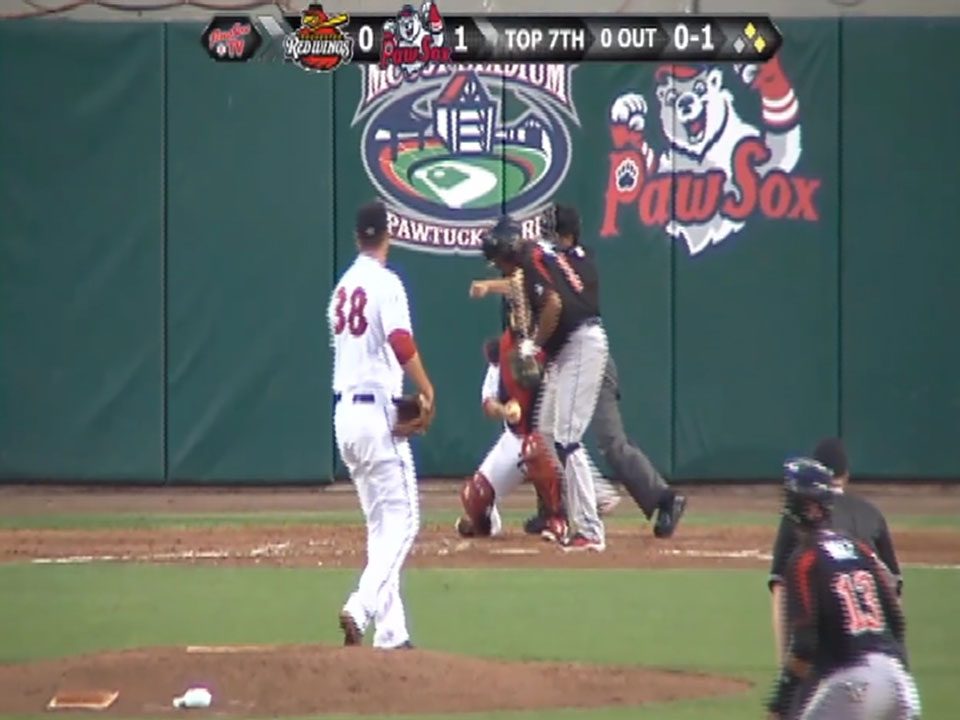 By Sam Dykstra / MiLB.com | October 12, 2015 10:00 AM
This offseason, MiLB.com will be honoring the players -- regardless of age or prospect status -- who had the best seasons in their organizations. We're taking a look at each team to determine the outstanding seasons in Minor League baseball.
As the saying goes, the Minor Leagues are all about development. In 2015, there was plenty to go around in the Red Sox farm system, specifically at the lower levels.
While the Major League club floundered to its third last-place finish in four years, the Minor League system saw breakout campaigns from several youngsters. After some initial struggles, top prospect Yoan Moncada showed why many think he'll be the real thing, while Rafael Devers, Manuel Margot, Javier Guerra and Sam Travis opened a few more eyes with their 2015 performances. Even first-round pick Andrew Benintendi hit the ground running and 17-year-old right-hander Anderson Espinoza -- who is not an Organization All-Star -- moved stateside after showing dominant stuff in the Dominican Summer League.
On the team side, the Gulf Coast League Red Sox were the only stateside affiliate to qualify for the postseason. In fact, that club repeated as GCL champions. As an organization, Boston farm clubs finished with a 402-441 record for a .477 winning percentage that ranked 21st among the 30 big league organizations.
Red Sox Organization All-Stars
Catcher -- Jordan Procyshen, Greenville (51 games), Salem (38 games): The 2014 14th-rounder out of Northern Kentucky University was solid at the plate for Greenville (.285/.356/.363) before seeing his numbers drop off (.209/.309/.248) after a promotion to the Carolina League in late June. The Calgary native was more consistent behind the plate as he threw out 33 percent (20-of-60) of attempted basestealers at Greenville and 32 percent (20-of-62) at Class A Advanced Salem.
First baseman -- Sam Travis, Salem (66 games), Portland (65 games): In his first full season after being taken in the second round of the 2014 Draft, the right-handed-hitting Travis -- who's attracted attention for spurning batting gloves -- turned heads with his offensive performance at Salem and Portland. The 22-year-old led the organization with a .307 average and 78 RBIs and finished second with 32 doubles. His nine homers in 131 games aren't typical of the first base prospect profile, but with a .381 on-base percentage and 19 stolen bases, the Sox like what they've seen in Travis.
"Sam's very consistent in everything he does," Red Sox director of player development Ben Crockett said. "He's not high, he's not low. He's very competitive whenever he's in the box. That kept him steady and allowed him to perform at both levels he played at this season."
MLB.com's No. 10 first base prospect will head to the Arizona Fall League to see where he stacks up against some of the Minors' top talent.
Second baseman -- Yoan Moncada, Greenville (81 games): The most expensive amateur signing of all-time came as advertised -- it just took some time. Moncada, who signed for $31.5 million out of Cuba in March, was held in extended spring training until mid-May and was hitting .208 as late as June 13 before breaking out big-time in the second half. MLB.com's No. 8 overall prospect hit .310/.415/.500 with seven homers and 45 steals in 56 second-half contests and finished with a .278/.380/.438 slash line, eight homers, three triples, 19 doubles and 49 thefts on the season.
With the 20-year-old switch-hitter seeing his first live game action since 2013, the Red Sox knew it was only a matter of time before his above-average hit, power and run tools shined in the South Atlantic League.
"It was an adjustment period on the field and off the field for him," Crockett said. "That was just because of the time he spent away from the game. He was lacking competitive games coming into the year. So the transition period was an important one for him, and you could see the growth gradually happening from extended spring training to the end of the season. He was playing very well, with confidence, and showed the wide array of skills we knew he had."
Third baseman -- Rafael Devers, Greenville (115 games): The 18-year-old slugger has played only two seasons in the system -- this being his first of the full variety -- and already is a two-time Organization All-Star. At the same age as most high school seniors, Devers slashed .288/.329/.443 with 11 homers, a triple, 38 doubles and 70 RBIs in 115 games for the Drive. His ability to show promising power at such a young age pushed him from No. 96 in the preseason to No. 13 in MLB.com's prospect rankings.
"As an 18-year-old in a full-season league, there were some really impressive spots of resiliency after periods of struggling," Crockett said. "There were times when he was challenged or not feeling as good as normal, and he was able to recover and get back to what he does best. Overall, for a guy his age -- or any age, really -- it was a very solid, productive year with the ability he showed to drive the ball."
Shortstop -- Javier Guerra, Greenville (116 games): Before his breakout season, Guerra had earned plenty of praise for his defense but significantly less for his bat. That changed this year, when the 5-foot-11, 155-pound Panama native, who entered the year with two homers in 111 career games, finished second in the system with 15 long balls in 116 contests. He batted .279/.329/.449 with 41 extra-base hits and seven steals in the Sally League, but the big question going forward will be if Guerra can maintain the power surge. The Sox think it's possible.
"He hit a good number of doubles last year [14 in 51 games in the Gulf Coast League], so we saw some of that power to the pull side in flashes then," Crockett said. "This year, he was continuing to swing at better pitches, and that selectivity allowed him to drive the ball a little more. He has good bat speed and a nice, short swing, so there's a lot to like there."
Outfielders
Manuel Margot, Salem (46 games), Portland (64 games): If there's one thing the Red Sox don't lack at the big league level heading into 2016, it's athletic, defensively sound outfielders. (Save your Hanley Ramirez jokes.) With an impressive age-20 campaign, Margot has done his best to give himself a chance to add his name to that group. The native of the Dominican Republic's slash lines at Salem (.282/.321/.420) and Portland (.271/.326/.419) were quite similar, and he added 39 steals between the two stops.
"Margot really finished strong at Portland," Crockett said. "There were some adjustments made against him in the middle of the second half of the year, and he was able to overcome those and have certainly an impressive season. He's got the on-base skills. He continued to play above-average defense and ran like a force on the bases. It was definitely a positive season for a guy playing at two different levels at age 20."
Andrew Benintendi, Lowell (35 games), Greenville (19 games): The Red Sox took Benintendi with the seventh overall pick in June after he hit .376/.488/.717 with 20 homers and 24 steals as a sophomore at the University of Arkansas. Those numbers would be tough to repeat with wooden bats in the pros, but the left-handed center fielder came about as close as anyone in Boston could have hoped. Benintendi produced a .313/.416/.556 line in his first pro season and tied for third in the system with 11 homers, despite playing only 54 games. Standing just 5-foot-10 and weighing 170 pounds, the former Razorback doesn't look like much of a power threat, but he proved to be one everywhere he went in 2015.
"He's got strong hands and a short swing with some pretty good bat speed and loft," Crockett said. "It's the same thing he showed at Arkansas, that ability to drive the ball. It was impressive to see. At the same time, he was able to use the entire field and be a complete hitter. He came as advertised."
Kevin Heller, Salem (93 games), Portland (13 games): As a 40th-round pick in the 2012 Draft, Heller has had to prove himself worthy of a roster spot in each of the last four seasons. He certainly cleared that bar in 2015, as he led full-season Red Sox farmhands with a .393 on-base percentage. In 93 games with Salem -- following a rough opening 13 games with Portland -- that stat stood at .409. The 26-year-old corner outfielder produced a .279/.393/.407 overall line with seven homers and 13 steals in 106 games.
Utility player -- Mauricio Dubon, Greenville (58 games), Salem (62 games): In case you haven't noticed, the Greenville infield was quite crowded with talent this summer. So crowded, in fact, that Dubon -- a shortstop -- was getting time at second, while Moncada played in extended spring training/found his form in the early weeks. After moving up to Salem in late June, the 2013 26th-rounder assumed more of a full-time role at short in the Carolina League, but his versatility made his prospect profile a little brighter.
"I think he'll get time at both spots as he moves up," Crockett said. "Don't get me wrong, he can play shortstop because he's athletic, has the arm strength for the position and is consistent with the glove. He can stay at the position, if we needed him to. We just moved him around a little bit because of the way the rosters worked out."
Playing his first full season, Dubon also held his own at the plate and on the basepaths, finishing with a .288/.349/.376 line and 30 steals in 120 games.
Right-handed pitcher -- Aaron Wilkerson, Greenville (five games), Salem (17 games), Portland (seven games): Wilkerson doesn't exactly have the profile of some of the other arms in the system, but in 2015, he had the superior numbers. The 26-year-old, who was signed out of the independent Frontier League in 2014, led the system with 11 wins and 137 strikeouts in 29 appearances (136 2/3 innings) across three levels. His 3.10 ERA and 1.07 WHIP both were lowest among pitchers in the system with at least 100 innings.
Left-handed pitcher -- Brian Johnson, Pawtucket (18 games), Boston (one game): The Red Sox's No. 4 prospect was in the midst of a second straight successful season (9-6, 2.53 ERA, 1.10 WHIP, 90 strikeouts over 96 innings) when he felt discomfort in his pitching elbow during an Aug. 2 start in Buffalo, two starts after he made his Major League debut. He didn't pitch the rest of the season. To focus on the positive, the 24-year-old has started throwing again, according to a report by WEEI.com, and is expected to have a normal offseason.
Reliever: Williams Jerez, Greenville (14 games), Salem (five games), Portland (22 games): In just his second season as a full-time pitcher, Jerez was named Red Sox's Minor League Pitcher of the Year after posting a 2.54 ERA with 86 strikeouts over 88 2/3 innings across three levels. The 23-year-old left-hander was drafted as an outfielder in the second round in 2011 but couldn't catch on as a hitter. (He batted .176 in 38 games at Lowell in 2013.) The Sox liked his arm, though, and moved him to the mound in 2014. Jerez excelled this season as the long man in the bullpen and tossed more than an inning in 35 of 41 appearances.
"The transition has been one that continues to build momentum," Crockett said. "As a guy who's hit three levels in one year and has a good amount of innings under his belt, we're proud of the year he's had. He was unfazed by the competition everywhere he went and was aggressive in the strike zone. We trusted that he could take this opportunity, and he's run with it."
Sam Dykstra is a reporter for MiLB.com. Follow and interact with him on Twitter, @SamDykstraMiLB. This story was not subject to the approval of the National Association of Professional Baseball Leagues or its clubs.
View More