Offensive Players of the Week
For the week ending Sept. 7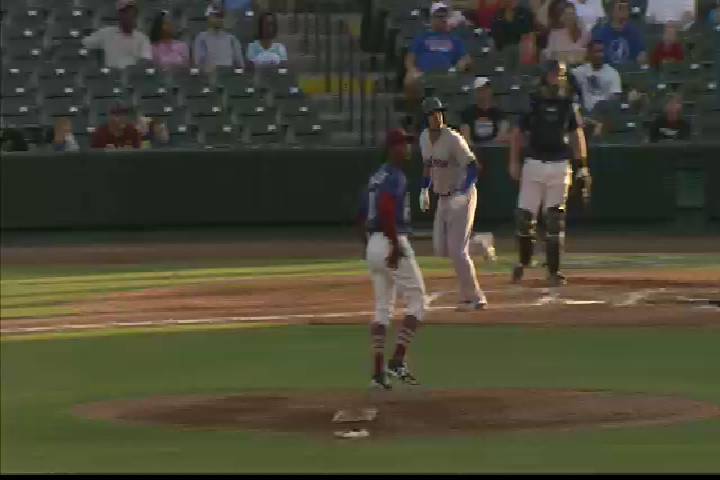 By John Parker / MiLB.com | September 8, 2015 6:36 PM
Here's a look at the top offensive performers in each league for the period Aug. 31-Sept. 7 (includes regular-season stats only; Texas League winners are for games played from Aug. 31-Sept. 6):
International League
Ali Castillo, Scranton/Wilkes-Barre (NYY)
(.484/.529/.710, 7 G, 15-for-31, 7 2B, 8 RBI, 2 R, 3 BB, 3 K, 4 SB, 2 CS)
There are few better ways to end a regular season than by collecting five hits in the finale. That's what Castillo did on Labor Day, marking his fourth game with three or more hits in the last week. The 26-year-old shortstop has been in the Yankees system since 2008 but did not reach Triple-A until this year. He got a taste of the International League in June, then returned on Sept. 1 to reel off 15 hits in seven games as the RailRiders head into the playoffs.
Pacific Coast League
Matt Clark, Colorado Springs (MIL)
(.480/.581/.960, 8 G, 12-for-25, 6 2B, 2 HR, 7 RBI, 9 R, 6 BB, 6 K, 1 SB)
A surge in the season's final week helped the 28-year-old Clark complete his sixth Minor League campaign with at least 20 home runs and 75 RBIs. After slumping somewhat in the middle of the season, Clark batted .350/.480/.610 in 31 August games for the Sky Sox and was even better in September. Clark received his first big league call-up earlier this year, and though he had only five hits in 27 at-bats for the Brewers, three of them were home runs.
Eastern League
Manuel Margot, Portland (BOS)
(.441/.447/.765, 8 G, 15-for-34, 3 2B, 1 3B, 2 HR, 12 RBI, 7 R, 2 BB, 1 K, 3 SB, 2 CS)
Hitting for the cycle is kind of a gimmick -- hitting a second homer rather than a triple is better, but seems to lack the cachet -- but it's still an awfully good performance that demonstrates power, contact and speed. Margot accomplished the feat Sunday in the midst of his personal demolition of the New Britain Rock Cats: he went 11-for-19 with two homers and nine RBIs as the Sea Dogs split the four-game set. It served as an apt ending to a fine season for the Red Sox outfielder, who turns 21 later this month.
Southern League
Ian Miller, Jackson (SEA)
(.464/.448/.643, 6 G, 13-for-28, 3 2B, 1 3B, 5 RBI, 4 R, 0 BB, 3 K, 4 SB, 1 CS)
After starting the season with Class A Advanced Bakersfield, Miller reported to Jackson in late May and served as the Generals' leadoff man the rest of the season. Despite the late start, he led the team in stolen bases with 29 (and led the Mariners system with 50). The 23-year-old center fielder doesn't walk much -- he did not draw a free pass last week -- but made up for it with a bunch of hits in the season's home stretch while giving himself opportunities to get on base by fanning just three times.
Texas League
Renato Nunez, Midland (OAK)
(.407/.448/.741, 6 G, 11-for-27, 3 2B, 2 HR, 12 RBI, 4 R, 1 BB, 5 K)
Derek Jeter famously hit just one grand slam in 308 Major League plate appearances with the bases loaded. Twenty-one-year-old Renato Nunez managed to surpass him -- in the Minors, of course -- by hitting slams in back-to-back games Saturday and Sunday. Those two games saw Nunez collect eight of his 11 hits and 11 of his 12 RBIs for the whole week. Nunez finished the regular season with 18 homers in 93 games with the RockHounds and now has hit six grand slams in 440 career Minor League games.
California League
Alex Verdugo, Rancho Cucamonga (LAD)
(.577/.586/.962, 7 G, 15-for-26, 4 2B, 2 HR, 10 RBI, 9 R, 2 BB, 3 K)
A second-round pick in 2014, Verdugo wrapped up his first full pro season in style, collecting 14 hits over his final six games and bashing a pair of homers on the final weekend -- and that doesn't even count his cycle from the previous week. A two-way player in high school, the Dodgers agreed to let him play every day and the results have been impressive. He finished second in batting in the AZL in 2014 and hit .311/.340/.441 as a 19-year-old this year and finished the season by posting a .385/.406/.659 line in 23 Cal League games.
Carolina League
Carlos Franco, Carolina (ATL)
(.360/.500/.680, 7 G, 9-for-25, 2 2B, 2 HR, 9 RBI, 5 R, 7 BB, 7 K)
A late surge -- and a homer on the season's final day Monday -- allowed Franco to finish with a slugging percentage over .400 for the first time in his career. The 23-year-old relies more on contact and getting on base than a typical third-base prospect -- he finished fourth in the league with 66 walks -- and has a propensity to hit the ball on the ground. Monday's blast gave him 11 long balls on the season, a career-high.
Florida State League
Jared Reaves, Lakeland (DET)
(.409/.519/.727, 7 G, 9-for-22, 5 2B, 1 3B, 3 RBI, 4 R, 5 BB, 6 K, 1 CS)
Reaves spent much of his last week on various Florida State League base paths, collecting nine hits and five walks in seven games. Unfortunately Lakeland was the lowest-scoring team in the league this season, so Reaves only touched home four times. After posting a .556 OPS in 27 August games, the 25-year-old Alabama product rebounded with a 1.321 mark in five September contests.
Midwest League
Franmil Reyes, Fort Wayne (SD)
(.560/.607/.960, 6 G, 14-for-25, 4 2B, 2 HR, 8 RBI, 8 R, 3 BB, 2 K)
A 20-year-old outfielder ranked No. 26 in the Padres system, Reyes wrapped up his second season in Fort Wayne with a career-high-tying five hits and five RBIs on Monday as the TinCaps concluded their slate with a 17-0 win over Bowling Green. Six days earlier he had a 4-for-4, two-homer night in Lansing. Both Reyes and the TinCaps are hoping they can carry their momentum into the MWL postseason -- they open a best-of-3 quarterfinal series in West Michigan on Wednesday.
South Atlantic League
Austin Bailey, Lexington (KC)
(.429/.529/.821, 7 G, 12-for-28, 4 2B, 2 3B, 1 HR, 8 RBI, 6 R, 4 BB, 3 K, 1 CS)
A 21st-round pick out of the University of San Diego in June, Bailey didn't miss a beat in his switch to the pro ranks -- he hit .308 in a 35-game stint for Burlington in the Appy League, then .318 down the stretch for Lexington in the Sally League. That consistency was on display last week, in which the 23-year-old shortstop had hits in every game, multiple hits in four and finished the season by scoring in five straight games. Age is working against the switch-hitting Bailey as he tries to climb to the Majors, but he's off to a great start.
New York-Penn League
R.J. Dennard, State College (STL)
(.478/.538/.870, 6 G, 11-for-23, 3 2B, 2 HR, 5 RBI, 5 R, 3 BB, 5 K, 1 CS)
There were 1,215 players chosen in this year's Draft; Dennard was 1,181st. Only a handful of them have won a league's Player of the Week award as he did with five multi-hit games in six contests for State College. His first two homers as a pro came at Mahoning Valley last Tuesday. Though Dennard's surge helped the Spikes win five of their final seven games, the reigning NYPL champs fell one game shy of a Wild Card playoff berth.
Northwest League
Christopher Shaw, Salem-Keizer (SF)
(.348/.375/.870, 6 G, 8-for-23, 3 2B, 3 HR, 5 RBI, 4 R, 1 BB, 2 K)
The Giants picked Shaw 31st overall in June (1,150 players ahead of Dennard), and with Salem-Keizer fighting for a playoff berth in the final week of the season, the Boston College product showed why he was so highly valued. Three long balls in six games gave Shaw a Northwest League-leading 12 on the season despite playing 23 fewer games than second-place Trevor Mitsui of Hillsboro. With the power boost from the 21-year-old first baseman, Salem-Keizer set a team record with 60 homers this season.
Appalachian League
Kevin Kaczmarski, Kingsport (NYM)
(.625/.625/1.250, 2 G, 5-for-8, 3 2B, 1 3B, 4 RBI, 1 R, 1 CS)
Needing two big games last week to capture the Appy League batting title, Kaczmarski stepped up by going 5-for-8. His .355 average just edged out teammate Patrick Mazeika (.354) for the crown; third-place Carlos Munoz of Bristol (who was named the circuit's MVP) batted .325. Kaczmarski also paced the league in hits and total bases while finishing second with 20 stolen bases. Despite Kaczmarski's potent bat, the West Division champion Mets fell (as did East Division leader Pulaski) in the three-game league semifinals.
Pioneer League
Jordan Paroubeck, Ogden (LAD)
(.500/.576/.929, 7 G, 14-for-28, 3 2B, 3 HR, 11 RBI, 8 R, 5 BB, 5 K)
Drafted by the Padres in 2013, Paroubeck was acquired by the Braves at the start of this season in the deal that sent Craig Kimbrel and Melvin Upton Jr. to San Diego. A quad injury kept him out of action for the first half of the season, at which point the Braves sent him to the Dodgers for an international bonus pool slot. Now the Dodgers' No. 25 prospect at age 20, Paroubeck is prone to strikeouts, but when he makes contact, watch out. With Ogden fighting for a Pioneer League playoff berth, Paroubeck has 18 hits -- four of them homers -- and 16 RBIs in his last 10 games for the Raptors.
John Parker is an editor for MiLB.com. This story was not subject to the approval of the National Association of Professional Baseball Leagues or its clubs.
View More