O'Hearn, Martinez post big seasons for KC
Fuenmayor, Eibner, Fukofuka show power, depth of Royals system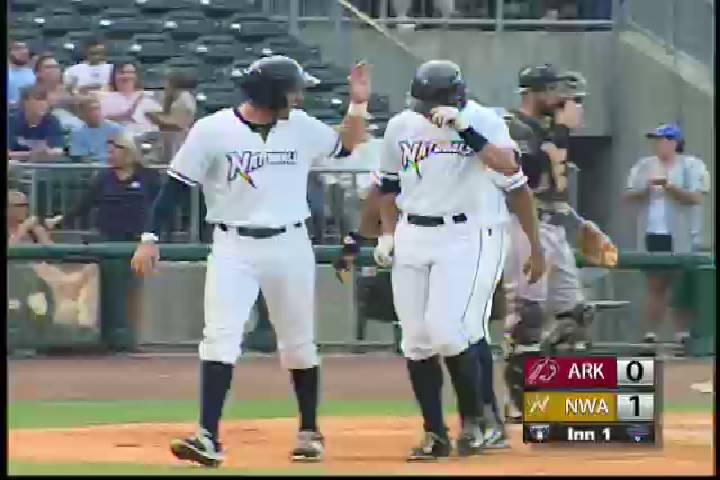 By Danny Wild / MiLB.com | November 13, 2015 10:30 AM
This offseason, MiLB.com is honoring the players -- regardless of age or prospect status -- who had the best seasons in their organization. We're taking a look at each team to determine the outstanding seasons in Minor League Baseball. Select a team from the dropdown below.
The Royals' resurgence at the Major League level continues to show the organization's strength in developing talent. Kansas City has reached the World Series each of the past two seasons and claimed the crown earlier this month, but in the Minors, Triple-A Omaha was the lone KC affiliate to finish above .500 at 80-64. That doesn't mean other teams lacked success -- Double-A Northwest Arkansas won the Texas League's North Division before losing in the Finals, Class A Advanced Wilmington claimed a first-half division crown and fell in the Championship Series and the Rookie-level AZL Royals and Idaho Falls Chukars both won their divisions. Idaho Falls also reached the Finals but lost to Missoula in the Pioneer League.
Kansas City finished 2015 with three Top-100 prospects: shortstop Raul Mondesi, who made an improbable debut during the World Series, and right-handers Ashe Russell and Kyle Zimmer. Mondesi, 20, struggled at Double-A, and Russell show some potential after the Royals drafted him in the first round in June. Zimmer, after pitching exclusively as a starter in 2013 and 2014, worked out of the bullpen this year as the Royals aimed to built up his arm strenghth. He posted strong numbers, reaching Double-A Northwest Arkansas.
Royals Organization All-Stars
Catcher -- Francisco Pena, Omaha (95 games), Royals (eight games): Pena, whose father Tony played and managed in the Majors, said he was ready for his chance in Kansas City after hitting a career-best three homers on June 17. "I feel like I'm ready and I just need that opportunity and it's out of my control," he told MiLB.com. That night was among the highlights of a solid season at Triple-A in which the 26-year-old hit .251 with 13 homers and 48 RBIs in 95 games. Behind the plate, he threw out 25 of 52 would-be base-stealers and had just three passed balls in 745 1/3 innings.
"He had another quality year, we were excited for him to go up and help the Major League club and he did a really good job working with our pitchers at both levels," said Ronnie Richardson, the Royals' director of Minor League operations.
First base -- Ryan O'Hearn, Lexington (81 games), Wilmington (46 games): O'Hearn, the Royals' No. 14 prospect, led all Kansas City Minor Leaguers with 27 homers while ranking second with 77 RBIs. The team's top-ranked first-base prospect hit .263 for Class A Lexington and was a South Atlantic League All-Star this summer before earning a promotion to Class A Advanced Wilmington in mid-July. His average fell more than 100 points in the Carolina League, but the power remained.
"Ryan had a great year. His first full season, he was able to take a step forward in his development," said Richardson. "He helped Wilmington in the playoffs, competed well, led the organization in home runs and he improved all around. We're excited how he finished his first full season."
Second base -- Corey Toups, Lexington (102 games): The 22-year-old led all Royals second basemen in homers, hitting .291 with seven long balls and 44 RBIs in his first full season. A 2014 MiLB.com Royals All-Star, Toups followed up a solid 2014 campaign with a .369 OBP and 113 hits in 75 contests.
"Corey had another quality first season, he was our Lexington Player of the Year," said Richardson. "He did a good job playing both middle infield positions and really set the tone for the lineup."
Richardson also praised 20-year-old D.J. Burt, who hit .290 with 28 RBIs and 20 steals at Rookie-level Idaho Falls.
Shortstop -- Dusty Coleman, Omaha (73 games), Northwest Arkansas (26 games), Kansas City (four games): Raul Mondesi is the Royals' No. 1 prospect, but it's undeniable that Coleman, a 28-year-old infielder, turned in a better season. Coleman, who made his big league debut in July after seven seasons in the Minors, hit .292 with nine homers, 45 RBIs and a dozen steals while also getting five at-bats in Kansas City. Mondesi, to his credit, began the year as a 19-year-old in Double-A and remained above average defensively, but hit .243 with a .279 OBP and 33 RBIs.
Coleman was ecstatic when he finally got called up. "It's a dream come true for sure," he told the Kansas City Star. "I just feel completely blessed at this moment."
"He's a player we were able to sign, and came and competed well for us at Northwest Arkansas and Omaha and he was rewarded by making his Major League debut," said Richardson. "He's a hard-nosed grinder player, a quality baseball player."
Third base -- Mauricio Ramos, Wilmington (123 games): Ramos, 23, hit .265 with eight homers, 59 RBIs, 22 doubles and a .313 OBP after lofting nine homers at Class A in 2014.
"He hit in the middle of the lineup all season, led the team to a playoff berth and was the Wilmington Player of the Year," said Richardson. "He had a good all-around season."
Lexington's Wander Franco also turned in nice numbers -- the 20-year-old batted .268 with 10 homers and ranked third in the Royals system with 74 RBIs.
Utility player -- Balbino Fuenmayor, Northwest Arkansas (72 games), Omaha (16 games): Fuenmayor, 25, hit .358 with 17 home runs and 66 RBIs in 89 games at first base between two levels. He earned a spot in the Futures Game and the Texas League All-Star Game, took home two Player of the Week awards, was the Texas League's Player of the Month for May and was named a Double-A All-Star by Baseball America.
"Balbino came to the organization this season, started off in Spring Training competing for a spot and took advantage of the opportunity," said Richardson. "He played quality first base and showcased his power."
Outfield
Brett Eibner, Omaha (103 games): The 26-year-old hit .303 with 19 homers, 81 RBIs, 10 steals and a .364 OBP at Triple-A after struggling through most of 2014.
"He had a chance in Spring Training, got off to a hot start, missed some time in Omaha, but put together a complete season," said Richardson. "He has power and the ability to hit for average, so we're excited for where he's moving in the future."
Amalani Fukofuka, Idaho Falls (67 games): His name may be a mouthful, but his numbers were easy to admire -- just 20, the center fielder hit .339 and 38 RBIs and a .401 OBP while helping the Chukars claim the Pioneer League crown.
"He was our Idaho Falls Player of the Year, leading that team to the championship game," said Richardson. "He really showed some maturity as he continued to develop. Above-average defense and the ability to hit in the middle of the lineup. We're excited about where he's moving and his development this past year."
Jose Martinez, Omaha (98 games), AZL Royals (four games): Martinez finished with a Pacific Coast League-leading .384 average at Triple-A, adding 10 homers and 60 RBIs. He owned a .382 overall average -- the best among full-season players -- and a .456 OBP in 102 games.
"He earned it," Omaha manager Brian Poldberg told the Omaha World-Herald. "He went out there every day. He had a long stretch [of games]. And what he did, the accomplishment, it's just a tribute to him and his work ethic and just the great kid that he is."
"It's been a great season," Martinez told the paper. "It's been a special season for me. I'm looking forward to keep doing the same."
"He had a good year, set the PCL record for average and really took advantage of the opportunity," said Richardson. "He's always showed an ability to hit, he put together a complete season and was rewarded by being added to the 40-man roster. He had a good season and continues to play well for us."
Honorable mention: Jorge Bonifacio batted .240 with 17 home runs and 64 RBIs as an All-Star in the Texas League. The Royals' No. 6 prospect and second-ranked outfielder finished third in the organization in homers and fifth in RBIs. ... Lane Adams hit .281 with 16 homers, 62 RBIs and 31 steals across two levels after reaching the Majors last September. He ranked third in the KC system with 127 hits, fourth in homers and steals and sixth in RBIs.
Right-handed starting pitcher -- Alec Mills, Wilmington (21 games): The 23-year-old went 7-7 with a 3.02 ERA in 21 starts at Wilmington, striking out 111 in 113 1/3 innings after owning a 2.35 ERA in 2014.
"He had a great season there, really pitched well, showed an ability to command the strike zone," said Richardson. "He helped that team to a playoff berth and really took a step forward to showcase an ability to locate all his pitches in the zone. He competed every time he was on the mound."
Also notable, Andy Ferguson, 27, went 11-3 with a 2.49 ERA and ranked fifth in the organization with 108 strikeouts in 104 2/3 innings across two levels.
Left-handed starting pitcher -- Matthew Strahm, Lexington (14 games), Wilmington (15 games): Strahm began the season in the bullpen, but the Royals moved him to a starting role by the end of the year, where he logged the bulk of his innings. He owned a 2.59 ERA and struck out 121 in 94 innings.
"Pretty good numbers. We were building him back up," said Richardson. "If you look at the sum of the year, it was a really good year for him. Strahm was dominant."
Another lefty, Jonathan Dziedzic, a 2013 13th-round pick, went 10-6 with a 3.12 ERA at Double-A, where he struck out 93 batters in 138 1/3 innings.
Relief pitcher -- Scott Alexander, Omaha (41 games), Kansas City (four games): The lefty, who missed 2011 with shoulder surgery, has blossomed into a quality stopper. The 26-year-old went 2-3 with a system-leading 14 saves and a 2.56 ERA, striking out 50 batters in 63 1/3 Triple-A innings.
"Scott had a good season from start to finish, he had a stretch of a scoreless-inning streak and made his Major League debut, so we're really excited about Scott and what he was able to accomplish this season," Richardon said. "He put himself in a good position to compete coming into next season."
Danny Wild is an editor for MiLB.com. Follow his MLBlog column, Minoring in Twitter. This story was not subject to the approval of the National Association of Professional Baseball Leagues or its clubs.
View More