Robles, Soto show promise for Nationals
Washington system features talented but inexperienced prospects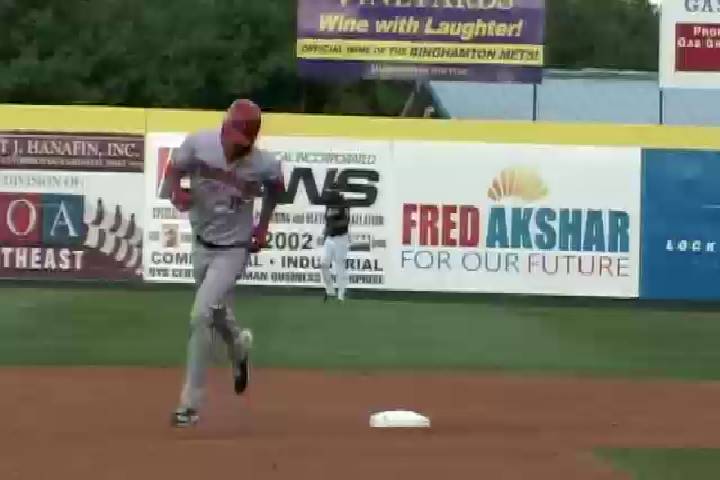 By Michael Avallone / MiLB.com | December 21, 2016 10:30 AM
This offseason, MiLB.com is honoring the players -- regardless of age or prospect status -- who had the best seasons in their organization. We're taking a look at each team to determine the outstanding seasons in Minor League Baseball.
The Nationals won the NL East for the third time in the last five years in 2016, and their 95 regular-season wins tied the Rangers for second most in the Majors behind the World Series Champion Cubs. Unfortunately for Washington fans, the club once again failed to advance past the divisional round.
The acquisition of Adam Eaton earlier this month, along with the graduation of Trea Turner and Wilmer Difo to the Majors, has significantly thinned out the upper levels of the Nationals' Minor League system. In exchange for the speedy outfielder, Washington parted ways with two of its top three prospects -- No. 3 overall prospect Lucas Giolito and 38th-ranked Reynaldo Lopez.
A trade with the Angels last week brought back a pair of quality arms, including Los Angeles' No. 20 prospect, Kyle McGowin. However, a majority of Washington's talent currently resides in the lower levels of a system that combined for a 380-381 record in 2016.
Nationals Organization All-Stars
Catcher -- Raudy Read, Potomac (101 games): Washington's No. 24 prospect spent the entire year in the Class A Advanced Carolina League, where he enjoyed his best season to date. The 23-year-old hit .262/.324/.415 and set career highs in games played (101), homers (six), RBIs (51) and extra-base hits (40). On the defensive side, Read threw out 31 percent of runners attempting to steal.
"We're very proud of his accomplishments this year," Washington director of player development Mark Scialabba said. "He made strides physically and even more so mentally. Raudy's starting to learn how to call games and handle a staff. He's got loud tools, plus arm strength and receives the ball well. Offensively, he's got raw power and is learning to hit to the opposite field. We're very happy with him."
First baseman -- Jose Marmolejos, Potomac (103 games), Harrisburg (33 games): A career .288 hitter through six Minor League seasons, the 23-year-old turned in another strong year that ended with him reaching Double-A. Marmolejos combined to hit .289/.370/.475 with 63 extra-base hits and 74 RBIs across two stops. His 45 doubles tied for second in the Minors and gave him 84 over the last two seasons.
"Very professional at-bats," Scialabba said. "He's very consistent and has a knack of finding the ball with the barrel of the bat. He's extremely confident and continues to impress us with the way he goes about his business. The adjustments Jose has made at each level are impressive, and it shows in the results."
Video: Harrisburg's Marmolejos homers to right
Second baseman -- Jake Noll, GCL Nationals (seven games), Auburn (18 games), Hagerstown (32 games): Washington's seventh-round pick in this year's Draft enjoyed a solid professional debut, batting .275/.332/.401 across three levels while playing strong defense up the middle.
"It was a nice debut, right from the first day," Scialabba said. "Our scouts did a good job acquiring someone with an advanced approach, plus speed and solid athleticism. He controls the strike zone well, has good discipline and a quick, compact stroke with gap-to-gap strength. We already like what we've seen, and we think he's got a bright future ahead of him."
Third baseman -- Drew Ward, Potomac (64 games), Harrisburg (53 games): The Nationals' No. 7 prospect followed a down year in 2015 with a much more impactful 2016 campaign. Ward hit .278/.377/.491 with 11 of his career-high 14 homers in the Carolina League before earning a promotion to Double-A. He struggled during his time with the Senators, but Scialabba was pleased with what the 2013 third-round Draft pick accomplished in 2016.
"Drew had a nice first half, and we're very pleased with his development," he said. "He picked up some of the benefits of going to the Arizona Fall League in 2015 and carried that over. He's learning to keep the barrel in the zone longer and tap into the raw power he has. He's still young and has time to grow into his large frame and add strength, but he's already mature for his age."
Shortstop -- Trea Turner, Syracuse (83 games), Washington (73 games): What's most remarkable about Turner's season is that he was better after being promoted to the Majors. Prior to being recalled, the 23-year-old was thriving in Triple-A with a .302 average, 36 extra-base hits, 61 runs scored and 25 stolen bases in 27 attempts in just over half a season. Turner joined the Nationals in early July and never looked back, batting .342/.370/.567 with 13 homers, 40 RBIs, 53 runs scored and 33 steals in 73 games, primarily as a center fielder. He was named National League Rookie of the Month in August and September.
"Just a tremendous young man," Scialabba said. "A baseball player who does everything extremely well. Trea's exciting, dynamic and has such an amazing aptitude. What he did for us in the Minors was exceptional, but to do what he did in the bigs while transitioning to a new position and making it look natural was extraordinary. He's got a great approach, he barrels up the ball and he's still earning to hit to the right side with more authority. He's a catalyst at the top of the lineup with pop who can impact the game in a number of ways."
Video: Syracuse's Turner leads off game with home run
Outfielders
Victor Robles, GCL Nationals (five games), Hagerstown (64 games), Potomac (41 games): The Nationals' new top prospect showed off his many talents in his first full season. Robles was a South Atlantic League midseason All-Star after hitting .305 in 64 games with the Suns. MLB.com's No. 10 overall prospect was promoted to the Carolina League on June 27 and finished the year hitting .280/.376/.423 with 75 runs scored and 37 stolen bases.
"Victor amazes us with the tools he has," Scialabba said. "He flashes five tools on any given day, and all of them have a chance to be average or above. He's an exciting young man with a passion for the game and a high energy level that makes those around him better. He wants to be the best in all facets, and he's already a very confident hitter with quick, strong hands and above-average bat speed. We expect him to tap into his power once he fully matures and hit consistently with authority. He's just a dynamic athlete and everything you want from a player."
Andrew Stevenson, Potomac (68 games), Harrisburg (65 games): Stevenson turned a strong debut in 2015 into an All-Star season in his first full year in 2016. Washington's fifth-ranked prospect earned Carolina League midseason All-Star honors and was named the game's MVP. Stevenson hit .304 and swiped 27 bases with the Nationals before a promotion to Double-A. Overall, the 22-year-old hit .276/.332/.374 with 75 runs scored and 39 stolen bases in 133 games.
"It was a tremendous year for Andrew," Scialabba said. "He's a top-of-the-lineup catalyst for us and an explosive runner with a contact bat. He's got great gap strength and has flashed the ability to drive the ball while handling the strike zone consistently well. He's an exciting player who is fun to watch."
Juan Soto, GCL Nationals (45 games), Auburn (six games): At 18 years old and in his first professional season, Soto grabbed the Nationals' attention with a Rookie-level Gulf Coast League MVP Award. Washington's No. 12 prospect hit .361/.410/.550 with 19 extra-base hits and 31 RBIs in 45 games before moving up to the Class A Short Season New York-Penn League for six games.
"A great signing by our Latin staff," Scialabba said. "It was a very impressive start, and we're excited by what we saw. Juan is still physically growing, but he already has tremendous strength and his bat is very advanced for his age. He's a young man with a bright future who will do whatever it takes to succeed."
Designated hitter -- Ian Sagdal, Hagerstown (108 games): Sagdal began to fulfill the promise that enticed the Nationals to select him in the 16th round of last year's Draft. Following an unspectacular debut in 2015, the Washington native rebounded to hit .303/.362/.474 with 45 extra-base hits and 59 RBIs with the Suns this past year. Sagdal went deep 10 times after homering just once the year before. The 23-year-old finished the season strong, batting .366/.408/.590 with seven of his 10 home runs coming in 57 second-half games.
Right-handed starter -- Erick Fedde, Potomac (18 games), Harrisburg (five games): The loss of Giolito and Lopez has turned Fedde into Washington's top pitching prospect, but the 23-year-old did plenty on his own in 2016 to merit that status. With Tommy John surgery more than two years behind him, Fedde broke through with a 3.12 ERA and 123 strikeouts in 121 innings between two levels.
"Erick gained a lot of body strength, which helped improve his stamina," Scialabba said. "It added crispness to his fastball and curve as well as his slider, which is a great weapon for him. He sat 93-94 [mph] and touched 96-97 with the fastball and then was able to manipulate the batter with his slider, which he can throw in all counts. He's a bulldog on the mound, and we're looking forward to big things from him in the future."
Left-handed starter -- Tyler Watson, Auburn (nine games), Hagerstown (three games): The Nationals' No. 25 prospect was nearly unhittable during nine starts in the New York-Penn League. A midseason All-Star, Watson posted a 1.88 ERA and struck out 48 in 40 innings while holding the opposition to a .189 batting average with the Doubledays. He was rewarded with a promotion to Hagerstown, where he had a 4.80 ERA in three starts.
"Tyler is a young, projectable and physical lefty," Scialabba said. "He commands the fastball extremely well, and his curve has good depth and sharpness. He's someone we feel has a high ceiling who will continue to improve and is not afraid to learn. We're excited and proud of what he's done so far."
Relief pitcher -- Koda Glover, Potomac (seven games), Harrisburg (17 games), Syracuse (16 games), Washington (19 games): Glover's dominant season led him from the Carolina League all the way to Washington's bullpen. The Nationals' ninth-ranked prospect had a 2.25 ERA and saved eight games in nine opportunities while combining to strike out 66 in 56 innings across three Minor League levels. Glover posted a 5.03 ERA in 19 big league appearances.
Michael Avallone is a contributor to MiLB.com. Follow him on Twitter @MavalloneMiLB. This story was not subject to the approval of the National Association of Professional Baseball Leagues or its clubs.
View More