SAL notes: Ockimey emerging with Drive
Red Sox prospect comfortable with comparisons to Ryan Howard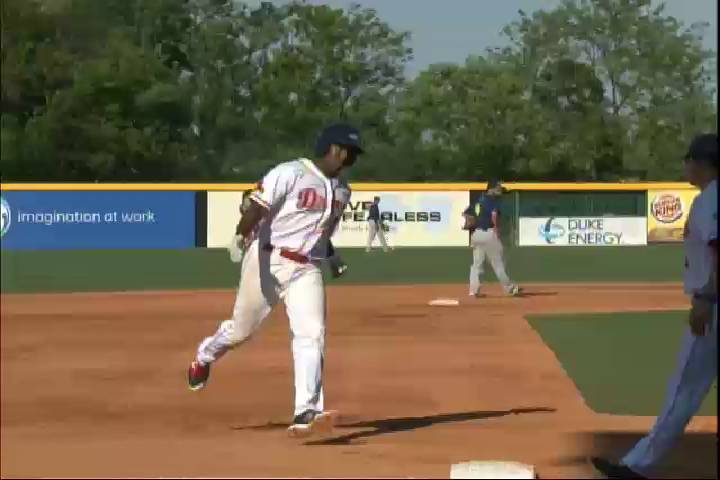 By Bill Ballew / Special to MiLB.com | June 8, 2016 3:02 PM
When a player possesses power and a sweet swing from the left side, plays first base, is built like a brick house and hails from Philadelphia, chances are he will draw comparisons to Ryan Howard in his prime. That's been the case for Josh Ockimey since he began appearing on the radars of scouts and continues to this day as he makes impressive strides in the Boston organization.
"I always heard those comparisons," said the 20-year-old Ockimey. "Growing up in Philly, I definitely take that as a compliment, because he was such an unreal player who put up some ridiculous numbers. But I always knew I had to keep working in order to get the opportunity to play pro ball."
After committing to play collegiately at the University of Arkansas, Ockimey emerged as one of the top high school power hitters during pre-Draft workouts in 2014. He displayed his ability to pound the ball during a workout at Fenway Park, which led to Boston drafting the first baseman in the fifth round and signing him to an above-slot bonus of $450,000.
Assigned to the Gulf Coast League for his first taste of professional baseball, Ockimey struggled to a .188/.292/.232 slash line with 10 RBIs in 36 games. He took some positive steps last year at Lowell in the Short Season New York-Penn League, where he batted .266/.349/.422 with four homers and 38 RBIs in 56 contests, before blossoming back in Florida during the instructional league last fall.
"I had a lot of people tell me my first year in pro ball to not be surprised when you have that 0-for-50 stretch," Ockimey said. "My first season I started off pretty good my first two weeks and then all of the sudden I couldn't hit anything. Knowing what I know now, I probably would have handled it a little bit differently, but in the long run I feel it was a good learning experience."
Ockimey's education is beginning to pay much greater dividends this season at Greenville. Through Tuesday's games, he led the South Atlantic League with a .436 on-base percentage and 43 walks. The first baseman also was third on the circuit with a .537 slugging percentage and fourth with nine home runs (just one behind the leaders) in addition to hitting at a .299 clip with 13 doubles and 29 RBIs in 51 contests. On Tuesday, his performance was rewarded when Ockimey was named the starting designated hitter for the Southern Division in the SAL All-Star Game.
"I'm feeling pretty good at the plate right now," said Ockimey, the No. 16 prospect in the Red Sox system. "I know it's not really the right thing to say because baseball is a game where you can be hot and the next game you can be cold. But I'm feeling pretty confident after working on some things over the offseason and then touching up on them this spring with our hitting coach, Lee May. I feel pretty good at the moment."
The primary adjustment Ockimey made coming into the season centered upon standing taller at the plate after using a wide base since early in his high school career. By being more upright, he has learned how to gain additional leverage in his swing. He also has become more adept at working the count and is looking to hit with power when he gets ahead in the count.
His defense at first has also shown significant improvement. He takes ground balls daily in addition to working on his pre-pitch movement as well as his timing and footwork. Combined with his determination and willingness to put in the work, Ockimey believes he's taking full advantage of the developmental process in the Minor Leagues.
"Our mental skills coach, Justin Su'a, told me something that I stick to all the time," Ockimey said. "He said, 'You're always one hit away from being on fire.' There's been times when I've been 0-for-10 and I'm wondering what's wrong with my swing. Sometimes you have to step back and say, 'Nothing's wrong with my swing; I'm one hit away from being on fire.' I believe staying positive and working as hard as I can will help me get to where I want to be."
In brief
Temporary departure: The Pirates assigned Mitch Keller to extended spring training on Friday, but the right-hander is expected to rejoin West Virginia in the next few days. Keller leads the Minors with a 0.74 WHIP after not allowing more than one walk or six hits in any of his first 10 starts. Keller also ranks third in the SAL with a .184 opponents' batting average and fourth with a 1.89 ERA and 64 strikeouts.
Ibanez promoted to Double-A: The Rangers promoted Hickory second baseman Andy Ibanez to Double-A Frisco on Tuesday. Ibanez has been one of the SAL's top hitters this season. At the time of his promotion, the Cuba native led the league with a .546 slugging percentage while ranking second with a .959 OPS, 26 extra-base hits and 101 total bases, third with 18 doubles and a .413 on-base percentage and fourth with 35 RBIs. Ibanez also was riding an eight-game hitting streak that included four homers and 11 RBIs.
Grasshoppers lose two to prank: Outfielder Stone Garrett is expected to miss 8-10 weeks with a lacerated right thumb and first baseman Josh Naylor has been suspended without pay for at least a week by the Miami Marlins after he cut his roommate in a prank that went awry. According to the Greensboro News & Record, Garrett needed three sutures to close the cut and flew to Miami on Monday to see the organization's hand specialist. Naylor is ranked by MLB.com as the Marlins' No. 2 prospect, while Garrett is tabbed as the team's No. 4 prospect.
Bill Ballew is a contributor to MiLB.com. This story was not subject to the approval of the National Association of Professional Baseball Leagues or its clubs.
View More