Suns' Giolito, Difo sweep SAL awards
Nationals prospects named Class A circuit's best pitcher, player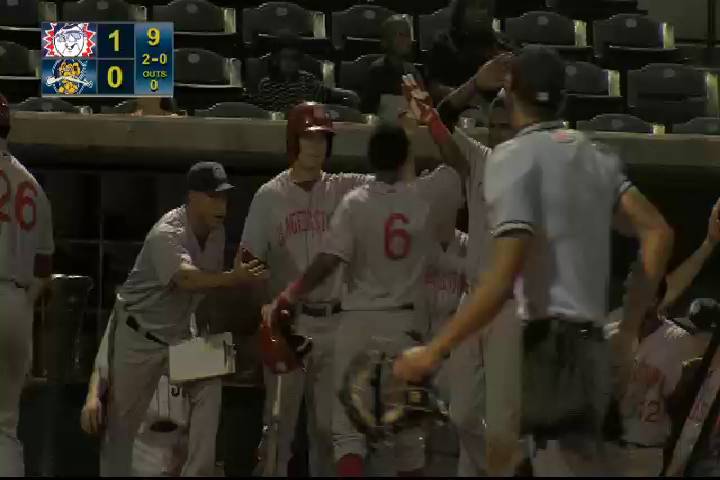 By Sam Dykstra / MiLB.com | August 28, 2014 10:00 AM
Before they rise through the Nationals system, a couple of Hagerstown Suns shined in the South Atlantic League in 2014. Now with the season about to set, the pair have been given their just rewards.
Nationals No. 1 and No. 20 prospects Lucas Giolito and Wilmer Difo were named the Sally League's Most Outstanding Pitcher and Most Valuable Player, respectively, on Thursday.
Giolito was considered one of the most intriguing prospects in the Minors entering 2014. After being selected 16th overall in the 2012 Draft, the 6-foot-6 right-hander underwent Tommy John surgery in August of the same year. Following rehab, he pitched only 36 2/3 innings in 2013 and was set to finally make a splash for a full season in 2014, which was set to be his first fully healthy campaign as a pro.
He did just that, as the award indicates. Armed with a plus fastball and curveball, Giolito went 10-2 with a 2.20 ERA, 1.00 WHIP, 100 strikeouts and only 28 walks in 98 innings with the Suns. He didn't quite qualify for the South Atlantic League's ERA or WHIP titles -- the Nats decided to limit his innings following the Tommy John surgery -- but he would have led the circuit in both categories. He does, however, rank eighth in the SAL in strikeouts, despite being the only one in the top 10 to not hit triple-digits in innings pitched. That's where his numbers shall stay too after the Nationals shut him down for the season earlier this month.
Unsurprisingly, the right-hander, who is ranked the No. 10 prospect in baseball by MLB.com, was also named the league's Most Outstanding MLB Prospect. However, perhaps because of the limited innings, Giolito was not a part of the SAL's postseason All-Star Team. Savannah's John Gant (10-5, 2.59 ERA) took the right-handed pitcher spot on the squad while Augusta's Luis Ysla (6-7, 2.51) represents the southpaws.
Although Giolito's superb season may not have been much of a surprise, Difo's award-winning campaign certainly felt like one. The 22-year-old middle infielder was coming off a 2013 season in which he batted .217 with a .644 OPS in 61 games across four levels, including 16 at Hagerstown. He broke out in a big way the Suns this season and, as of Wednesday, led the SAL with 173 hits and 256 total bases and was second with 49 steals. The switch-hitter's .321 average, which is 33 points above his previous career high for a season, ranks fifth.
Despite splitting the season almost equally between second base and shortstop, Difo got the nod at second base on the postseason All-Star squad.
He is joined on the team by fellow Sun Rafael Bautista, whose 66 steals give him the top spot in the league in the category. Two top-five Rockies prospects, David Dahl (.305/.345/.501, 10 homers, 18 steals) and Ramiel Tapia (.329/.384/.458, nine homers, 33 steals), fill out the two remaining outfield spots after impressive campaigns with Asheville.
2014 South Atlantic League Postseason All-Star Team
| NAME | POS | TEAM | MLB ORG |
| --- | --- | --- | --- |
| Chance Cisco | C | Delmarva | BAL |
| Felix Munoz | 1B | Greensboro | MIA |
| Wilmer Difo * | 2B | Hagerstown | WAS |
| JaCoby Jones | SS | West Virginia | PIT |
| Ryan McMahon | 3B | Asheville | COL |
| Carlos Asuaje | UT INF | Greenville | BOS |
| Rafael Bautista | OF | Hagerstown | WAS |
| David Dahl | OF | Asheville | COL |
| Raimel Tapia | OF | Asheville | COL |
| Carlos Lopez | UT OF | Greensboro | MIA |
| Willians Astudillo | DH | Lakewood | PHI |
| Lucas Giolito † | P | Hagerstown | WAS |
| John Gant | RH SP | Savannah | NYM |
| Luis Ysla | LH SP | Augusta | SF |
| Akeel Morris | RP | Savannah | NYM |
| Luis Rojas | Manager | Savannah | NYM |
| Marc Valdez | Coach | Savannah | NYM |
Sam Dykstra is a contributor to MiLB.com. This story was not subject to the approval of the National Association of Professional Baseball Leagues or its clubs.
View More