Top prospects continue rising for Orioles
Harvey, Sisco among Baltimore's prized pieces climbing the ladder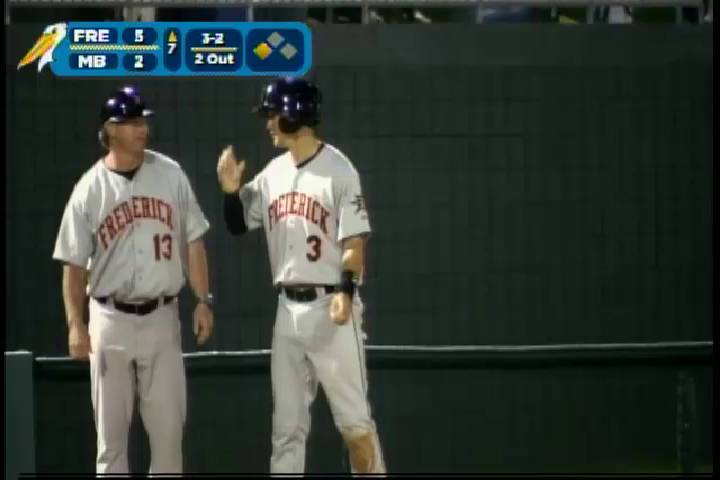 By Tyler Maun | December 12, 2014 10:00 AM
This offseason, MiLB.com is honoring the players -- regardless of age or prospect status -- who had the best seasons in their organization. We're taking a look at each team to determine the outstanding seasons in Minor League Baseball. Select a team from the dropdown below.
It had been 15 seasons since postseason baseball energized an October in Baltimore when the Orioles won the American League Wild Card in 2012. Following their first AL East crown since 1997 last season, the O's are firmly in a new chapter -- one in which reinforcements are on the way.
The Orioles ranked third in the American League with a 3.43 staff ERA in 2014, and two of baseball's most anticipated pitching prospects are the Baltimore ranks. Though top Orioles prospect Dylan Bundy underwent Tommy John surgery in June of 2013 and made only nine appearances this season, 19-year-old Hunter Harvey dazzled in the South Atlantic League.
Baltimore can mash in the minors, too. The Orioles' No. 3 prospect Chance Sisco captured the South Atlantic League batting crown while rising sluggers like Christian Walker and Mike Yastzremski flexed their power in breakout seasons.
With Bundy at full strength this offseason, substantial steps forward for ranked prospects and the Charm City getting used to playoff baseball, more bright days appear to be ahead at Camden Yards.
Orioles Organization All-Stars
Catcher -- Chance Sisco, Delmarva (114 games): The Orioles' No. 3 prospect, Sisco went wire to wire with Class A Delmarva and had an impressive .340/.406/.448 line, capturing the South Atlantic League batting and on-base percentage titles at just 19 years old.
"That's pretty impressive to be able to make it through the grind of your first full season at 19 years old and compete at the level he competed," said Baltimore Director of Player Development Brian Graham. "It tells you he's very mature. It tells you he has great character. It tells you he's a good competitor. Those are the qualities you're looking for in good big league players, so he's certainly headed in the right direction."
Sisco made the move from shortstop to catcher as a senior in high school, and in his first full professional season, he handled the position adequately, though his 19 passed balls were most among Sally League catchers. The backstop cut down 24 of 119 (20.2%) attempted base stealers.
First baseman -- Christian Walker, Bowie (95 games), Norfolk (44 games): Former South Carolina Gamecocks slugger Walker ascended to the big leagues this season, just two years after the O's took him in the fourth round of the MLB Draft. Baltimore's No. 4 prospect broke out with power in 2014, bashing 26 home runs between Double-A and Triple-A.
"There was consistency from day one with his swing, and he really never got away from it," said Bowie manager Gary Kendall. "Sometimes, when hitters throw a couple 0-for-4's together, they can go off the deep end and start changing things. Christian really believed in what he was doing."
Walker made impressive strides both at the plate and in the field, and both Graham and Kendall credited the first baseman's work with Orioles coordinator of Minor League hitting Jeff Manto and Minor League infield instructor Dave Anderson for those steps.
"There were days we'd get rained out and wouldn't hit on the field, and he'd still go out there and maintain and get his ground balls," Kendall said of Walker's defensive growth. "He would take so many to his backhand, so many to his forehand, so many off the bag. There was a plan."
Second baseman -- Jerome Pena, Frederick (93 games): Texas Christian product Pena spent 82 of his 93 games at second base and put up the best offensive numbers of his career in the Carolina League. From May through August, the switch-hitter lifted his batting average every month, capping his season with a .309/.330/.511 slash line in 28 August games. In the field, Pena handled his glovework well, posting a .970 fielding percentage at second base and not committing a single error in his 10 games at shortstop.
Third baseman -- Jason Esposito, Frederick (127 games): Esposito repeated the Class A Advanced level in 2014 and excelled, raising his OPS by more than 150 points to .718. The 2011 second-rounder out of Vanderbilt ripped 28 more extra-base hits than he did in 2013, finishing second in the Carolina League with 128 total hits and fourth with 196 total bases.
The third baseman's work at the hot corner, though, is what has earned him some of the highest reviews in the Orioles system.
"He's very impressive defensively, does everything you want him to do," Graham said. "He ranges left and right. He makes the routine plays, shows you a plus arm, shows you good hands. He has a very calm presence at third base."
After earning a Minor League Gold Glove Award, Esposito headed to the Arizona Fall League where he finished off 2014 by batting .253 with a homer and 12 RBIs in 23 games for Glendale.

Shortstop -- Adrian Marin, Frederick (115 games): The Orioles' No. 13 prospect, Marin was just 20 years old while spending his third professional season at the Class A Advanced level. Though he batted just .232 with a .612 OPS, Marin played a career-high 115 games with the Keys.
"To see a young player with that kind of poise and that kind of composure compete every day, it's the grind of playing for these young players," Graham said. "It's not easy to go out and play every single day. It takes time and experience to get used to that.
"Offensively, he's going to get better. He's going to mature. He's going to make strides. He's just got to use the whole field, stay within himself, and being the type of hitter that he is, he'll be a pretty good player."
Outfielders
Mike Yastrzemski, Delmarva (63 games), Frederick (23 games), Bowie (43 games): The grandson of Hall of Famer Carl, Yastrzemski rocketed through three levels in his first full season since being selected in the 14th round out of Vanderbilt in 2013. The 24-year-old held his own at each stop, combining to register a .288/.346/.490 line with 64 extra-base hits, most among Orioles Minor Leaguers. He also tallied 15 outfield assists.
"He's the epitome of a baseball player," Graham said. "This guy prepares himself. He's focused. He studies the game.
"If you look at the number of triples he has, if you look at the number of outfield assists he has, you see a complete baseball player. He's got great makeup. He's got a great mentality for the game, and also, I think bloodlines mean something. Bloodlines, for me, are a big asset in this game."
Walker continued, "He runs hard all the time. If he's got an average arm, he's going to show it to you all the time. If he's an average runner, he's going to show it to you all the time. He's always going to show his tools because that's just part of what he is. What he brings to the table, he brings every day."
Dariel Alvarez, Bowie (91 games), Norfolk (44 games): Cuban defector Alvarez played in just 22 games across three levels in 2013 after signing with the Orioles. In 2014, the four-year veteran of Cuba's Serie Nacional batted .306/.330/.472 at the two highest Minor League levels in his first full season stateside.
"He took to it and was probably one of the better center fielders in the Eastern League when he was there," Kendall said. "I wasn't really surprised by how he played just because of where he came from and how natural he was to playing the game of baseball.
"He plays the corners better than he plays center. I think he's an average Major League center fielder. He's a plus defender in the corners. He's got a 70 [grade] arm, a well above average arm in accuracy. He's only going to get stronger."
Alvarez was named a midseason and end-of-season All-Star in the Eastern League.
Glynn Davis, Frederick (89 games), Bowie (26 games): Undrafted out of community college in Maryland, Davis climbed to Double-A for the first time this season. In 115 total games, he posted a .747 OPS, the highest of any season in his career and nearly 120 points better than his 2013 mark. Davis was named to the Carolina League All-Star team in June.
"He has tools," Graham said. "He runs well. He throws average. He's a solid-average defender in center field and left field. Offensively, he made great strides this year."
Utility player -- Drew Dosch, Delmarva (128 games): The highest-drafted player out of Youngstown State in over 20 years, third baseman Dosch took his first professional season by storm. Baltimore's No. 11 prospect was a South Atlantic League All-Star, posting a .314/.370/.404 line with the Shorebirds.
"[Drew] has a real good feel to hit, understands hitting, uses the whole field," Graham said. "Defensively, he's a good player who's going to get better."
Right-handed starter -- Hunter Harvey, Delmarva (17 games): The Orioles' No. 2 prospect was so ready for pro ball that he never committed to a college ahead of the 2013 Draft, where Baltimore selected him with the 22nd-overall pick. He continued to show why in 2014, earning a selection to the MLB All-Star Futures Game as well as a South Atlantic League All-Star nod.
Working in the Sally League at just 19, Harvey went 7-5 with a 3.18 ERA in 17 starts, striking out 106 in 87 2/3 innings, before a flexor mass strain in his throwing arm prematurely ended his season.
"He understands pitching," Graham said. "He understands what pitch to throw in what situation. He's got a great feel for three pitches. He's got great composure. For a young player to have plus stuff and command the baseball, that's rare, and Hunter did that this year."
Left-handed starter -- Tim Berry, Bowie (23 games): Taken by the O's in the 50th round in 2009, Berry has climbed the ranks to be Baltimore's No. 6 prospect. The lefty underwent Tommy John surgery that year but has steadily progressed since debuting in 2010, going 6-7 with a 3.51 ERA in 23 starts for the Baysox last season.
"To see him blossom and firm up his breaking ball -- and his changeup has really come along, the arm speed with the changeup," Kendall said. "His velocity is kind of untapped. If used in certain ways, I think there's more in that arm. He's just done a really nice job for us."
Reliever -- Jon Keller, Delmarva (24 games), Frederick (two games): Keller moved to the bullpen full-time in 2014 and found a groove in Class A. The No. 19 O's prospect struck out 66 batters while walking just 14 in 56 2/3 innings for Delmarva before earning his first promotion to Class A Advanced.
"What happens when you take a starter and put him in the bullpen, sometimes their stuff plays up," Graham said. "His stuff played up. His velocity played up. His life played up -- fastball, hard slider. He'd come out for two innings, three innings and go right after hitters. That's the way we developed him this year, and he was really good."
Tyler Maun is a contributor to MiLB.com. Follow him on Twitter @TylerMaun. This story was not subject to the approval of the National Association of Professional Baseball Leagues or its clubs.
View More