Cubs Explode for Season-High 11 Runs on 21 Hits
South Bend rattles off 11 unanswered against Fort Wayne in front of crowd of 6,060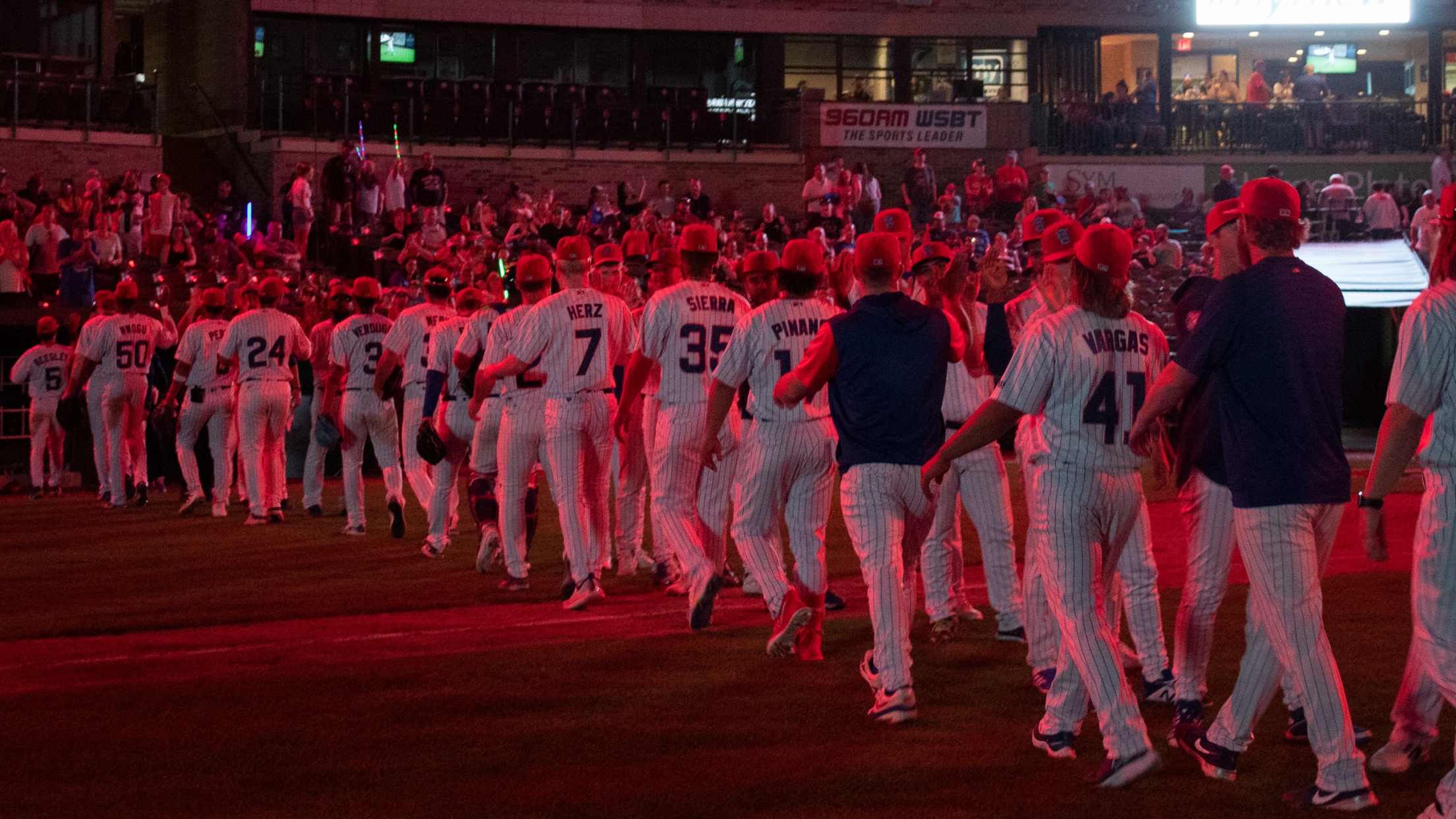 (Courtney Mammon)
South Bend, IN – Wow. I mean where do I start? What a Friday night at Four Winds Field. After seeing their winning streak halted at eight game in shutout fashion last night, the Cubs came back with authority and rocked a season-high 21 hits, leading to a season-high 11
South Bend, IN – Wow. I mean where do I start? What a Friday night at Four Winds Field. After seeing their winning streak halted at eight game in shutout fashion last night, the Cubs came back with authority and rocked a season-high 21 hits, leading to a season-high 11 runs.
Going into tonight no Cubs player had tallied a four-hit game this season, tonight Bradlee Beesley and Matt Mervis both accomplished the feat.
Two batters into the game the TinCaps led 2-0. Corey Rosier struck out to start the game but reached on the dropped third strike and then in a matchup of former first round picks Robert Hassell III took Jordan Wicks deep the opposite way.
Wicks was locked in though, tossing a career-high 4.2 innings, punching out six and just allowing the homer to Hassell. Every Cubs pitcher that followed dazzled with Bradford Deppermann, Bailey Horn and Hunter Bigge keeping Fort Wayne off the board the last 4.1 innings.
In the bottom of the first the Cubs tallied four hits and two runs to come back and tie it. Two innings later Fabian Pertuz drove in Jake Slaughter with a two-out single and the team never looked back.
The bulk of the damage and the slew of daggers came in the sixth and seventh. Beesley led off the sixth with a double, his fourth hit in six innings, then scored on a Luis Verdugo single. Danny Denz, the first man out of the bullpen for Fort Wayne and tomorrow's originally scheduled starter, gave up a no-doubt homer to the next batter Yohendrick Pinango.
Just one inning later Denz and Pinango faced each other again and Pinango sent a screaming line drive at 108 MPH over the right field wall: grand slam. Pinango's third and fourth homers on the season came in consecutive innings, against the same reliever.
Every player in the Cubs starting lineup reached twice and eight of the nine tallied multiple base hits.
The Cubs have now taken three of the first four in the series and game five is scheduled for 4:05 p.m. tomorrow.