Big Sixth Inning Fells Cubs in River Bandits' Win
Quad Cities Scores Seven Runs in Final Three Innings for Third Victory of the Final Series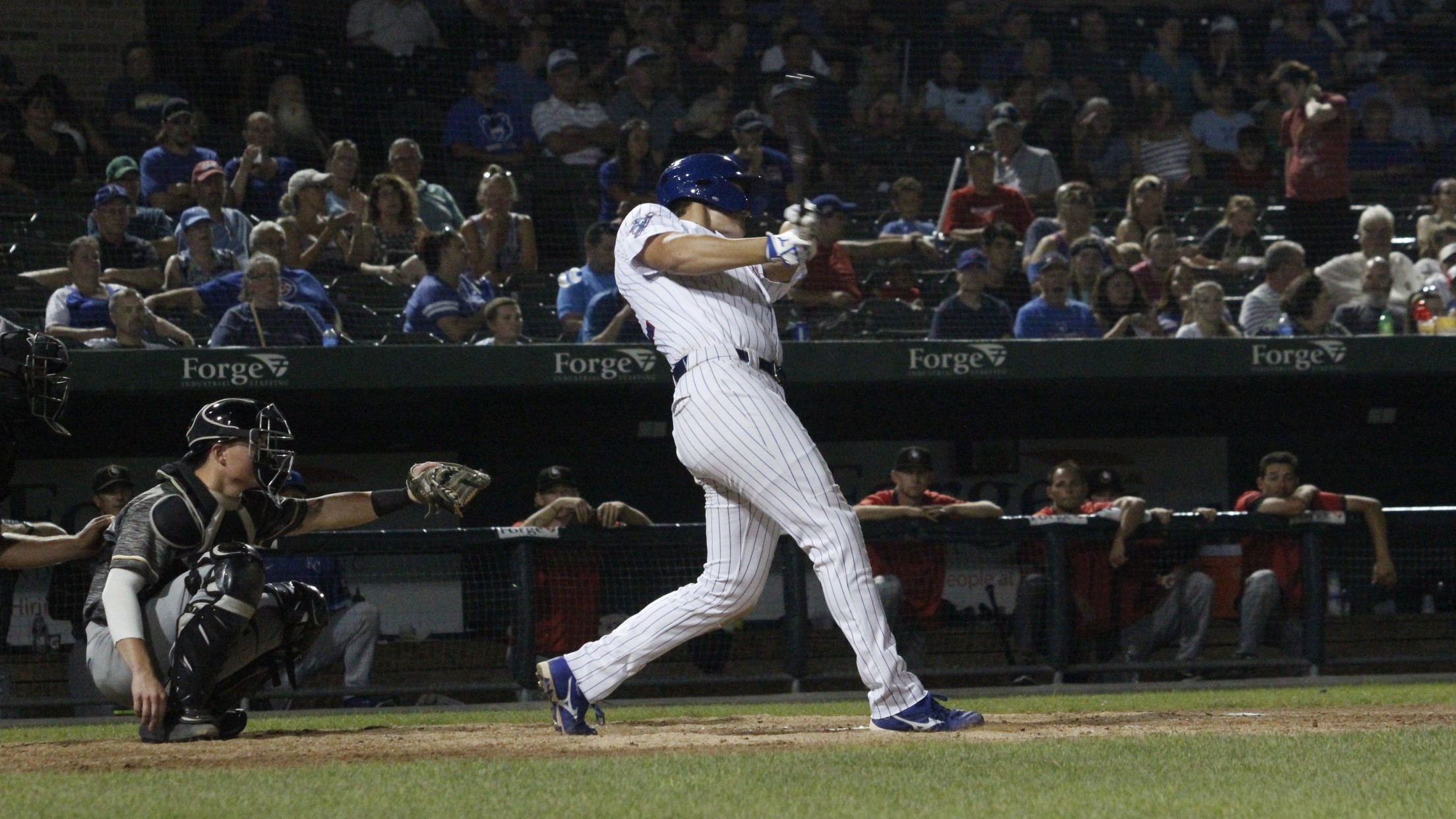 (Casey McDonald)
Box Score WP: 44 Anderson Paulino (1-1, 4.91 ERA) LP: Chris Clarke (0-6, 4.65 ERA) It was another game that began with great starting pitching and ended with a surge of runs. For the third time in the series, Quad Cities struck first, with back-to-back base hits starting the scoring
WP: 44 Anderson Paulino (1-1, 4.91 ERA)
LP: Chris Clarke (0-6, 4.65 ERA)
It was another game that began with great starting pitching and ended with a surge of runs.
For the third time in the series, Quad Cities struck first, with back-to-back base hits starting the scoring in the second inning. It was a Jake Means RBI single that gave the River Bandits a 1-0 lead. South Bend waited another inning before they took control, plating two in the top of the fourth. Yohendrick Pinango led off with a hard-hit triple to right, extending his hit streak to five straight games. Yonathan Perlaza drove him in on an RBI groundout to tie things up at one on the very next at-bat. The next three hitters would reach base, culminating in an RBI by Jake Slaughter on a fielder's choice, as the high fly ball bounced in front of Tucker Bradley, and Tyler Durna couldn't get to second base in time.
The Cubs held the lead before the sixth inning, where Logan Porter wasted no time in tying things up. He took the first pitch of the inning deep to centerfield for a game-tying solo home run. Starter Chris Clarke seemed to regain control of the inning, getting two of the next three hitters out via the fly ball to reset the order with one out left in the frame.
Quad Cities' top of the order would not be denied.
The next four batters reached base to plate four more runs for the Bandits, three coming on a single by Gavin Stupienski and aided by an Alexander Canario fielding error, allowing Stupienski to reach third base. He walked home on a Rubendy Jaquez double, completing a five-run frame and giving the River Bandits a 6-2 lead.
Eric Cole added an insurance run for Quad Cities, with his fourth hit of the day leaving the yard past the centerfield wall and extending the lead to 7-2, and a throwing error on Slaughter allowed a run to score in the eighth, giving Quad Cities an 8-2 lead in their final inning. Slaughter drove in his second run of the ballgame on a sacrifice fly to make it 8-3 in the ninth, but it wasn't enough to overcome the steep deficit, as Quad Cities hung on for an 8-3 win.
Yonathan Perlaza (1-4, RBI) and Jake Slaughter (1-3, 2 RBI) drove in all three for South Bend while Tyler Durna (2-4) and Bryce Ball (2-3, BB, 2 R) were the only Cubs with multiple base hits.
Next Up: Bailey Horn (1-0, 5.60 ERA), vs Christian Cosby (4-3, 4.50 ERA). Two games remain on the Cubs' 2021 slate, and Bailey Horn will toe the mound on the last Saturday of the season. Cubs look to prevent an outright clinch of the series and Quad Cities' 40th home victory of the season.