3-Spot in the 9th Propels Cubs Past River Bandits
A Yonathan Perlaza blast to the Mississippi River and a wild pitch ignited a Cubs comeback out of nowhere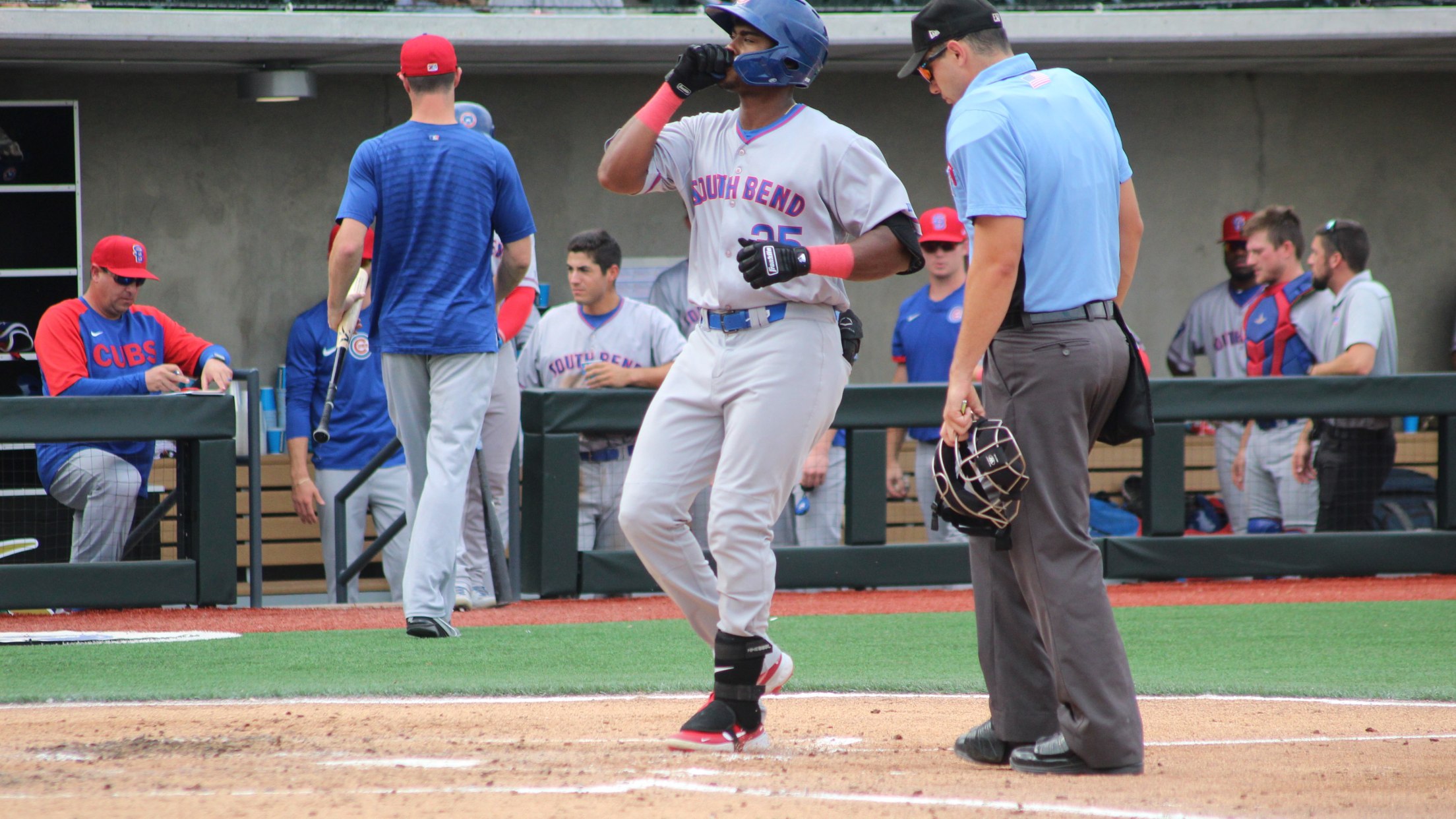 (Todd Johnson)
W: Tanner Jesson-Dalton (2-3, 7.61 ERA) L: Kasey Kalich (2-2, 4.34 ERA) BOX SCORE The Cubs offense had been dominated by the River Bandits bullpen. 12 straight batters had been retired and going into the ninth inning the South Bend offense had managed just three hits. That all changed in
W: Tanner Jesson-Dalton (2-3, 7.61 ERA)
L: Kasey Kalich (2-2, 4.34 ERA)
The Cubs offense had been dominated by the River Bandits bullpen. 12 straight batters had been retired and going into the ninth inning the South Bend offense had managed just three hits.
That all changed in the ninth.
Yohendrick Pinango singled to start the inning, giving him a hit in 18 of the 21 games he's played since being called up from low-a Myrtle Beach. What followed was a Herculean blast to right field that left the stadium from Yonathan Perlaza and tied the game, 4-4.
Bryce Ball connected with a single to left and Edmond Americaan replaced him at first base. He then promptly stole second. The fourth batter of the inning was Tyler Durna and he sent one to the wall in right field but was thrown out trying to leg out a double; Americaan had gone back to tag and only advanced to third on the play. After Jake Slaughter struck out, and with two outs now in the inning, Americaan scored the go-ahead run on a wild pitch from Kasey Kalich.
That would be all that was needed.
Tanner Jesson-Dalton struck out the side in order in the ninth inning and picked up the win.
D.J. Herz (5 IP, 4 H, ER, 2 BB, 9 K) made his final start of the 2021 season and came out firing. The lefty in just his third start at the high-a level struck out two in the first, three in the second and two in the third inning. He came one strikeout shy of his career high and allowed just one run on a two-out double in his final frame.
Alexander Canario hit a two-run blast in the third inning off of River Bandits starter Anothony Veneziano to put the Cubs on the board first. After that it was all Quad Cities. A.J. Block and Patrick Smith combined to toss five scoreless innings out of the River Bandits pen and the QC offense tied the game on a Logan Porter double in the sixth inning and took their first lead on a Kale Emshoff single that same inning. They added what seemed a crucial insurance run on a two-out double in the eighth inning by Jake Means but the Cubs turned around a 4-2 ninth-inning deficit into a 5-4 victory.
It was Herz's sixth start of the season against a Royals affiliate and in those games his team is now 5-1.
Next Up: South Bend will send former fourth-rounder Chris Clarke to the mound against Zach Haake, who will be making his first start since coming off the IL earlier this week.