Pinango and Ball Power Cubs to 5-2 Win Over Snappers
South Bend gets their first win ever at ABC Supply Stadium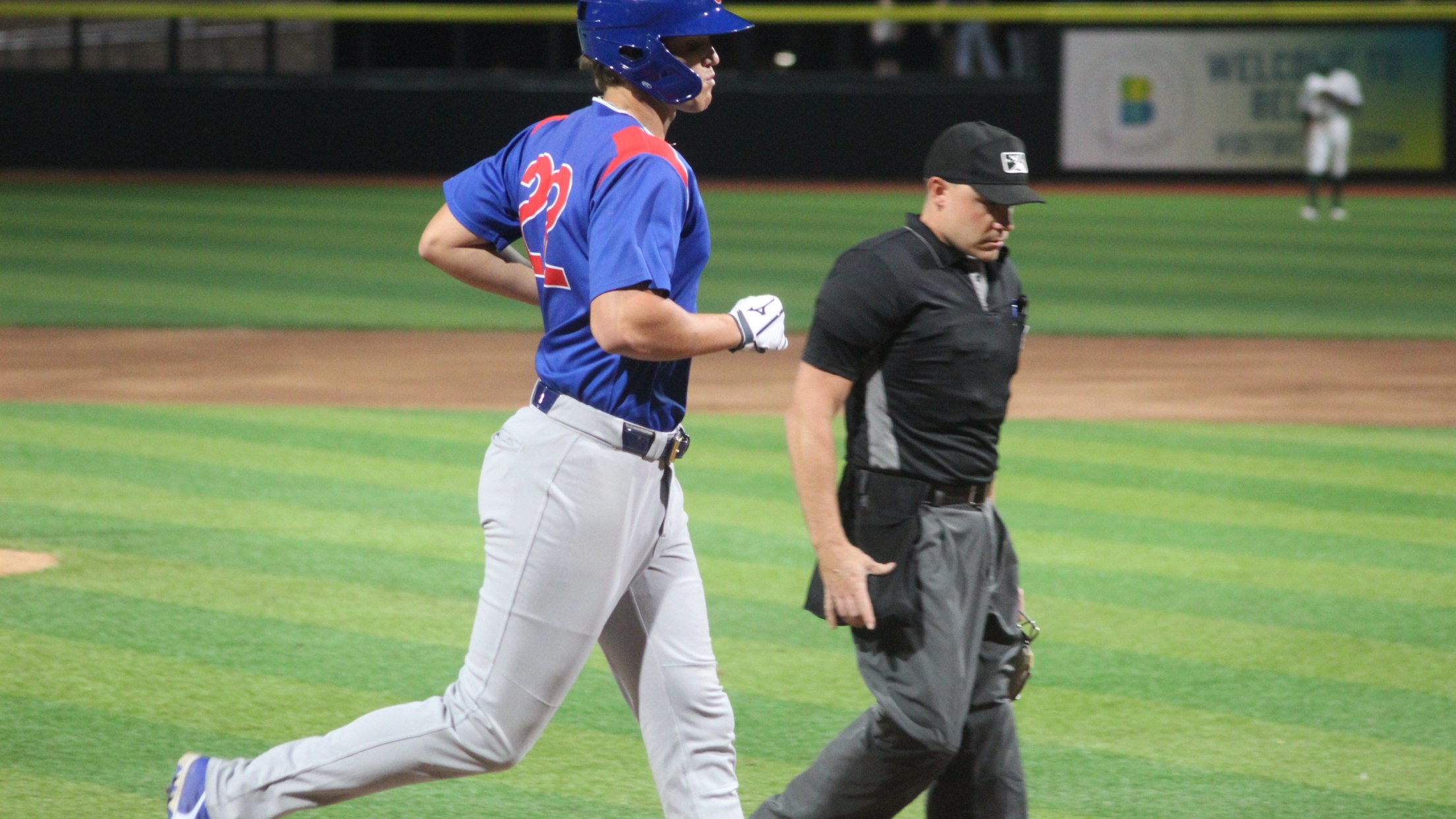 (Todd Johnson)
W: Max Bain (5-8, 5.18 ERA) L: M.D. Johnson (3-4, 2.25 ERA) BOX SCORE Jordan Wicks, the Cubs first-rounder from the 2021 MLB Draft, made his second pro start in the South Bend Cubs 5-2 win on Thursday night at ABC Supply Stadium over the Beloit Snappers. Wicks allowed just
W: Max Bain (5-8, 5.18 ERA)
L: M.D. Johnson (3-4, 2.25 ERA)
Jordan Wicks, the Cubs first-rounder from the 2021 MLB Draft, made his second pro start in the South Bend Cubs 5-2 win on Thursday night at ABC Supply Stadium over the Beloit Snappers.
Wicks allowed just one baserunner in his 1.1 innings and it came on an error by third baseman Jake Slaughter. Wicks handed the ball over to Tanner Jesson-Dalton who finished off the second inning. Next it was the first-ever relief appearance for Max Bain. Bain certainly didn't have his best stuff tonight, walking six batters in just 4.2 innings, but he grinded through it and allowed just one run. The Chicago Cubs pitcher of the month in August picked up the win for his second straight outing.
One out into the top of the fifth inning the Cubs had just one hit and the game was still scoreless. Bryce Ball changed that quickly when he put a charge into one and sent his 13th homer of the season, seventh with SB, over the wall in right.
Beloit tied the game back up in the next half inning. With the bases loaded and one out, Bennett Hostetler picked up his first RBI at the high-a level with a ground out to first. But for the second inning in a row Bain stranded a pair of runners.
Yohendrick Pinango took over the game from their, driving in a pair of runs with a two out single in the sixth inning to put the Cubs back ahead, 3-1. The 19-year-old picked up another RBI in the eighth inning when he chopped a grounder up the middle past a drawn in Snappers infield. The three RBIs are the most Pinango has had in a game with South Bend.
The final run of the ballgame was scored on a Nic Ready single in the eighth. But two tried to score on the play and that man Pinango rocketed a one hopper to the plate in time to get out Thomas Jones trying to score from second.
Next up: DJ Herz will make his second start at the high-a level for the Cubs tomorrow night at 7:35 ET. The left-hander will face Bryan Hoeing who is set to start for the Snappers.