Ruoff Mortgage Homestand Preview: July 26-31
The 1st place Cubs, now 5 games up in the West, welcome the Captains to Four Winds Field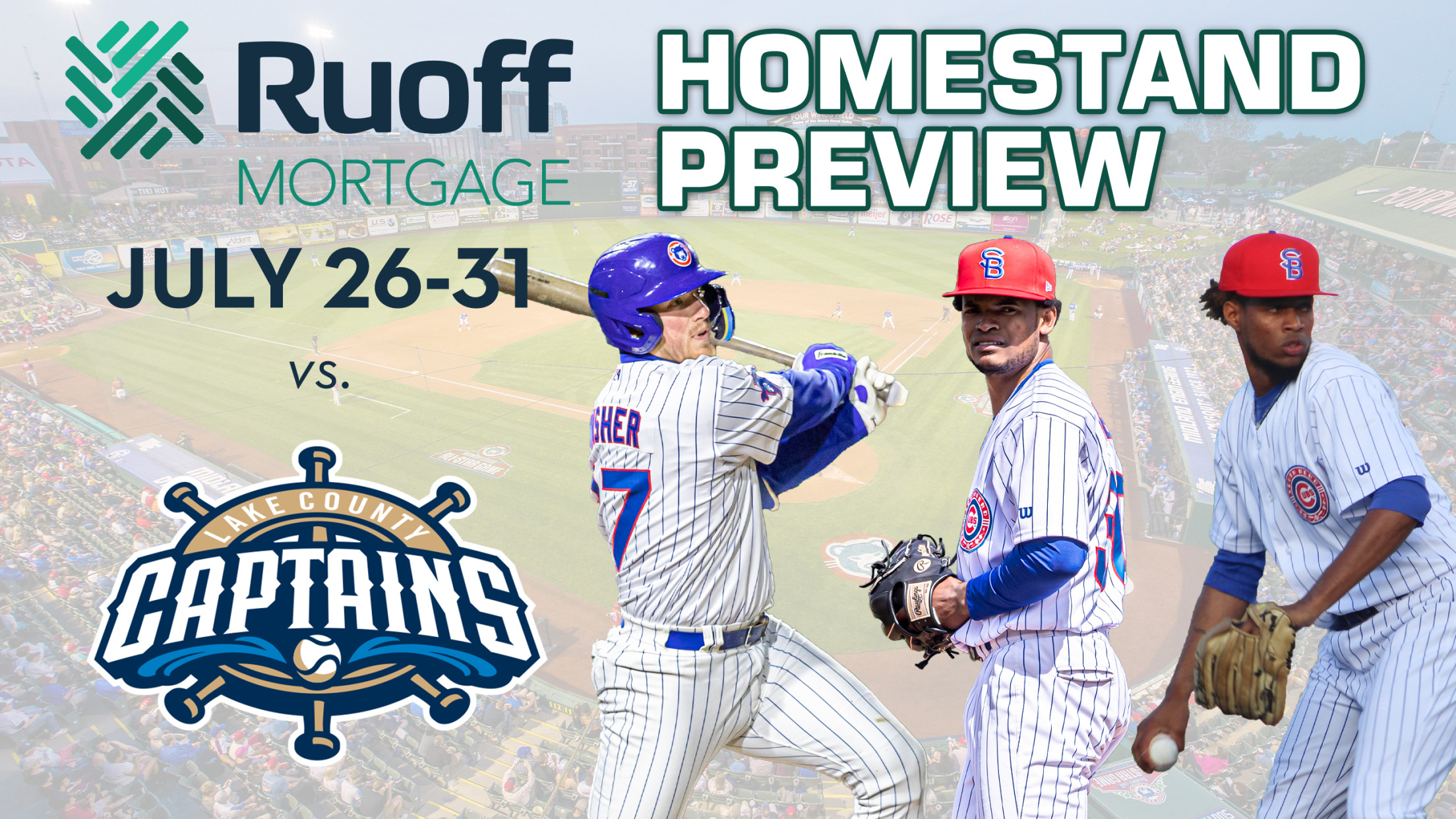 South Bend Cubs (51-39, 17-7 second half) Lake County Captains (48-40, 13-9 second half) Affiliation: Cleveland Guardians A crucial nine-game homestand continues this week as the South Bend Cubs welcome the Lake County Captains to town. The Cubs picked up another Sunday series-clinching win yesterday in a 13-12 thriller that
South Bend Cubs (51-39, 17-7 second half)
Lake County Captains (48-40, 13-9 second half)
Affiliation: Cleveland Guardians
A crucial nine-game homestand continues this week as the South Bend Cubs welcome the Lake County Captains to town. The Cubs picked up another Sunday series-clinching win yesterday in a 13-12 thriller that was undoubtedly the game of the year. Just in case you missed it here are the highlights from an unforgettable afternoon that included the Cubs homering in five-straight innings, coming back from multiple deficits, and ultimately extending their lead in the West Division to five games over Wisconsin and Cedar Rapids.
South Bend has taken back-to-back series and possesses their biggest lead so far in the West Division. Now they take on a East Division foe in the Captains, who have won seven of their last eight games and had a stretch of six wins in a row before a loss on Saturday. The Captains have also won two consecutive series and accumulated 25 runs in their three-game series over the weekend vs Lansing, including 18 runs in the series opener. The Guardians high-A affiliate has leaned on their pitching staff all season and going into the All-Star Break they managed to go five games straight allowing two runs or fewer. Their team ERA is 3.74, the third best in the league.
Lake County enters this series tied for second in the East, four games back of West Michigan.
Players to watch out for on Lake County…
LHP Doug Nikhazy: Nikhazy, a second round pick from last year's MLB Draft is enjoying a stellar rookie campaign. After not appearing in a game last year he has burst onto the scene with 15 starts and a 3.27 ERA in high-A Lake County. In 63.2 innings he has racked up 82 strikeouts and opponents are batting just .183 against the six-foot lefty. In his last two starts the former Ole Miss starter has logged 10 innings and allowed just one earned run. In 2019 Nikhazy set the Mississippi freshman strikeout record with 86 and in 2021 in his second full season he picked up more wins than any pitcher in program history (12) and drew 16 whiffs in a game which also set a Rebel record. He's slotted to make his third road start in a row on Saturday.
RHP Tommy Mace: Taken just 11 picks after Nikhazy, Mace too is a rookie in Minor League Baseball. Another polished college arm, the 23-year-old is having more of a rocky first year. He's 0-4 with a 4.86 ERA so far in 14 games (13 starts). At six-foot-six the right-hander is very different from the man I just talked about. Mace can touch 97 with his four-seamer but his slider/cutter is his bread and butter. While the season hasn't gone as well as he would've hoped there's still tons of baseball left for a man who has maybe found his groove. Mace went a career-high 5.2 innings and allowed just two runs on July 10 at Fort Wayne. In is his next start he went 5.2 again, this time without allowing a run against Dayton. Add in his last start and he's gone 9.2 straight scoreless innings. His ERA has dropped 1.63 points since Independence Day.
OF Jonathan Rodriguez: This 22-year-old is already in year five of his minor league career and is in the midst of both a great season and a scorching stretch. On the year Rodriguez, a former third round pick from 2017 out of Carlos Beltran Baseball Academy, is fifth in the Midwest League in OPS at .505. He's also been unusually better on the road than at home, away from Classic Park this season he's slashing .289/.336/.555 compared to .255/.327/.436 at home this season. He entered the season with 14 homers in 227 career games but this season has crushed 11 round-trippers in 61 games. All of that combined with how long he has been in the system and how incredible he has played of late, would make you think he may not be with the Captains too much longer. In July, Rodriguez is batting .363 with a 1.181 OPS, five homers, and 16 RBIs. Between him and Yohendrick Pinango, this series matches up maybe the two hottest outfielders in the league this month.
What's better than hitting a homer? How about hitting two?@CleGuardians prospect Johnathan Rodriguez parks a pair for the @LCCaptains! pic.twitter.com/EoiT6XEkFz

— Minor League Baseball (@MiLB) July 10, 2022
Players to watch out for on South Bend…
C/1B Jake Washer: Put some respect on the name. Washer is still flying under the radar and I cannot comprehend how that's possible. Yesterday the former East Carolina Pirate homered twice, picked up his first career four-hit game, scored four times, and drove in four. Washer is now batting .301 with an on-base plus slugging of .964. In 49 games last season he homered twice and in 45 games this season the 25-year-old has crushed 13 over the fence. He's averaging a home run every 12.77 at-bats. Hall of Famer Leo Durocher once said, "Baseball is like church. Many attend, few understand." Well I think we can all easily understand just how incredible Jake Washer is playing in 2022.
1st career 4-hit game for Jake Washer, plus another multi-homer game for @J_Wash10, who scored 4 times and drove in 4 runs today!
Naturally, he spoke with @BKingSports on the field. pic.twitter.com/NyPrVSk9T6

— South Bend Cubs (@SBCubs) July 24, 2022
RHP Eduarniel Nunez: With all the highly touted starting pitchers the Cubs possess, not to mention the influx of tremendous young position players, we don't talk enough about the bullpen. Eduarniel Nunez, and his combination of a lethal 97-98 M.P.H. sinking fastball and tight breaking ball, is dominating the Midwest League right now. The 23-year-old right-hander is rocking a 3.47 ERA this season that just continues to dwindle. His ERA this month is 0.00 and he hasn't allowed a run in 11-straight innings. In fact, if you go back to June 14 he's only allowed one run and it came on a dropped-third strike with two outs. In his first appearance of the season Nunez allowed a homer to the fifth batter he faced and hasn't given one up since… That's 153 batters faced without conceding a long ball.
RHP Luis Devers: What a splash this 22-year-old has made in South Bend since his promotion from low-A Myrtle Beach on July 4. The season numbers for the right-hander are impressive: 11-3 with a 2.17 ERA in 19 outings, 16 starts. But what he's accomplished in South Bend in three weeks is jaw-dropping. In 16.2 innings he's given up one run on a measly eight hits and only issued two walks. The six-foot-three product of the Dominican Republic is 2-0 with a 0.54 ERA with South Bend and just tossed six no-hit innings in his first start at Four Winds Field this past Saturday. Quad Cities only had three baserunners against Devers and two of them were erased on double plays. No one reached second base in six innings. The sinking fastball and change-up pair for a dynamic duo that are tantalizing coming out of the hand and then fool batters from both sides of the plate as they disappear out of the zone and get hitters consistently to pound the ball into the ground.
6 no-hit innings from Luis Devers in his 1st home start 🤩
Here he is talking with @BKingSports after the victory! Shoutout Jonathan Sierra the best translator in the league! pic.twitter.com/JtcRK71IxM

— South Bend Cubs (@SBCubs) July 24, 2022
Schedule…
Tuesday, July 26 - 7:05 ET: LHP Dalton Stambaugh vs. RHP Jack Leftwich
Wednesday, July 27 - 7:05 ET: RHP Manuel Espinoza vs. RHP Tommy Mace
Thursday, July 28 - 7:05 ET: RHP Porter Hodge vs. LHP Rodney Boone
Friday, July 29 - 7:05 ET: RHP Luis Devers vs. RHP Aaron Davenport
Saturday, July 30 - 7:05 ET: RHP Kohl Franklin vs. LHP Doug Nikhazy
Sunday, July 31- 2:05 ET: LHP Dalton Stambaugh vs. RHP Jack Leftwich
Catch the entire six-game series on Sports Radio 960 AM WSBT, online at wsbtradio.com, or at MiLB.com. Friday and Saturday's game are on TV and can be found locally on My Michiana, while Sunday's finale will be aired on tape-delay on Marquee Sports Network following the Chicago Sky game.