Toyota Road Report: 9/12-9/19
One Last Ride for South Bend, as the Cubs Finish off the 2021 Season Against First Place Quad Cities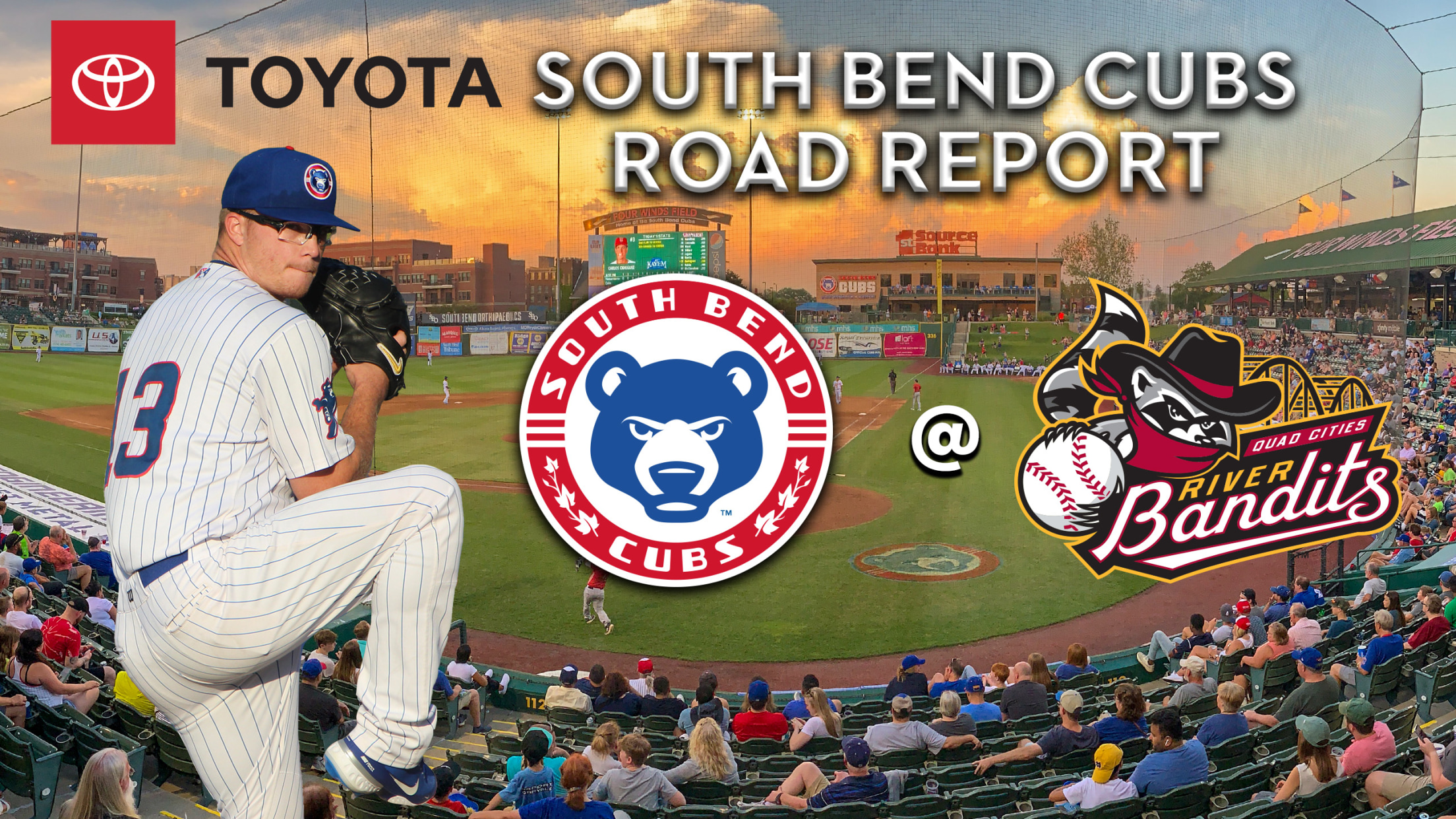 Quad Cities River Bandits Affiliation: Kansas City Royals Stadium: Modern Woodmen Park Miles from South Bend: 240 Miles South Bend vs QC This Season: 5-12 (1-5 on the road) Last Season: 1-2 Since becoming a Cubs affiliate: 11-20 South Bend will finish off the season in Davenport Iowa, taking on
Quad Cities River Bandits
Affiliation: Kansas City Royals
Stadium: Modern Woodmen Park
Miles from South Bend: 240 Miles
South Bend vs QC
This Season: 5-12 (1-5 on the road)
Last Season: 1-2
Since becoming a Cubs affiliate: 11-20
South Bend will finish off the season in Davenport Iowa, taking on the only team that will end the High-A Central season with more than 70 wins in the Quad Cities River Bandits. The River Bandits are ten games clear of any other team in the High-A Central heading into the final series and on a two-game win streak after splitting their last series against last-place Peoria. The Cubs dropped four of six in Beloit, but are coming off of one of their biggest comebacks of the season, battling from three runs down and scoring four in the ninth to beat Beloit in the series finale.
River Bandits to Watch:
Tucker Bradley (OF): Though he is in a bit of a slump, Bradley has been one of the best contact hitters in the High-A Central all year long, holding a batting average above .300 for most of the year. He is down to .283 after a couple of tough series, but he is still ranked sixth in the league with that mark. He ranks second to only Nick Loftin on the team in on-base percentage (.371) and is top-ten in the league in on-base and OPS (.811). Bradley is an on-base machine with good speed on the basepaths, and the Bandits will need him at full strength for the stretch run of their season.
AJ Block (LHP): Block has been one of the best pitchers in the High-A Central all season long, and he is coming off one of his best outings of the season close to the finish line. The former seventeenth-round pick won the High-A Central's Pitcher of the Week Award after throwing five near-perfect innings against Peoria on Saturday, allowing just one walk, no hits and six strikeouts in his shutout win. At home, he has been just as dominant, as Block has not allowed a run in his last two starts at Modern Woodmen Park. Though the left-hander is not in the River Bandit's initial starting rotation for this series, Block may be used out of the bullpen to stay fresh for Quad Cities' impending playoff run. The Cubs have hit him well before though, with six runs scored off of Block in two outings against him.
Nick Loftin (INF): The Royals number ten prospect has tormented South Bend Cubs pitching all year, including a cycle capped off by a walkoff home run to finish off the Cubs' last trip to Modern Woodmen Park. With a slash line of .396/.492/.833 against South Bend combined in all three series, including four homers and eleven RBI. In thirteen games against the Cubs this season, Loftin has hits in twelve of them, with 19 in total and eleven of those going for extra bases. He is also hitting .455 with an on-base percentage of .568 in nine games over the month of September. Loftin can play at second and short and should be a fixture in the middle of the River Bandits batting order this week.
Cubs to Watch:
Miguel Pabon (INF): One of the newest additions to the South Bend Cubs roster, Pabon made an instant impact in his first game with the Cubs. Starting at shortstop in the fourth game of the Snappers series, Pabon went 2-5 in his Cubs debut, driving in game-tying and go-ahead runs late in the game for South Bend. He would finish the series 3-11 with a walk, triple and three runs scored. Pabon seems to be destined for the Cubs' everyday shortstop role most recently vacated by Luis Vazquez, and he is up to the task. Pabon did not commit an error in three games at short and showed great speed and arm strength, giving him solid range at the position. Expect Pabon at the leadoff or nine spots in the lineup, ready to get on base and start rallies for the Cubs in their final series of 2021.
Yonathan Perlaza (OF): Since the middle of July, there has been no better hitter in the High-A Central than Yonathan Perlaza. He has reached base safely in 39 of his last 42 games and is top-three in the league in batting average (first), on-base percentage (third), slugging (second) and OPS (second) over this period which dates back to July 16. He leads the Cubs in every hitting category on the year and is in the top ten in the High-A Central in batting average, slugging, and OPS. With five more hits this series, he will become the seventh player to top the 100-hit mark in the High-A Central this season, and Michael Ryan has elevated Perlaza's position in the lineup accordingly.
Chris Clarke (RHP): Chris Clarke has been an absolute workhorse for South Bend, topping six innings in four of ten appearances this season including each of his last three outings. No one on the Cubs staff has thrown strikes as consistently as Clarke has this season, and he averages just over one walk per appearance. He has thrown thirteen innings in September, including the longest outing by any South Bend pitcher in his last appearance, with nine strikeouts and just one walk. His pitches rarely miss the zone and he is always in sync with his catcher as well. Clarke will throw on Friday to kick off the final weekend of the Cubs' 2021 season.