'0-fer possum' exacts revenge on Phillips
Brewers outfield prospect has second on-field encounter with critter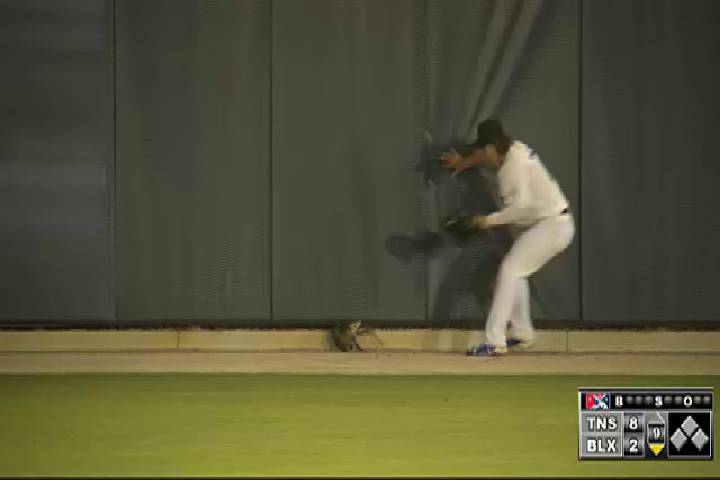 By Michael Avallone / MiLB.com | April 30, 2016 1:26 AM
Brett Phillips is planning on enjoying a long and successful baseball career. But if the Brewers' No. 2 prospect ever needs to find another calling, he's well on his way to one.
Opossums everywhere, take note.
"I may struggle with baseball from time to time, but I never struggle wrangling an opossum," he said. "My technique is impeccable, my defense can't be beat. I was there to save the day tonight. That little guy was coming at me, mouth wide-open, teeth gnashing, but I stood my ground and got rid of him. The opossum wildlife preserve is already looking into using me in case baseball doesn't work out. So I've got a solid backup in place."
It was the second time in less than two years that Phillips was able to use his talents as an animal control specialist. Playing for Class A Quad Cities in the Astros' organizaton on July 31, 2014, he had his first encounter with a furry creature on the field. Now the 21-year-old is convinced the latest invasion wasn't a coincidence, even if it occurred in Mississippi instead of Iowa.
"I think it was the same opossum who traveled back from Iowa that night and wanted his revenge," Phillips said. "I had a good game that night with a homer, so I pulled my bat out like it was a sword to help get rid of him. Tonight, he came back to exact some revenge. I didn't have any hits [on Friday] so I'm calling him an '0-fer possum,' but I got rid of him, so I got the last laugh."
Although he went 0-for-5 with two strikeouts, the 2012 sixth-round pick felt like he saved the day at MGM Park.
"The fans gave me a great standing ovation after I got rid of him," Phillips said. "I probably saved a couple of children's lives. That standing ovation my last at-bat was great, but I ended up striking out. Like I said, it was the opossum's fault."
Here you see a crazy creature running wildly in the outfield... And also a opossum! https://t.co/gsWprYDYYk

- Maverick Phillips (@Brett_Phillips8) April 30, 2016
The creature certainly wasn't a good luck charm for Phillips or Biloxi on Friday, but he still enjoyed the distraction.
"[Left fielder] Victor Roache saw it first and said, 'Hey, look at the opossum," he said. "He wanted nothing to do with it, he was scared. I was trying to give him an opossum call to keep him still. You see, I have an opossum call now. So I tried to keep him there in the outfield until the top of the ninth was over and then I scared him off. I think I'm going to go back to the field at 3 a.m. and try and catch him. Maybe put him on my nightstand as a good luck charm."
In spite of the wild kingdom-like atmosphere, there was a game played on Friday night. The Smokies used an eight-run eighth inning to top the Shuckers, 8-3. Despite the loss, Phillips used the evening to send a clarion call to all opossums across the United States.
"I'm putting the word out now. Any opossum in this country that tries to come on to my field, you best believe you'll be taken care of," he said.
Michael Avallone is a contributor to MiLB.com. Follow him on Twitter @MavalloneMiLB. This story was not subject to the approval of the National Association of Professional Baseball Leagues or its clubs.
View More