Fried keeping foot on gas with Javelinas
Braves No. 9 prospect caps wild season with AFL dominance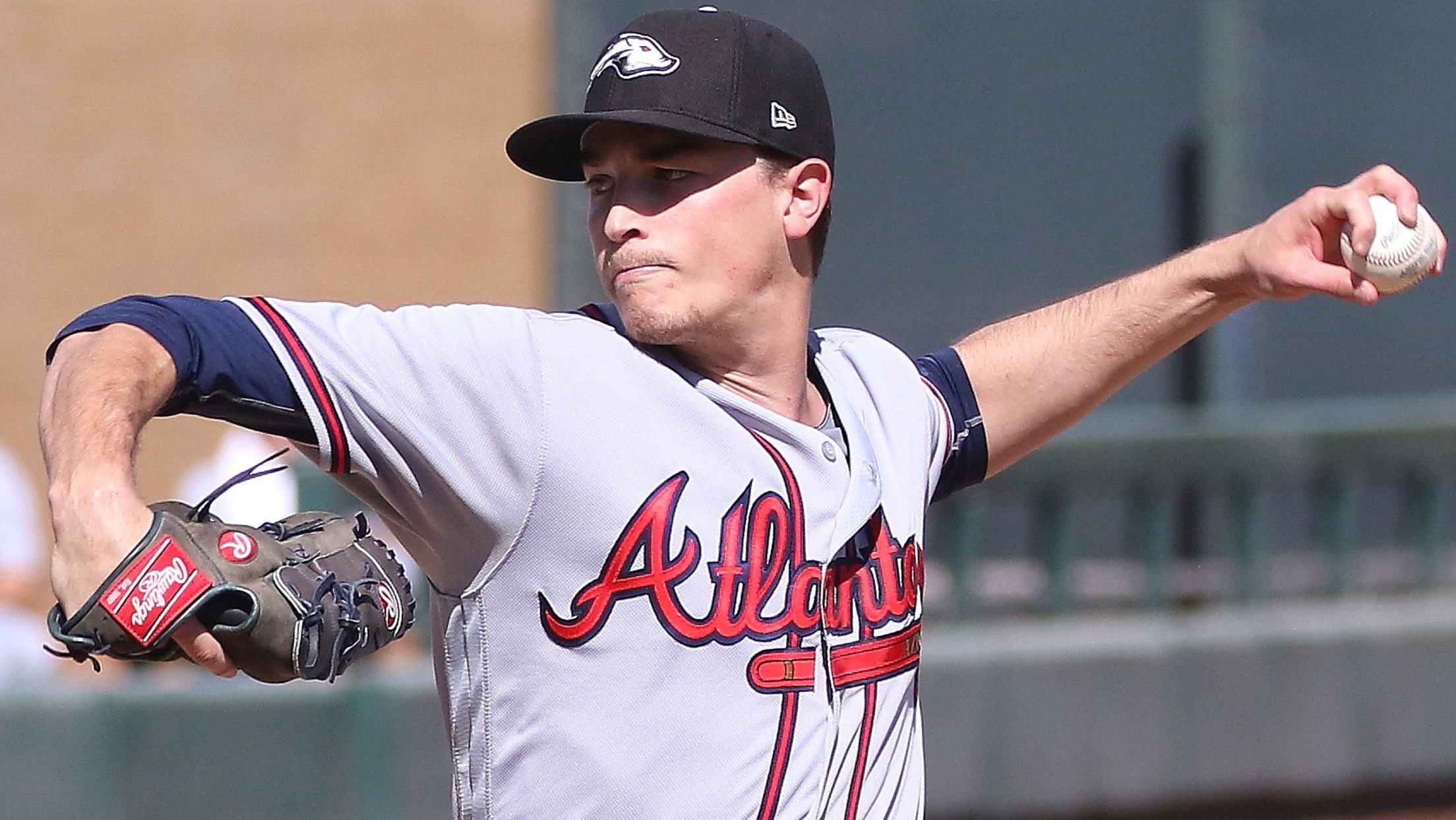 The Braves acquired Max Fried from the Padres as part of the 2014 trade for big league outfielder Justin Upton. (I.B. Lee/MLB.com)
Max Fried is penning a fitting conclusion to his roller-coaster journey this year.Several months ago, Atlanta's No. 9 prospect appeared to be headed for one of the worst seasons of his career. Fried opened the campaign with Double-A Mississippi, bypassing Class A Advanced Florida after spending all of 2016 at
Max Fried is penning a fitting conclusion to his roller-coaster journey this year.
Several months ago, Atlanta's No. 9 prospect appeared to be headed for one of the worst seasons of his career. Fried opened the campaign with Double-A Mississippi, bypassing Class A Advanced Florida after spending all of 2016 at Class A Rome. Through 16 starts, the 23-year-old sported a 2-11 record with a 6.69 ERA in 76 2/3 innings.
Part of the problem came from recurring blisters that hampered Fried's ability to go all out on the mound. The issue got so bad that, after surrendering 24 runs over 25 1/3 frames through six starts in June, he was forced to take almost a full month off.
After returning, Fried would not allow another earned run in the Minors the rest of the season. He made three more starts for Mississippi after coming back on July 29, surrendering only an unearned run over 10 innings of work.
"I came back from the blister issues and had a couple starts. I felt like I was throwing the ball well and getting back on the right track," the California native said.
That brief success aside, Fried said he truly felt his fortunes turned after he received the call directly to the Majors on Aug. 8. He allowed four runs over 6 2/3 innings in four relief appearances with Atlanta over the next two weeks before returning to Triple-A Gwinnett for a pair of outings. After returning to the big leagues as a September callup, he finished 1-1 with a 3.81 ERA, 12 walks and 22 strikeouts over 26 frames for the Braves.
"I got called up and I just went out there and competed. I was kind of thrown in the fire and I felt like I could compete at the level," Fried said. "From there, the confidence just kept growing and growing.
"It was one of those moments where I really just wanted to make the most of it. I didn't know how long I was going to be up there, so I just wanted to try to make the most of the opportunity I was given and just go out there and give it my all."
That hyper-competitive mentality stuck with Fried even after the season ended. The southpaw vowed to pitch each game with the same heightened level of urgency.
"You have to give everything you have every time because not one other guy is taking a pitch off," Fried said. "If you take one pitch off that can cost you or your team an outing. For me, it was just focusing on every pitch and making sure there was intent behind everything I did."
Armed with that mindset, the seventh overall pick in the 2012 Draft has dominated for Peoria in the Arizona Fall League. Through five starts, Fried is 3-1 with a 1.96 ERA over a league-high 23 innings. He has walked seven while registering a circuit-leading 29 punchouts.
The Javelinas, meanwhile, have surged to a 14-11 record and the top spot in the West Division by three games, buoyed primarily by the circuit's top offense. The pitching staff has lagged behind, with a league-low 4.82 ERA through 25 games, but Fried has stood out as a major bright spot.
"I've been really enjoying my time out here," the 6-foot-4, 200-pound hurler said. "Everyone is really cool with each other and everyone has been really lighthearted and trying to have as much fun as possible. I just wanted to stick to my plan, stick to my routine and continue throwing the ball how I was throwing at the end of the year."
As the Arizona Fall League nears its conclusion, Fried feels satisfied with his journey this season.
"I've learned a lot and I feel like I've grown a lot not only as a player but also as a person," he said. "I'm just trying to take something away from every day."