Mississippi's Muller goes the distance
Braves No. 11 prospect hurls five-hitter, first career shutout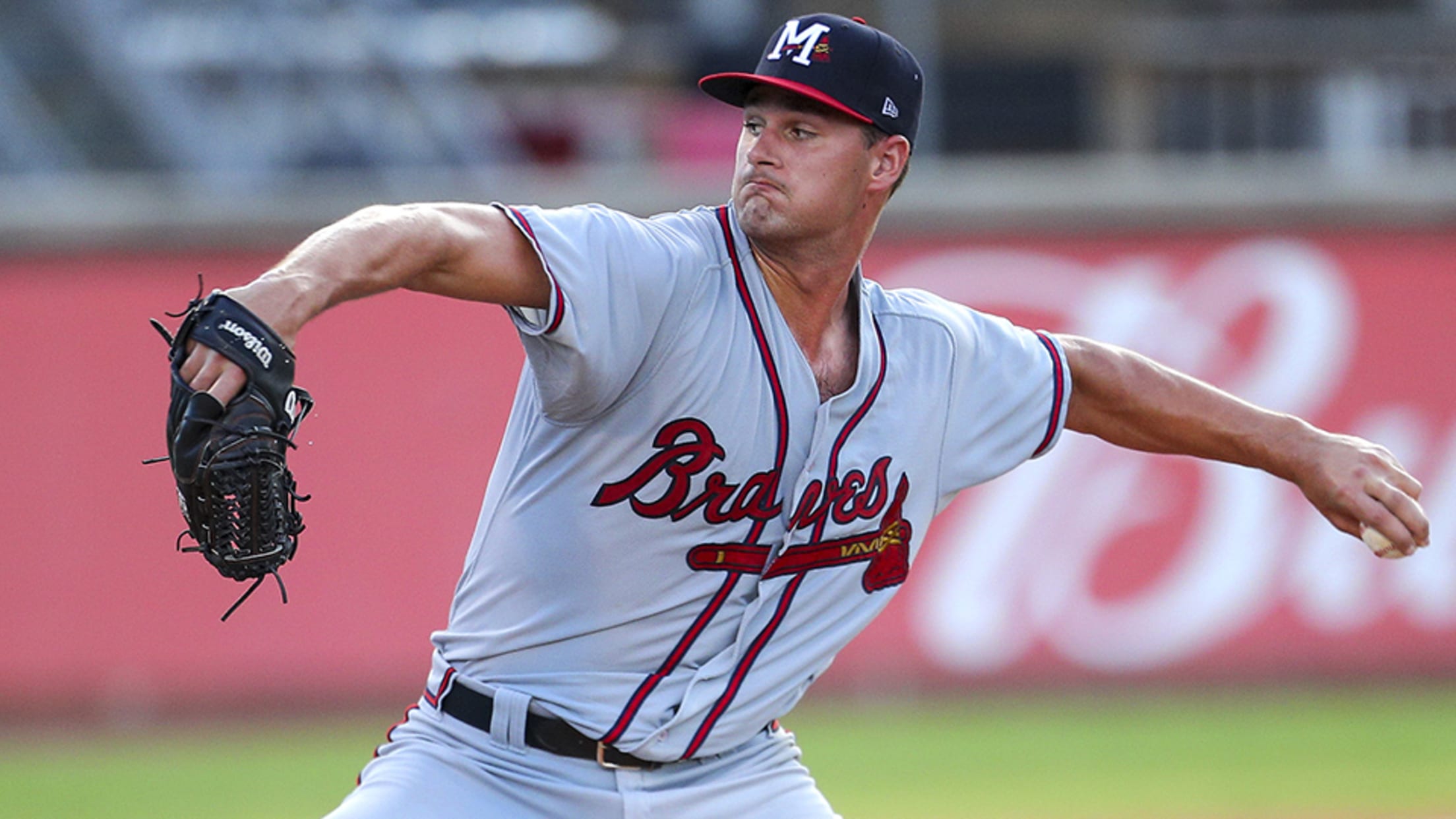 Kyle Muller is 10-2 with a 2.94 ERA in 23 starts across three Minor League levels this season. (Danny Parker/MiLB.com)
Kyle Muller has been on quite the journey through the Minor Leagues this season, but he appears to have found his home.The Braves' No. 11 prospect pitched a five-hitter for his first career complete game as Double-A Mississippi blanked Chattanooga, 1-0, in the opener of Saturday's doubleheader at Trustmark Park. He
Kyle Muller has been on quite the journey through the Minor Leagues this season, but he appears to have found his home.
The Braves' No. 11 prospect pitched a five-hitter for his first career complete game as Double-A Mississippi blanked Chattanooga, 1-0, in the opener of Saturday's doubleheader at Trustmark Park. He struck out five, did not walk a batter and won for the third time in as many Southern League starts.
After Atlanta used its second-round pick on Muller in 2016, the Dallas high school product struggled to find his footing at the Minor League level. Muller impressed the summer after his selection in the Rookie-level Gulf Coast League, compiling an 0.65 ERA through 27 2/3 innings, but his slow start in Spring Training in 2017 held him back in Florida. Meanwhile, fellow touted pitching prospects from the Braves 2016 Draft class Ian Anderson and Joey Wentz advanced to Class A Rome.
"Last year, I was very mechanical and I wasn't using my athleticism to my advantage," he said.
Instead, Muller spent last summer with Rookie-level Danville, where he started 11 games and threw 47 2/3 frames, striking out 49. It set the stage for a busy 2018 as Muller rocketed through the organization, starting with Rome before a 14-game stint with Class A Advanced Florida and a promotion to Mississippi on Aug. 6. His increased comfort on the mound at the professional level, combined with the Braves' confidence in their prospect, helped set the stage for Saturday's breakout game.
"Lately, I've been trying to get in the right position to allow myself to use my length and strength to find a repeatable explosive delivery," he said. "That's been the key difference the whole year."
The left-hander began his gem by striking out the side in the first inning on 13 pitches but encountered some trouble in the second. Chris Paul lined a leadoff single to right field and Twins No. 15 prospect Luis Arraez reached on an error by shortstop Ray-Patrick Didder on a potential force at second.
But Muller's infield came up big as Brian Navarreto grounded into a double play and Jimmy Kerrigan popped to second.
"That strong first inning helps you get rid of those pregame jitters and locks you in along with the rest of your team," he said. "It gives everyone the mind-set to take care of business from the start, which I think was critical throughout the game because the guys made some great plays behind me."
Gameday box score
Muller (3-0) set down the next six batters but again faced a runner in scoring position in the fifth following singles by Arraez and Navarreto. Again, he came up with a double play, getting Kerrigan to bounce to third before fanning Jordan Gore.
"[Those double plays] give you a ton of energy as a pitcher," he said. "When you're battling up there on the mound and you know your team has your back, you put a little more pressure on yourself to get quick innings and execute your pitches because they're doing their part. Now you have to do yours."
The Mississippi starter cruised into the seventh before giving up two-out singles to Arraez and Navarreto, but Braves No. 5 prospect Cristian Pache fielded Navarreto's liner to center field and threw out Arraez at third base to seal the win.
Braves No. 23 prospect Travis Demeritte put Mississippi and Muller ahead for good with a two-out solo homer in the fourth.
Lookouts right-hander Sean Poppen (5-6) also went the distance, yielding one run on three hits with four strikeouts.
The Braves completed the sweep with a 10-7 victory in the nightcap as Tyler Marlette went 3-for-4 with three RBIs.
Arraez totaled five hits in the doubleheader for Chattanooga.
Nathan Brown is a contributor to MiLB.com. Follow him on Twitter @NathanBrownNYC.