Castillo flirts with no-no for Blue Wahoos
Fifth-ranked Reds prospect loses bid in seventh and final frame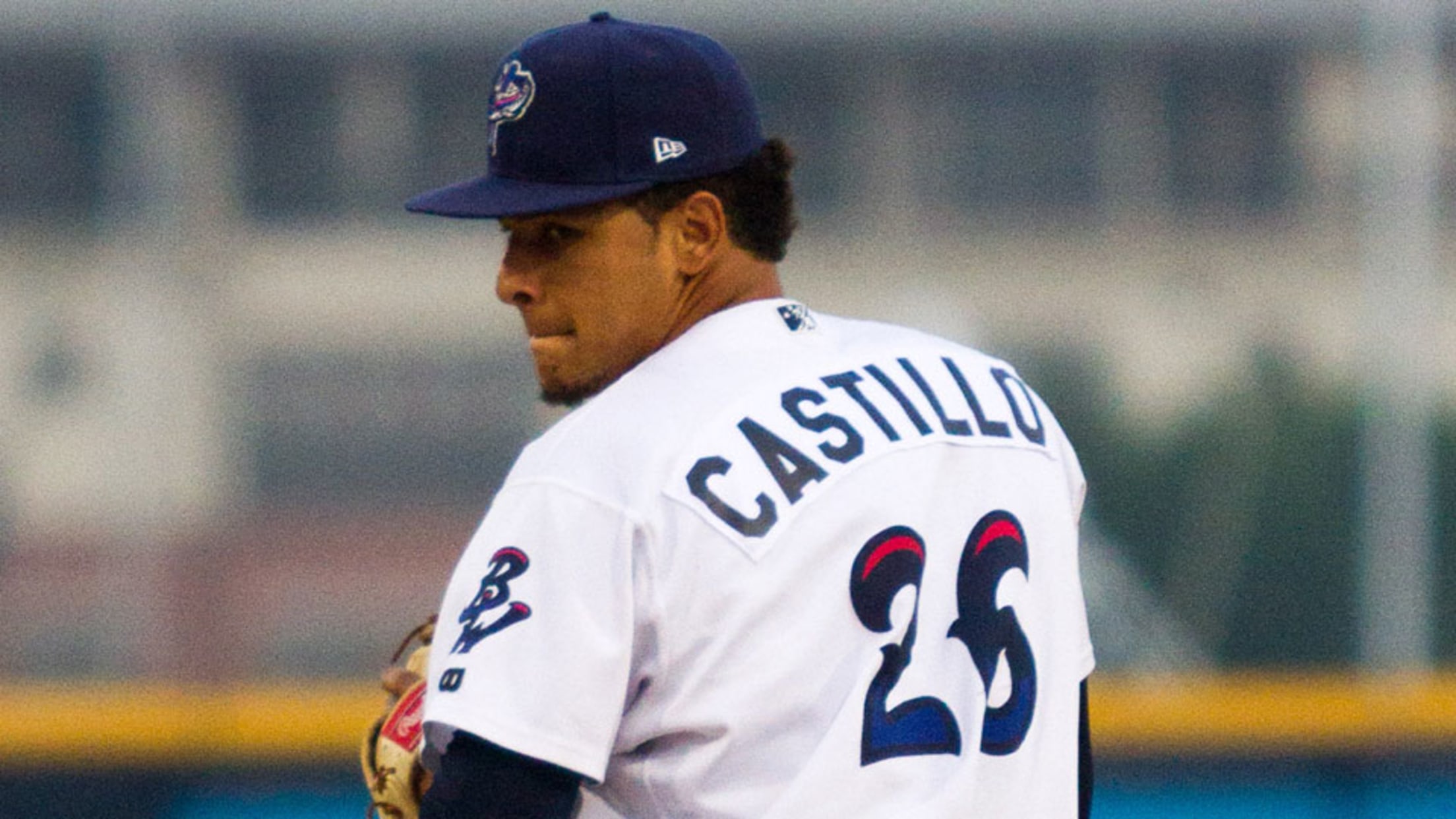 Luis Castillo struck out a career-high 13 batters in his previous start against Mississippi. (Barrett McClean/Pensacola Blue Wahoos)
While Luis Castillo is just 14 starts into his first season with Double-A Pensacola, his changeup -- in the opinion of his batterymate and pitching coach -- is already in the Major Leagues. "Luis' changeup is a plus big-league pitch," catcher Joe Hudson said. "That's his pitch, that's his go-to."The awe-inspiring
While Luis Castillo is just 14 starts into his first season with Double-A Pensacola, his changeup -- in the opinion of his batterymate and pitching coach -- is already in the Major Leagues.
"Luis' changeup is a plus big-league pitch," catcher Joe Hudson said. "That's his pitch, that's his go-to."
The awe-inspiring offering nearly earned Cincinnati's No. 5 prospect a milestone Sunday afternoon, but ultimately, it cost him a victory.
Box score
Castillo (4-4) carried a no-hitter into the seventh inning of the Blue Wahoos' 1-0 loss in the second game of a doubleheader against the Jumbo Shrimp at the Baseball Grounds of Jacksonville. He went the distance in the second complete game of his career, going 6 1/3 innings before surrendering a run on a walk-off hit.
"He was on top of his game, he pitched in and out. He pitched down in the zone, he pitched up in the zone," Blue Wahoos pitching coach Danny Darwin said. "He had a big-league changeup and threw some very good sliders."
Castillo lowered his ERA to 2.58 with 81 strikeouts over 80 1/3 innings while holding opposing batters to a .233 average. The 24-year-old's performance Sunday came on the heels of a 13-strikeout scoreless start against Mississippi on Tuesday.
The right-hander tallied five more whiffs Sunday, but used his highly regarded changeup to record 10 outs on the ground.
"His fastball and changeup are really good ground-ball pitches," Hudson said. "All of his pitches pretty much move down for the most part. If I need a ground ball, I'm calling a changeup there."
Hudson and Darwin agreed Castillo's changeup is most effective when used as a complement to a sinking 70-grade fastball while working both sides of the plate.
"It's really amazing," the backstop said. "He can throw it in there for a strike and he can get a guy to chase. It helps when you can throw upper-90s with the fastball as well."
The native of the Dominican Republic was perfect through the first 14 batters before Pensacola third baseman Josh VanMeter booted a grounder by Marlins No. 3 prospectBrian Anderson. He got the next seven outs on five grounders and a pair of punchouts to reach the seventh frame in just 60 pitches.
"He was ahead of all the hitters. Every time you put a hitter in a defensive mode, it helps," Darwin said. "He just did a great job, up and down, in and out and he was able to use his off-speed stuff in every count. He pretty much dominated for six innings."
Hudson, who has been given game-calling freedom for Pensacola, was also behind the plate during a perfect game by Reds' eighth-ranked prospect Tyler Mahle for the Blue Wahoos on April 22.
Hudson said seeing zeros on the scoreboard inning after inning Sunday night didn't trigger flashbacks to the historical game against Mobile. Only in the fifth or sixth inning, did he realize something special was brewing.
"I was in the moment really with Castillo. They're two different kinds of pitchers," Hudson said. "They pitch very differently and I have to call pitches accordingly."
Castillo's bid was broken up by a humpback liner Austin Nola hit off the end of the bat that dropped in center field for a single. He then plunked Anderson with a 1-1 pitch to summon Darwin for a mound visit.
"I told him pretty much, 'It's your ballgame,' Darwin recalled. "He deserved it and I think it was a great learning experience for him."
Castillo struck out John Norwood but walked Taylor Ard to put the winning run on third with the bases loaded for Alex Glenn. Castillo tossed a first-pitch changeup and Glenn turned it around for a line-drive single to right for the walk-off hit.
"It was a changeup up a little bit and he got wood to it," Hudson said. "It happens, but he threw a great game still."
The Blue Wahoos collected eight hits, including a single by Hudson, but failed to score against Jacksonville's Chris Mazza and Andy Beltre, Marlins No. 22 prospect. Mazza allowed five hits and a walk over six innings and Beltre surrendered three consecutive two-out singles in the final inning that were unable to produce a run.
The Jumbo Shrimp also won the first game, 3-2. Catcher Cam Maron went yard and rehabbing big leaguers Martín Prado and Adeiny Hechavarría had a hit apiece in three at-bats.
Gerard Gilberto is a contributor to MiLB.com. Follow and interact with him on Twitter, @GerardGilberto4.