Healthy Sano ready to get back to business
Southern League All-Star finally putting ligament injury behind him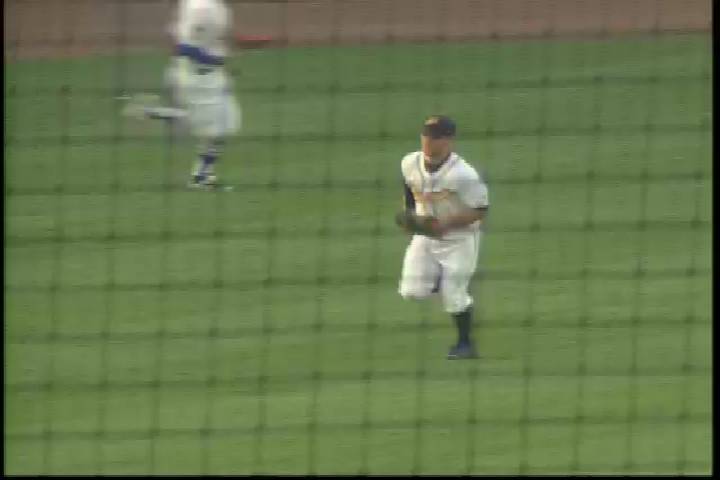 By Eric Wallace / Special to MiLB.com | June 24, 2015 2:09 AM
MONTGOMERY, Ala. -- It's been a long road, but Miguel Sano finally feels like he's all the way back. Sano missed all of 2014 after undergoing Tommy John surgery for an ulnar collateral ligament injury he suffered in Spring Training.
Now with 13 home runs and 41 RBIs after the first half, MLB.com's No. 10 overall prospect has bounced back to All-Star form after his lost season.
"Last year, I got that injury, but I've put it behind me. So now I try to work and do everything like I did two years ago," Sano said. "I want to be the same player like I was before. I have to work hard over time."
Minnesota's No. 2 prospect went 2-for-5 with a double and a RBI in the North Division's 9-0 Southern League All-Star Game victory Tuesday at Riverwalk Stadium.
Sano hopes to build on his resurgence in the second half of the season.
"I know what I need to do now, but I just feel really happy when I'm able to play," he said. "In the second half, I hope to work on my glove and my bat. There are always a couple things that need work."
He's gotten a little extra motivation from a teammate as well.
Adam Brett Walker II's scorching start, which includes a league-leading 19 home runs, has given Sano a little healthy competition.
And after watching Walker win his second consecutive Home Run Derby, Sano said he hopes he can get his long-awaited shot someday.
"I told some people in the front office that I need to be in the Home Run Derby, because it would be really fun," Sano said. "I'd love to in the future."
In brief
Walker wins another Derby crown: Chattanooga's Walker certainly lived up to his billing at Riverwalk Stadium. The circuit's leading home run hitter blasted 13 total long balls, including nine in the final round. He won the Florida State League Home Run Derby in 2014 as well.
"I think everybody was pretty aware that he was going to win the thing," Montgomery's Johnny Field Jr. said. "He has unreal power."
Field finished second with three home runs, while Pensacola's Kyle Waldrop hit one. Jacksonville's Zack Cox, Tennessee's Wilson Contreras and Biloxi's Nick Ramirez did not leave the yard.
Home cooking: After going 4-2 with a 1.71 ERA in the first half of the season, Montgomery Biscuits pitcher Blake Snell pitched a perfect opening inning in front of the hometown fans. He got a little help from teammate Field, who made a diving catch in center field for the inning's final out.
The Biscuits accounted for half of the South's RBIs on their home turf. "When you knew you were getting a louder introduction than a lot of the guys, it was awesome," Goeddel said. "The fans knew us, being the Biscuits. It was just a lot of fun."
One point short: It was nearly perfect timing for the Montgomery Biscuits and Riverwalk Stadium. While hosting its first Southern League All Star Game since 2006, Riverwalk fell one point short of being named Best Double-A Ballpark by Ballpark Digest. Regions Field, home of the Birmingham Barons, took the award with 50.5 percent of the vote.
Eric Wallace is a contributor to MiLB.com. This story was not subject to the approval of the National Association of Professional Baseball Leagues or its clubs.
View More